A Look at How Well the Vita Works as a Portable PS1 - Article
Adam Cartwright
, posted on 07 July 2018
/ 8,268 Views
This is the second entry in a series of articles where I look at the Vita's success in providing a portable version of classic consoles. I'll look at what games are available on the handheld from the chosen platform (including PS1 & PSP versions through backwards compatibility), as well as what titles are missing that were re-released on other platforms or that were never updated beyond the original hardware. I'll be including straight ports of titles and emulated versions, as well as sequels to popular series and, in some cases, spiritual successors.
After a bit of a gap from my last two articles on this subject (Dreamcast and PS2), I decided to return to the topic of how the Vita is able to provide a portable version of classic consoles. The next obvious choice was the PlayStation 1 – Sony's very first console, which was given a new lease of life through the 'PS1 Classics' program, which launched for PSP and PS3 in 2006 and was extended to the Vita in late 2012. The fact that these titles are playable in their original form alongside a number of remakes and ports over the years has meant that Sony's newest handheld is pretty much the ultimate portable PS1, even if it has missed out on some of the newer remasters like Crash Bandicoot: N-Sane Trilogy.
Vita-Native Games
When the original PlayStation burst onto the scene in 1994, few anticipated what a major impact it would have on gaming. Setting its roots in Japan before expanding overseas in 1995, it cultivated a variety of quirky and unique franchises, many of which continue to live on (in various forms) to this day. No series better emphasises this design than Everybody's Golf, for which Vita received its own entry with the launch of the console in 2011.
The series has always taken a more arcade-y, laid back approach to golf and that's very much present in the Vita release, but it also shows how far things have come since its 1997 original. It offers prettier courses and plenty more options (including online play) but still maintains the same fun, strategic and addictive gameplay. In fact, if you own a Vita you'll be rather spoiled for titles from the franchise with Everybody's Golf 2 (PS1 classic) and two PSP games available through backwards-compatibility (all of which are well worth playing).
Sports games in general would be a big factor in the PS1's success, with the first truly 3D representations coming in droves. If you were looking for a football fix, FIFA would be your go-to and Vita has four entries (one for each year from '12 to '15) which help scratch that same itch, while obviously being a bit more technically advanced (meanwhile Madden NFL '13 offered an American Football alternative, just as it had done on PS1). Interestingly, both consoles also housed a Jonah Lomu Rugby title, a bizarre quirk considering the small amount of rugby games on the market.
If you weren't into sports games though, the PS1 still had plenty to offer. For starters the fighting game genre, which had already flourished in arcades and on SNES, went from strength-to-strength with the introduction of 3D fighters such as Dead or Alive and Tekken. The former showed up on Vita with a port of the latest entry entitled Dead or Alive 5 Plus – while the gameplay has evolved significantly since the first entry, the familiar cast of characters and throw-backs to the 1996 original means it will be instantly recognisable to fans.
2D fighters were also well represented across both consoles. The controversy-loving Mortal Kombat had seen large success on PS1 with the Trilogy while Vita got the franchise's latest entry (simply named Mortal Kombat) in 2012, which returned the series to its roots after a period of experimentation with titles like Mortal Kombat: Unchained (which is similarly available for Vita through PSP backwards-compatibility). PS1 also birthed the ever-popular crossover Marvel vs. Capcom and Vita received a three-quel named Ultimate Marvel vs. Capcom 3, which launched alongside the hardware in 2011. Both consoles also received ports of SNK's beloved King of Fighters '97 (interestingly, a King of Fighters Collection is available for PSP which includes '97 alongside many of the other PS1 entries).
The platformer another genre that flourished on PS1 and the console created a number of mascots that would go on to become iconic in gaming fairly quickly. While I won't talk about the two biggest mascots of all (at least not in this section), Rayman was one that didn't quite catch on but managed to remain niche-ly popular thanks to his brilliant first outing, so much so that a new entry entitled Rayman Origins made its way to Vita in 2012. This was followed up by Rayman Legends in 2013. Both went back to the roots of the PS1 original, offering streamlined platforming challenges alongside gorgeous 2D landscapes which made them a treat to play. Combining them with the backwards-compatible PS1 games Rayman and Rayman 2: The Great Escape makes Vita a fairly impressive machine for fans of the limbless hero.
Another quirky (and under-appreciated) platformer series which started on the PS1 was Oddworld, which followed a Mudokon named Abe who had to free his enslaved brethren. The Vita received a technically impressive re-working of the very first title in Oddworld: New 'n' Tasty, which kept in tact the challenging level design and clever story with a new lick of paint. In fact, both of the original Oddworld games are also available on Vita – Oddysee and Exodus are playable as PS1 classics, which is another fun way to relive these all-time greats.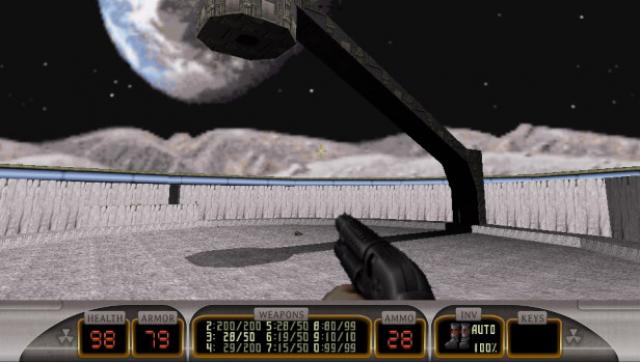 Speaking of re-living classics, while Vita has been more of a home to sequels and spiritual successors than remakes (it's a crying shame that things like the Crash Bandicoot: N-Sane Trilogy and MediEvil Remaster haven't targeted the handheld), it did receive one interesting port in 2015 – Duke Nukem 3D, the legendary FPS from 3D Realms. This was one of many titles that had defined the genre and it had shown up on the PS1 (along with Doom and Quake), so it was nice to see a portable version offered up all these years later.
Elsewhere, Vita has received a great number of sequels or spiritual successors which often capture a lot of the magic of the PS1 originals. TxK is a fantastic modern take on Atari's classic tube-shooter Tempest X3, which had been equally trippy on PS1. Dariusburst Chronicles Saviours is the latest entry in the series, which graced Sony's home console with the brilliant G-Darius. And Deception IV takes the trap-based gameplay of the original three Deception titles and pushes it to new heights with plenty of sadistic new traps (and a new third-person view).
As a final note, the PS1 was possibly best known for its great number of RPG and strategy series from Japan. Not all of these lasted long enough to see light of day on Vita (I'm still sad that Breath of Fire and Wild ARMs aren't really around anymore), but a handful did. Atelier is a brilliant example, going strong nearly 20 years later across the Arland, Dusk, and Mysterious trilogies (just as PS1 had been graced with the Salburg games). Digimon World had been a breath of fresh air in providing a unique take on the monster-raising genre on PS1, and the Vita got its own entry, subtitled Next Order, but it didn't hit western shores on Vita (in a rather terrible piece of PR). It still made a great import for anyone willing to try it. The cult classic Ore no Shikabane o Koete Yuke also received a revival on Vita with the sequel Oreshika: Tainted Bloodlines, which tasked you with raising a dynasty of warriors to fight evil, which was a fantastic nod to Sony's heritage of creating quirky Japanese games with unique mechanics that had started on PS1 but appeared to die out in recent years.
Backwards-Compatible PSP Games
By blazing its way into the console market, Sony brought with it a great number of new IPs, hoping to find titles which would resonate well with the market. These came to be representative of the PS1 and shaped it as a diverse, well-rounded ecosystem. Many of these were re-birthed on the PSP, where they got a whole new chance to shine.
Leading this charge is Ape Escape – on PS1 it was an early example of dual-analogue control which, combined with the quirky sense of humour and lovable monkeys, won lots of fans. Sadly, this control scheme couldn't transition perfectly to PSP in 2005, but the title makes a great addition to the Vita's library and still holds up as a fantastic 3D platformer today. Another early mascot for the PS1 was a rapping dog named Parappa the Rapper (with his debut adventure shifting nearly 2 million copies) and this made the jump across to handheld in 2006. Sadly the tight rhythm-based gameplay seemed to get lost in translation. In Japan, a popular PS1 franchise had been Boku no Natsuyasumi, which followed a young boy on his summer vacation, and both this and its sequel were ported to PSP and are available on Vita (in Japan) through backwards-compatibility.
Another gaming icon that was born on the PS1 was Sir Daniel Fortesque, the cowardly knight who saved the kingdom of Gallowmere from the evil sorcerer Zarok. His story was revived again years later as MediEvil Resurrection, which originally started life as a brand new entry in series, but tight deadlines meant the developers chose instead to remake the original. This polarised fans and reviewers but, thankfully, the original is also available on the Vita as a PS1 classic (although how well this has held up over time is questionable).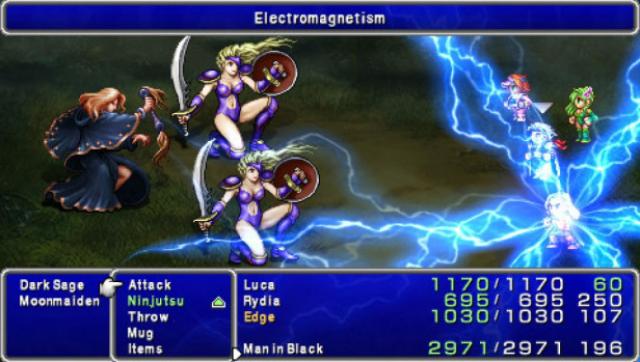 It's undeniable that aside from Sony themselves, a big part of the PS1's identity was shaped by Square-Enix who pumped out an enormous number of high-quality games (mostly RPG's) in quick succession. With the release of PSP they found a new market for re-releases of these which they very much took advantage of – starting with Final Fantasy Tactics: War of the Lions, an expanded port of the seminal tactical RPG that enlarged the scope of the original and added new characters and scenarios (or if you prefer, you can grab the original from PSN too). They revisited this idea with Tactics Ogre: Let Us Cling Together which turned an overlooked PS1 strategy game into one of the PSP's (and by extension, Vita's) most essential purchases.
The PS1 had also been home to re-releases of nearly every classic Final Fantasy title and this strategy was extended to PSP – the handheld received 'anniversary' editions of Final Fantasy and Final Fantasy II (these appeared on Sony's home console as an 'Origins' collection), as well as an all-in-one package of Final Fantasy IV (which originally appeared as part of an 'Anthology' collection). While these aren't the entries in the series that defined PS1 as a JRPG powerhouse (more on that later), they were nevertheless an important part of its library and remain brilliant to replay on Sony's newest handheld years later.
Another big player on the PS1 was Capcom, especially in the realm of fighting games. I've already mentioned the Marvel vs. Capcom franchise, but of course there was a big focus on Street Fighter too, most notably Street Fighter Alpha. The PSP received an expanded re-release of the third game Street Fighter Alpha 3 Max, which added a new character and plenty of gameplay tweaks, rapidly becoming one of the best fighting games on the platform. Combined with the PS1-backwards-compatible first two entries, it makes the Vita a great place to be a fan of the series.
Street Fighter isn't all Capcom was known for either. The Breath of Fire JRPG series received a dedicated following, with two entries on the PS1, and the former of these (Breath of Fire III) was ported to PSP in 2005, which made it a lot easier for fans to play given the scarcity of the home console version (Breath of Fire IV is also available as a PS1 Classic). Like many Japanese publishers with arcade roots in the 80s, Capcom also re-released a lot of older titles in multi-game collections – these were called 'Capcom Generations' on PS1, whereas the PSP received its own version called Capcom Classics Collection. Two versions were available (Reloaded and Remixed) and each offered a variety of famous names from Bionic Commando to Strider (and as a side note, Strider 2 is also available on PSN as a standalone classic for Vita).
Otherwise, as previously mentioned, the PS1 was very much home to a number of quirky JRPG series. As with Oreshika, many of these were given a new lease of life on PSP. Atlus' seminal Shin Megami Tensei: Persona sub-series, which followed high-school students with supernatural powers, was a sleeper hit in Japan across the first two entries (the first sold nearly 400k domestically alone) and both of these were ported across to Sony's handheld. The second was titled Persona 2: Innocent Sin. When combined with the third and fourth games, as well as a PS1 classic version of Persona 2: Eternal Punishment (the second half of Innocence Sin's story), this arguably makes the Vita the ultimate Persona machine. Similarly, the classic PS1 JRPG Lunar: The Silver Star was remade for PSP as Silver Star Harmony and remains to this day the best way to play.
Backwards-Compatible PS1 Games
Of course, the above titles only cover a small sub-section of the PS1's vast and diverse library. The biggest contributor to helping shape the Vita as a portable PS1 is through the 'PS1 Classics' program, which provides emulated versions of the original titles in all their glory. Over the years the service has built up quite a library of heavy-hitters.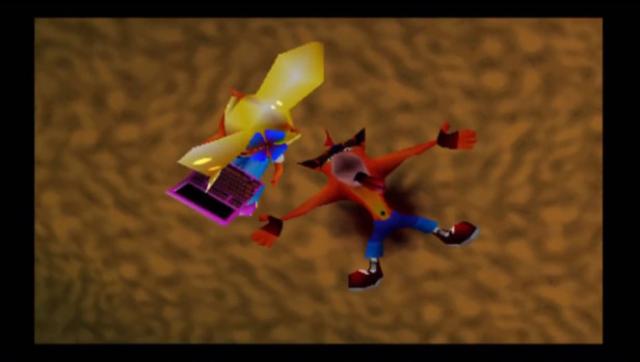 No series marks this better than Crash Bandicoot. The spunky marsupial was a smash hit on PS1, selling multi-millions across four entries thanks to brilliant reviews and tonnes of advertising (including poking fun at Nintendo's own mascot). All four of these titles – Crash Bandicoot, Cortex Strikes Back, Warped, and Crash Team Racing - are currently available as PS1 classics on Vita and, while they're not the remade N-Sane Trilogy versions, they're just as fun and playable as they always were (aside from the slightly wonky first entry).
Or at least, they're available if you live in Europe. Thanks to some frustrating licensing issues, the games aren't available on the North American Vita store, meaning you'll have to make a different region's account or wait for another compatibility glitch (although it's not all bad, as the PSP sequel Crash: Mind over Mutant is at least available). Sadly, the same fate befell the Spyro the Dragon trilogy – Crash's main platforming rival - during the PS1 days. These games are available on Vita in Europe but not North America, although if you can get your hands on them they're hands-down some of the best games ever.
Of course, Spyro and Crash weren't the only mascot platformers that flourished on PS1. Others achieved more niche success. One such series was Gex and all three of his adventures landed on the platform, including the original 2D adventure and two 3D sequels. These games are all up on PSN – Gex, Enter the Gecko, and Deep Cover Gecko, and while they might not have aged particularly well, they're still fun to revisit. Another forgotten PS1 mascot is Tomba!, whose first and second adventures were made available on Vita thanks to the brilliant efforts of MonkeyPaw Games, while the loveable (and often ignored) Klonoa has his debut adventure Door to Phantomile up as a PS1 classic.
In the mad chase to cash-in on the popularity of the genre, the PS1 hosted a number of Disney licensed cash-ins, based on their popular films. The list is fairly endless – A Bug's Life, Hercules, Mickey's Wild Adventure, Monsters Inc, Toy Story 2, etc. While I can't speak to the quality of all of these, they represented an era when consoles were family-friendly and games like this sold really well. Thankfully they've all been re-released for Vita, meaning their legacy can be preserved.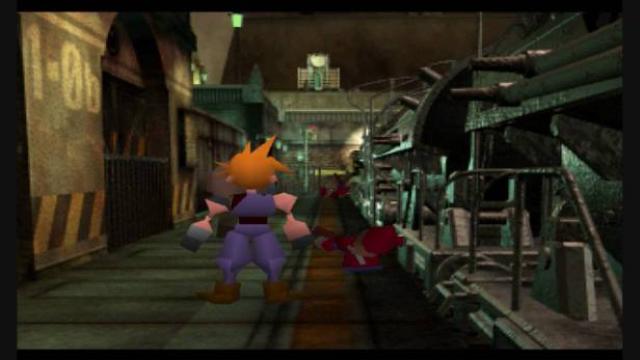 Talking about legacies, there's one franchise in particular that left a lasting impression on the world of RPGs for ever. That series is of course Final Fantasy, for which the PS1 received three brand-new main series entries – VII, VIII, and IX, of which VII is often cited as one of the best and most influential videogames of all time (and with 12 million worldwide sales it's safe to say it massively caught on with mainstream audiences, although VIII still sold 8 million and IX 5 million, so their popularity can't be ignored). All three lived on through the PS1 classics initiative on Vita, with some of the earlier games (V and VI) also being offered after being ported across from the SNES to PS1.
As I've talked about earlier, PS1 was when Square-Enix was at its prime and offered a hell of a lot more than just Final Fantasy throughout the console's life. Among the company's other more high profile releases were Front Mission 3, a mech-based strategy-RPG; Parasite Eve 1 & 2, a pair of RPG/survival horror hybrids with a bizarre story; Chrono Cross (and Chrono Trigger), two time-travelling RPG's and big-budget rivals to the Final Fantasy games; Xenogears, another mech-based game, this time with a more traditional JRPG base; and Vagrant Story, an aesthetically gorgeous action role-playing title. All of these games were re-released years later as PS1 classics (although sadly, some of them only in North America), helping strengthen the handheld's already-burgeoning RPG library.
If there is a game out there that can make the claim that it was even more influential than Final Fantasy VII on PS1, then that game would be Metal Gear Solid. The action-stealth epic presented a twisting cinematic story and some brilliant character development. It spawned a sea of imitators, helping propel its creator Hideo Kojima to stardom. The title became available as a PS1 classic in 2009 (its 'extra missions' disc, VR Missions, was also re-released in 2013) and combined with the PSP sequels, including Peace Walker and Portable Ops (and Vita-native ports of 2 and 3), helped cement the Vita as the ultimate portable Metal Gear machine.
One of the imitators that was spawned from Metal Gear Solid's success was from Sony itself, in the form of Syphon Filter, which follows an agent named Gabe Logan who attempts to stop the release of a deadly biological weapon. All of the first three PS1 games are available as PS1 classics, while PSP-sequels (Dark Mirror and Logan's Shadow) are backwards-compatible too. It's worth noting that plenty of Sony's other PS1 titles are available through the classics program. A non-exhaustive list includes Cool Boarders, Destruction Derby, Jet Rider, Jumping Flash, Twisted Metal, Wild ARMs, and WipEout (the latter of which also received two PSP sequels like Syphon Filter, of which WipEout Pure is awfully close to the PS1 experience, except more polished).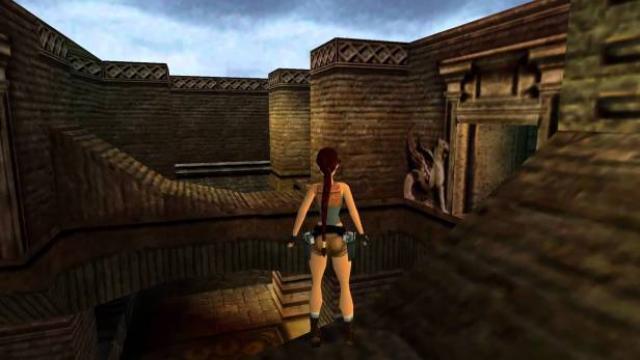 There's one PS1 powerhouse franchise that I've yet to mention because the games deserve talking about in their own paragraph. That series is Tomb Raider, starring the legend that is Lara Croft. Just as famous for her assets as for its gameplay, the franchise nevertheless became a smash hit with the first five entries all selling more than a million copies each. All five were made available as PS1 classics for Vita, alongside some PSP sequels, including a remake of the very first title (Anniversary).
Alongside Lara, there were a few more recognisable names from the PS1 era that live on in gaming today, most of them being from the Mishima family and its long-running family feud. Their series is Tekken, one of the earliest 3D fighters, and still to this day one of the most successful (the third entry sold a whopping 8m copies). Both Tekken and 2 are playable on Vita (although frustratingly not the third), alongside a PSP port of Tekken 6.
In this section alone, I've already covered a massive range of genres, showing just what a brilliant library the PS1 has. One I haven't touched upon yet is horror, which was well-served by Capcom's long-running Resident Evil series. The PS1 saw three entries, all of which mixed beautiful pre-rendered backgrounds with intense action, jump scares, and a twisting plot. They all sold particularly well too, with 1 and 2 shifting more than 5 million copies each (Nemesis sold a still-respectable 3.5m). Capcom also took this gameplay template and applied it to dinosaurs with Dino Crisis, of which the first and second entries are available on Vita.
The racing genre also flourished on PS1, particularly arcade racers with a less realistic feel (although it's difficult to deny the impact Gran Turismo alone had on the console). Among arcade racers, the stand-out for me was Ridge Racer, a drift-heavy title focused on driving through beautiful sunny landscapes blasting out gorgeous music. The fourth entry in the series – Ridge Racer Type 4 – is currently backwards-compatible with Vita (and if you fancy it, the brilliant PSP release is also playable, although it takes the gameplay in a different direction).
I could continue talking about other PS1 classics available on Vita, but quite frankly I'd be here all day because there are so many. Suffice it to say that through the PS1 classics program the Vita is a very capable machine at providing a portable version of that console. Among the remaining highlights I haven't mentioned are Alundra; Arc the Lad, Castlevania, Driver, Fear Effect, Harvest Moon, Legacy of Kain, Mega Man, Silent Hill, Suikoden, Theme Hospital, and more – the list just goes on and on.
Conclusion
Short of loading a PS1 emulator onto a phone or tablet (which brings its own set of problems), the Vita is almost unrivalled in its status as a portable PS1. Like the PSP before it, a brilliant selection of backwards-compatible classics are available through emulation, porting, sequels, and spiritual successors, each playing as well or better than they did on the original hardware.
The majority of the console's major franchises are available too. Everything from Crash Bandicoot to Final Fantasy to Tomb Raider is represented, with plenty of the more niche series like Jumping Flash and Wild ARMs also showing up. It's a shame that some of the more recent remakes and remasters (such as the Crash Bandicoot: N-Sane Trilogy and MediEvil Remaster) haven't targeted the platform, but even then the actual games are still available in their original format.
Some of the more glaring omissions from the Vita's library include the Dragon Quest games (that were ported to 3DS rather than Vita), the brilliant Tony Hawk's Pro Skater series, and some of the more notable licensed titles such as Spider-man 2 or Yu-Gi-Oh! Forbidden Memories. The Vita is also missing some sequels to key releases – we have the first Driver game but not the much-improved sequel, a situation which is repeated with WipEout in that the fantastic 2097 isn't on the store.
The PS1 will always have a particularly special place in my heart – it was my very first console, so not only introduced me to gaming, but to a large number of the franchises I still hold near and dear to my heart today. Some people argue that the 3D gameplay from the era hasn't aged the best, but given a little patience nearly every game from that time can be as impressive now as it ever was – and that's never more evident than on Vita, thanks to its beautiful screen and controls. I believe the days of Sony's PS1 Classics program seeing new releases are long gone, but I'm incredibly grateful for the titles that are already there. When combined with Vita-native games and PSP ports they make the handheld's ability to play legendary PS1 series on the go one of the main reasons I'm planning on keeping mine around forever.
More Articles