2010 Year on Year Sales and Market Share Update to September 25th - News
Miles Taven
, posted on 02 October 2010
/ 7,235 Views
Here we see data representing the global sales through to consumers and change in sales performance of the three home consoles over comparable periods for 2007, 2008, 2009 and 2010. Also shown is the market share for each of the consoles over the same periods.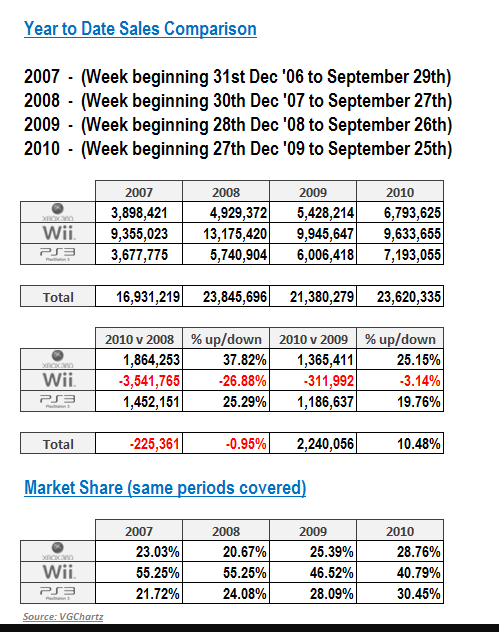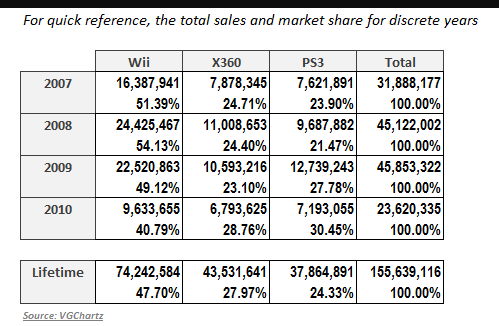 "Year to date" sales for 2007, 2008, 2009 and 2010 sales are shown in series at the top of the table and then just below a comparison of 2010 versus 2008 and 2010 versus 2009 is displayed. This provides an easy-to-view summary of all the data.

Wii - Nintendo's September 29th event has passed, and little was announced for the Wii, least of all a price cut which was needed to keep it from falling YoY further than it's going to. Nintendo may still announce a price cut in the coming weeks, but as of now this is the last week Wii will see minor YOY drops for the foreseeable future. Next week should see a near 200k drop, and similar throughout October without any intervention.
Wii: DOWN year on year this week by 15k or -10% and DOWN year on year - year to date by -3.14%.

Playstation 3 - Another successful week for the Playstation Move, and a sales increase. However it's not enough to offset last years slim effect as the YOY gains fall further. I estimate the PS3's YoY to be up 800k by end of October, but then GT5 hits and that's anyones guess as to what will happen to sales.
PS3: DOWN year on year this week by 85k or -35% and UP year on year - year to date by 19.76%.

Xbox 360 - The Halo: Reach boost wears off and sales decrease back to below 200k, but still very solid. With around 4 weeks until sales start seeing significant inclines, the X360 shouldn't drop too much further now. Only 5 weeks worth of data left until we see the effect Kinect will have on HW.
X360: UP year on year this week by 50k or 34% and UP year on year - year to date by 25.15%.
More Articles