SNK 40th Anniversary Collection (NS) - Review
Evan Norris
, posted on 30 November 2018
/ 4,614 Views
SNK is perhaps most notable for its 1990s inventions—Neo Geo and a slate of arcade classics like Metal Slug, Samurai Shodown, and Fatal Fury—but its formative work in the 1980s, while less impressive technically, is arguably far more interesting historically. The Japanese developer broke new ground during the Reagan era and produced many arcade gems (and subsequent console ports), several of which feature in SNK 40th Anniversary Collection. Although the compilation lacks diversity—many of the games are thematically and mechanically indistinguishable—it's a worthwhile investment thanks to a handful of classics, an extensive virtual museum, and some modern conveniences and quality-of-life features.
Included in SNK 40th Anniversary Collection are 13 games (or 14 if you want to include Iron Tank as its own installment) released between 1981 and 1990. Really, though, there are 21 total games, as many arcade hits come bundled with their console counterparts. You can opt to play the Ikari Warriors popularized in the arcades or the NES port, for example.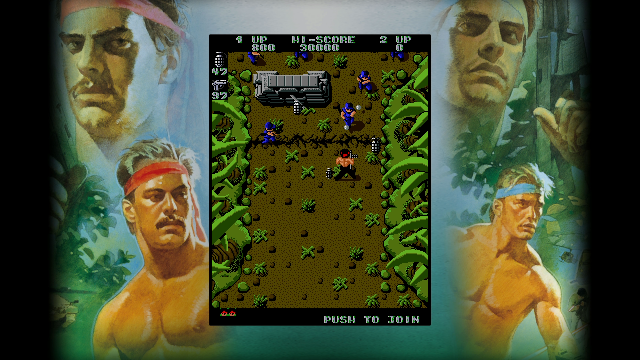 On paper, this is an impressive bonus—and, to be fair, it does make the collection more historically valuable and complete—but in reality it's unlikely you and your friends will boot up console incarnations of Alpha Mission, Athena, and P.O.W. when the superior arcade originals are available. Yes, many of the NES games feature new areas and bosses—SNK was good about creating new content for its home conversions—but technological limitations, grainy graphics, and two-button controls hold these versions back.
The 13 originals fare better, of course. A few are great, most are serviceable or at the very least fascinating in their novelty, and one is just not worth playing (sorry Street Smart). Some of the best include Alpha Mission (1985), a clever vertically-scrolling shooter that boasts eight power-up armors, each with a special effect; Ikari Warriors (1986), an addictive simultaneous local co-op top-down shooter; P.O.W. (1988), a Final Fight-esque side-scrolling brawler; and Prehistoric Isle (1989), the best horizontal shooter you've never heard of.
The crown jewel of the collection, though, is Crystalis (1990), SNK's first foray into the action-RPG genre. This Zelda-like is one of the more under-appreciated 3rd-gen games, even as it suffers from some frame rate and screen defect problems, and a general opacity. Go in armed with a walkthough guide, or at least the original NES manual.
Other titles are fascinating in their ambition and inventiveness. Vanguard, from 1981, is one of the first shooters to scroll in multiple directions—vertical, horizontal, and diagonal—and, along with Fantasy (also by SNK and promised as free post-launch DLC), the first arcade game to allow continues. TNK III (1985) is the first SNK title to use a rotary knob (later the loop lever), which allowed players to move and fire in different directions. Psycho Soldier (1987), a sequel to Athena (1986), features a vocal soundtrack—the first ever in an arcade game.
Despite these novelties, many of the games in SNK 40th Anniversary Collection bleed together, due to mechanical and thematic similarities. Much of the content on cartridge, like a lot of SNK titles of the time, is inspired by Hollywood war movies. Expect to play as a John Rambo analog in P.OW., TNK III (and its expanded console remake Iron Tank), and no fewer than three Ikari Warriors games. Furthermore, several of the entries in the compilation play in similar fashion. Guerrilla War, for example, is essentially Ikari Warriors with larger sprites and hostages.
If you grow tired of blasting bad guys, you can retire to the collection's robust virtual museum, which includes three main features: SNK complete works 1978-1990; bonus features; and game soundtracks. Complete Works covers all of SNK's 1970s and 80s offerings, alongside screenshots, manual scans, promotional art, instruction cards, sell sheets, and some fascinating bits of trivia. Bonus Features covers advertising scans, behind-the-scenes content like Crystalis concept art, and a selection of arcade guide books. Soundtracks includes each song from every game in the anthology.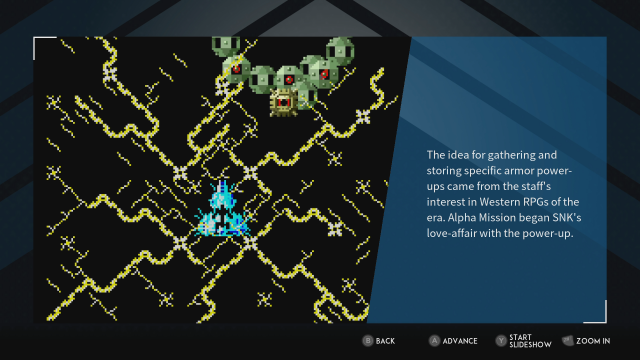 Not only does SNK 40th Anniversary Collection feature some great archival content and a bunch of interesting arcade games, it also makes those games more accessible than ever before. You'll be able to save and continue, rewind your game footage to erase a costly mistake, and, in the game's most surprising and gracious invention, "watch" an expert replay of each game to determine how to navigate an especially difficult section. You can even take over manual control mid-watch, if you really don't feel like beating a certain boss or advancing past a tricky stretch.
If you've never played SNK's 1980s arcade canon or if you have and want to relive your glory days, there's no better way to experience or re-experience it—a few lackluster or homogenous titles notwithstanding. With a collection of 13 mostly-good games (and 11 more due on December 11, all gratis) an impressive library of promotional and behind-the-scenes content, and some welcome modern quality-of-life mechanics, it's a worthy compendium for one of Japan's greatest arcade developers.
This review is based on a digital copy of SNK 40th Anniversary Collection for the NS, provided by the publisher.
Read more about our Review Methodology here
More Articles