A Tribute to Satoru Iwata, Nintendo President, Who Passed Away at 55 - Article
Evan Norris
, posted on 14 July 2015
/ 7,417 Views
For many executives in the video game industry, games are simply a means to an end. They're big business. They're dollar signs encased in shrink wrap. For Nintendo president Satoru Iwata, however, they were much more than that; they were a lifelong passion, a source of joy and inspiration.
Iwata, who passed away on Saturday at age 55 as a result of a bile duct growth, was more than just a corporate executive. He was, first and foremost, a game maker and game player.
In a speech at the Game Developers Conference in San Jose, California in 2005, Iwata articulated this philosophy, saying "On my business card, I am a corporate president. In my mind, I am a game developer. In my heart, I am a gamer."
It was this familiarity with - and love for - video games that defined Iwata's tenure as Nintendo CEO. It also set him apart from his predecessor Hiroshi Yamauchi, president of Nintendo for 53 years, who professed not to understand video games. Iwata, conversely, understood them inside and out and his presidency reflected that reality. Younger developers were more at ease with Iwata, who spoke their language.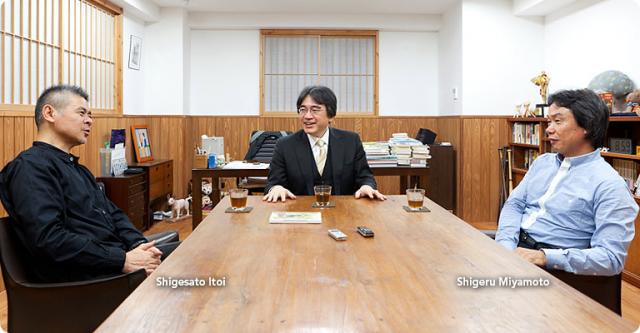 Mr. Iwata was born on December 6, 1959 in Sapporo Japan. He became interested in computer programming in high school and studied computer science at Japan's top technology university, the Tokyo Institute of Technology. In 1982 he joined a small game maker called HAL Laboratory. A decade later, with HAL on the edge of bankruptcy, Iwata assumed the presidency and, shortly thereafter, stabilized its financial situation. While at HAL, Iwata worked on Balloon Fight, Earthbound, and the Kirby series.
During the 1990s, although not a part of Nintendo, Iwata assisted in the development of Pokemon Gold & Silver and Pokemon Stadium. "Being able to participate in that small way in Pokemon, I came to feel a real affinity for the software," said Iwata in one of his recurring "Iwata Asks" segments.
In 2000, Iwata officially joined Nintendo as its head of corporate planning. When Hiroshi Yamauchi retired on May 31, 2002, Iwata succeeded him as Nintendo's fourth president - the first unrelated to the Yamauchi family. Under Iwata's direction, Nintendo moved boldly into the seventh generation, first in 2004 with Nintendo DS and second in 2006 with Wii, an unorthodox console that eschewed graphical and computational power in favor of low-cost, low-power components, and an innovative motion control scheme.
The results were spectacular for Nintendo and for the industry at large. Millions of consumers, many of whom had never played a video game before, flocked to stores to purchase Nintendo's systems and games. In 2006, mere months before E3 and the reveal of the Wii's "killer app", Wii Sports, Iwata said, "When people see what we have to offer at E3, they're going to understand that that wall's been broken down and we now have created a system that's going to allow for a much, much larger user base than any system we've seen before."
Together, the DS and Wii sold over 254 million hardware units and 1.83 billion software units, and played an important part in bringing video games to previously untapped markets and demographics.
Subsequent hardware releases, including the 3DS and Wii U, were less successful. In 2012, Nintendo announced its first ever annual operating loss. Iwata, in a gesture of solidarity and accountability, voluntarily chopped his salary in half after lower-than-expected sales for the 3DS.
In March of this year, Nintendo announced a partnership with DeNA, a Japanese company that specializes in mobile games, to develop games based on Nintendo brands for smartphones and tablets. In an interview with Time, Iwata said, "We will not merely port games developed for our dedicated systems to smart devices just as they are - we will develop brand new software which perfectly matches the play style and control mechanisms of smart devices."
At the same time, Iwata assuaged fears by pledging to continue development on dedicated Nintendo platforms. The ultimate goal, he insisted, was to convince tablet and smartphone owners to "eventually become fans of our dedicated systems." Iwata introduced Nintendo's next piece of gaming hardware, code-named NX, in March.
It's a shame that Iwata won't be around to see what Nintendo - now in its 126th year - does next. With game development in progress for smart devices and a brand new gaming system on the way, the future is potentially bright for the company Iwata stewarded safely and, at times, triumphantly for thirteen years.
But his legacy remains, even after his passing. He was a leader who played the corporate role - wearing his trademark three-piece suit and answering dutifully questions from shareholders - but who relished his role as developer and gamer. He introduced "Nintendo Direct" presentations, online videos in which he delivered news directly to gamers, and "Iwata Asks," a series where he interviewed developers about their latest games. He gambled on the DS and Wii, sparking a renaissance at Nintendo and a revolution in the gaming industry in the process. He insisted that Nintendo be, above all else, a gaming company.

Finally, and most importantly, he believed in a simple mantra - one that serves well as a coda for the life of Satoru Iwata the programmer, the developer, and the executive: "Above all, video games are meant to be just one thing. Fun. Fun for everyone."
More Articles