Ten Interesting Games From E3 2018 That You May Have Missed - Article
Taneli Palola
, posted on 17 June 2018
/ 3,086 Views
The annual hype machine that is E3 has once again come and gone, and as always we saw a huge number of massive upcoming titles shown off at the various press conferences and during the event itself, some to rapturous ovation and others to polite applause. Yet, with all the attention many of these announcements get, for every game that gets the spotlight shone on it during one of the big press events, there are countless other titles that run the risk of getting lost amidst the sea of games competing for your attention.
So, with that in mind, let's take a look at some of these smaller games that you will likely have missed in all the excitement. Naturally, there's no guarantee that all of these games are going to be good, but they all have something interesting going for them, be it a well designed visual style or unique gameplay elements which at the very least deserve to be acknowledged. Here are ten interesting games from E3 2018 you might have missed.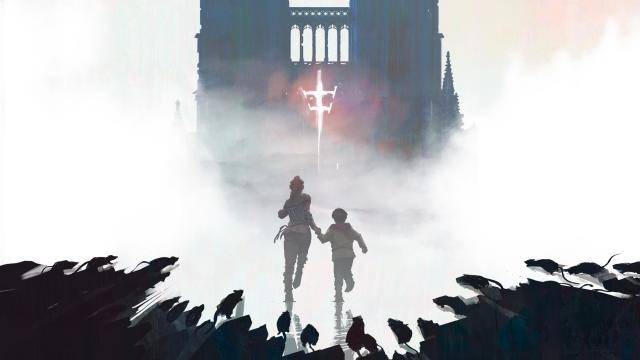 A Plague Tale: Innocence
Release date: 2019
Platforms: PC, Xbox One, PlayStation 4
The only returning game from last year's list, A Plague Tale: Innocence is conceptually quite possibly the most interesting one on it for me personally. An adventure game set in 14th century France ravaged by the Black Death has massive amounts of potential to be something truly special. If the narrative of the two siblings fighting for survival and the stealth-based gameplay live up to the images shown in the trailer, this could be one of the most intriguing new titles on the horizon.
Indivisible
Release date: 2019
Platforms: PC, Mac, Xbox One, PlayStation 4, Switch
Indivisible had me interested from the moment I first saw it in motion. The gorgeous art style and the numerous beautiful locations shown in the trailer quickly pushed it very high on my anticipated games list, but it was the gameplay which looks to combine elements from side-scrolling action platformers and turn-based RPGs that sealed the deal for me.
Indivisible is being developed by Lab Zero Games, the same team that created the excellent Skullgirls fighting game. If you need one more reason to keep your eyes on this one, the music in the game is being composed by Hiroki Kikuta, the man behind the music in Secret of Mana.
Outer Wilds
Release date: 2018
Platforms: PC, Mac, Xbox One
In Outer Wilds the player takes control of an astronaut who finds himself stranded in a solar system which is stuck in an endless time loop that always ends with the sun going supernova, killing the player and sending them back to the beginning once again. However, the player can use the things they learn on these attempts to slowly uncover the world's secrets and alter the outcome of subsequent playthroughs. It's an interesting central mechanic that could lend itself to a lot of interesting situations within the game. Hopefully this one turns out good when it comes out.
Greedfall
Release date: 2019
Platforms: PC, Xbox One, PlayStation 4
This is another game that is on the list based mostly on the potential of its basic concept. Greedfall is set in a newly discovered fictional island paradise during a colonial era ravaged by an incurable plague. The island, a home to magic and the supernatural, serves as the one remaining hope for finding such a cure. However, as the settlers begin to arrive on this new land, conflict between the new arrivals and the native population is inevitable.
While the basic premise behind Greedfall is very interesting, there is one thing that somewhat tempers my expectations. The game is being developed by Spiders, a team whose previous games have never really managed to rise above mediocrity. They certainly have plenty of experience in creating action RPGs, but that has yet to translate to anything genuinely good. Regardless, I'm still cautiously optimistic about Greedfall, hence the reason why it's still on this list despite my reservations.
Satisfactory
Release date: TBA
Platform: PC
Satisfactory is an open world factory building sim where the player takes on the role of an engineer tasked with constructing one such factory in an alien planet as part of Project Assembly. The player has to not only create a working factory, but also collect the resources and explore the surrounding wildlife while doing so. In addition the game has official support for co-op with up to 4 players at once playing in the same world.
The part that piqued my interest was the co-op. The possibility of creating a huge working machine together with other people in a fully explorable world is a hugely intriguing prospect for me. The fact that the game also features elements such as combat against wildlife and various different vehicles the player can use to travel the world is just a nice bonus.
Concrete Genie
Release date: 2018
Platforms: PlayStation 4
One of the more unique games on this list and at E3 was Pixelopus' Concrete Genie, in which the player takes on the role of a bullied teenager, Ash, who has the ability to create living sceneries and creatures through his paintings. As he does so he also discovers that his paintings can purify the polluted walls of his hometown. Besides the interesting concept Concrete Genie also looks beautiful, which certainly helps in standing out from the crowd.
Astroneer
Release date: TBA
Platforms: PC, Xbox One
Although it has already been released via Early Access, Astroneer is still in development and was one of the more interesting, less heralded titles shown at this year's E3. The game tasks the player with colonizing countless randomly generated planets and gathering resources to build custom bases either in single or multiplayer. The somewhat minimalistic visual style that uses strong colours with textureless surfaces is a nice touch as well. Astroneer is one of the games to watch and possibly buy right away, though personally I'm perfectly fine waiting until its proper release.
Labyrinth of Refrain: Coven of Dusk
Release date: September 18, 2018
Platforms: PC, PlayStation 4, Switch
Labyrinth of refrain: Coven of Dusk is a new title coming from Nippon Ichi Software, this one providing an interesting take on the classic dungeon crawler-genre. It was already released in Japan back in 2016, but is only now coming to the west. Dungeon crawlers are a rare commodity these days, and any fan of games like Dungeon Master, Eye of the Beholder, and the more recent Legend of Grimrock titles (like me) might just find something new and interesting to play. The anime inspired visual style certainly makes it different from most other games in the genre.
Desert Child
Release date: 2018
Platforms: PC, Mac, Xbox One, PlayStation 4, Switch
Desert Bike, as described on the game's official website, is a racing RPG set in a dusty world where your only friends are a vintage hoverbike and a packet of instant noodles. If nothing else, Desert Bike certainly gets some points for originality. In the game the player takes the role of a gifted racer who must make money through any means necessary, including but not limited to: delivering drugs, throwing races, and hunting bounties, all for the sake of improving your hoverbike and ultimately moving up in the world.
The visual style reminds me slightly of the game Another World (known as Out of this World in North America), which is a refreshingly different source of inspiration from the usual 8-bit or 16-bit graphical styles a lot of indie games go for.
11-11: Memories Retold
Release date: November 9, 2018
Platforms: PC, PlayStation 4, Xbox One
11-11: Memories Retold is a story-driven adventure game that tells two stories, one of a Canadian photographer who leaves for the Western Front in Europe on November 11, 1916, and another of a German technician who on the same day hears that his son has gone missing in action. Their paths through the theatre of war will eventually cross and lead to the most important decision of their lives.
One of the main reasons 11-11: Memories Retold caught my attention - well, besides the absolutely gorgeous visual style - was the fact that Aardman Animations is involved in its development. For those who don't know, Aardman is best known for the Wallace & Gromit series of short films, as well as a number of feature length animations. If the story can match the quality of the game's visuals and provide us with an intriguing narrative suitable for its WWI setting we might have something exceptional on our hands.
There we go. Ten interesting games from this year's E3 that in my opinion deserve more attention than they have received thus far. What underappreciated titles did you come across during E3? Share them in the comments below, and as always, thanks for reading.
More Articles