Interview: FutureGrind is Uniracers Meets Trials - Article
Tyler Treese
, posted on 30 September 2015
/ 3,232 Views

One of the SNES's cult classics was the DMA Design-developed Uniracers. Despite critical acclaim, the title never saw a sequel due to a lawsuit with Pixar. While definitely a unique game in its own right, upcoming PlayStation 4 and PC title FutureGrind is the closest unicycling enthusiasts will get to a Uniracers sequel.
To find out more about this gorgeous stunt-platformer, we reached out to Milkbag Games' Owen Goss, one of the studio's Co-Founders alongside Matt Rix.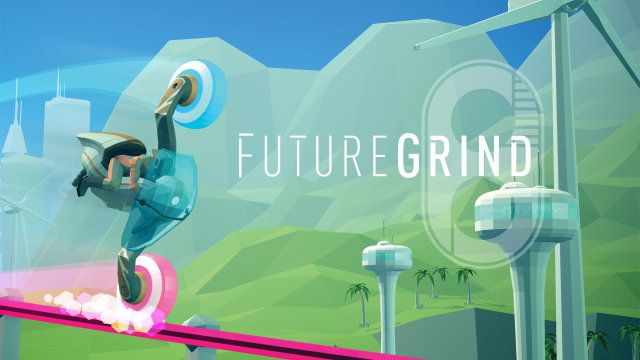 VGChartz: How would you explain FutureGrind to those who've never played it?
Owen Goss: FutureGrind is a futuristic stunt-platformer that's all about challenge, tricks, and skill. You control a futuristic vehicle, called a grinder, with two coloured wheels that can spin around. You ride the grinder through a track made of rails of different colours. You have to match the blue wheel to blue rails and the red wheel to red rails, all while doing tricks and building huge combo chains to maximize your score.
VGC: The small demo at E3 was very difficult. How do you balance the game making sure that players are being challenged, but also having fun?
OG: Yes, the game is challenging. That said, we've made a lot of design choices that make learning to play less frustrating. For example, when you crash your grinder, you can restart your run immediately. There's no wait to reset and try again, so that makes failure less painful. We also keep the track designs short enough that even if you crash right near the end of a track, it doesn't feel like you've just wasted a huge amount of time. There will be lots of balance work to do as we continue to build the game, but these are the kinds of things we're thinking about.
VGC: The idea of FutureGrind has floated around Matt's head for a while now. How many different art styles has the game gone through?
OG: The original prototype for the game was in 2D, in a pretty clean, vector art style. Once we decided to move forward with development, my first concept art was for a 2D, pixel-art game. However, at some point we started wondering what the game would look like in 3D. I did some early mockups and when we showed them to some of our friends everyone said, "yes! You have to make this in 3D, that looks amazing!" So at that point the game became a 3D game.
Some of the original concept art I did for the game set the game in a post-apocalyptic world. But we pretty quickly decided that we weren't interested in making a really dark game. So we've decided to set the game in more of a post-post-apocalyptic world, where we've gone through some bad times, but we've rebuilt, and now we have the sport of FutureGrind.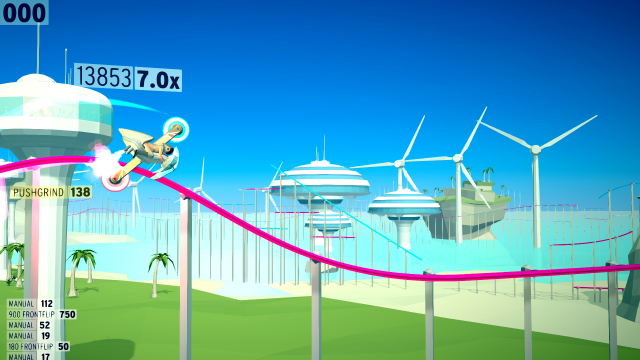 VGC: FutureGrind's soundtrack is being created by musician bignic. How important was it to get a talented musical artist on board?
OG: bignic is amazing. The music is something we've always had a pretty clear idea about, and from very early on we knew we wanted bignic for the soundtrack. When we were building the prototype, both Matt and I were listening to a lot of bignic's soundtrack for his "Corporate Lifestyle Simulator" game. We absolutely loved that soundtrack and for our first playable 3D prototype we used one of the songs from the CLS soundtrack because we knew that was the sound we wanted. We approached bignic and asked him to write the soundtrack, because his style fit the game so perfectly. He composed an absolutely amazing soundtrack that we're really excited for people to hear.
VGC: Would you say that Uniracers is an influence on the game? Are there any other games that have impacted development?
OG: Uniracers is definitely an influence. We love that game. OlliOlli, Skate, and the SSX games are all also pretty big influences. I play a lot of Trials, so that's been a big influence in some ways too.
VGC: What types of different modes will players be able to trick through?
OG: We haven't talked specifics yet, but the main mode for the game will be a campaign mode where you're unlocking new tracks and grinders and trying to earn a name for yourself in the world of FutureGrind.
VGC: FutureGrind is currently set to release on PS4 and PC in Q1 2016. Is it still on pace, and has development gone as smoothly as you thought it would?
OG: We're now saying "early-to-mid 2016" for our PS4 and PC launch. Development has gone quite smoothly so far. The switch to 3D involved some significant learnings, but we have a much better game for the decision. So far we've been concentrating on really nailing the core gameplay and feel for the game. Now that we're happy with that we're moving into building out the rest of the game.
VGC: With FutureGrind being Milkbag Games' first console game, how has it been working with Sony?
OG: We've been very impressed working with Sony. They've been great to work with so far. It's really great to see them working with so many indies.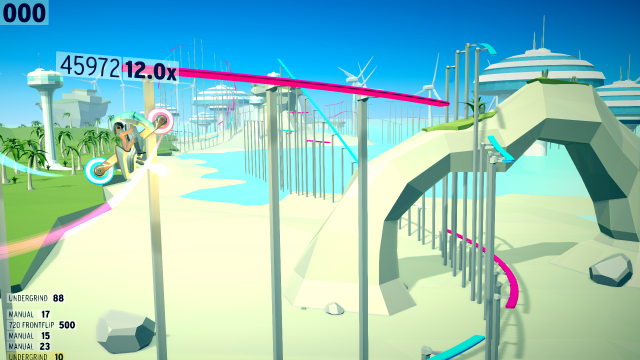 VGC: FutureGrind has a very clean, futuristic aesthetic (which I guess makes sense considering the name). Will players learn anything about the world that the game takes place in? Is FutureGrind some sort of futuristic extreme sport?
OG: Yes, exactly. FutureGrind is the extreme sport of the future in which daring riders can make a name for themselves and earn sponsorships to work their way up the ranks. However, much of the history behind the world we're building is just something we're using for our own development so that the world feels like a place with a story, even if it's never explicitly told to the player.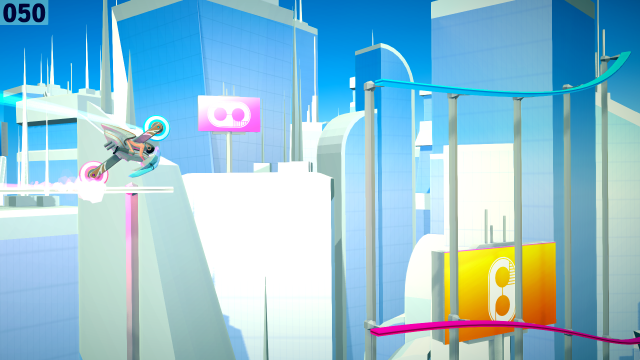 VGC: Feel free to give your pitch as to why gamers should check out FutureGrind once it releases in 2016.
OG: If you're into challenging games with a high skill ceiling, you're going to want to play FutureGrind in 2016. It has very simple controls, but from that comes a ton of depth in terms of tricks, combos, and gameplay. This is a game you're going to want to master and try "just one more time."
Developer Milkbag Games can be found on Twitter over at
@Milkbaggames
, while the founders Owen Goss and Matt Rix can be found at
@OwenGoss
and
@MattRix
, respectively. More information about FutureGrind can be found on its official
website
and
devlog
.
More Articles