How BioShock Infinite Reaffirmed my Love of Gaming - Article
VGChartz Staff
, posted on 19 April 2013
/ 6,298 Views
If you haven't finished BioShock Infinite and don't wish to encounter any kind of spoilers, please turn back now. You have been warned.
I'm sure a lot of gamers have experienced what I'm currently going through. In fact, I'd wager that every single person who legitimately calls themselves a gamer has been through, is going through, or will go through what I'm currently experiencing.
Unfortunately, I've reached that point in my life where gaming for enjoyment has taken a backseat. It's something I hate to admit, and I fondly remember the days when I truly believed I would never stop playing games on a daily basis. Unfortunately, work and education have mercilessly destroyed that particular naive thought, and now I'm lucky if I sit down with a game once or twice a week (reviewing games doesn't count, that's work).
I have even considered selling off my consoles and moving on from gaming altogether - although I never could bring myself to do it; I suppose gaming is so embedded in my lifestyle I feel like I would be selling a piece of what makes me, me. It sounds quite dramatic, but I'm sure some of you can relate to that. The cost of gaming also means that I can only realistically buy a few select titles each year. Even once I have them, finding the time to finish those games is yet another challenge I face.
It's frustrating when life suddenly gets in the way of one of your biggest passions, but when games like BioShock Infinite come along, those frustrations are forgotten in a heartbeat. BioShock Infinite is the first game I've bought this year, and it reminded me why I love gaming.
Not only is BioShock Infinite a tight, polished action game full of spectacle, it's also a game that tells a smart and emotionally charged story. Infinite's lead characters are second to none, with Elizabeth in particular standing out. I'm not sure if I have ever become attached to a fictional character as quickly as I became attached to Elizabeth. The talented folks over at Irrational have created a character that will undoubtedly live long in the memory - largely in part to that wonderfully constructed acoustic guitar scene, which is hands down one of the best parts of any video game I have ever played.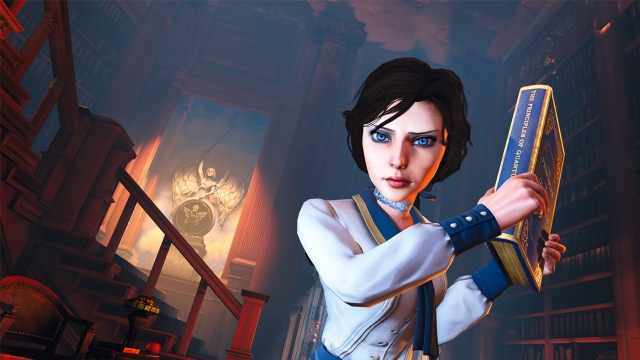 As you may have guessed, BioShock Infinite was one of the first games in a long, long time, that I couldn't bear to put down: I actually completed it in two sittings. When I finally reached the quite frankly mind-blowing conclusion the only thing I could do was enter a state of reflective paralysis, staring at my screen as the credits rolled. I was simply in shock after being bombarded with so many concepts and emotions, and I took great pleasure in carefully analysing each and every one the next day.
I'm not sure why BioShock had such a profound effect on me. Perhaps it's because I've reached a stage in my life where my choices will really begin to shape and impact my future, and BioShock Infinite's tale of endless realities and possibilities provided me with some solace. Perhaps it's because Infinite's story was one of such bittersweet beauty, that I find it hard to accept that I'll never truly know what happened in the end - damn you post-credit sequence. What I do know is that no other medium can affect me in the way gaming does. No other medium can make me become so involved and affected by an experience that, by the time it's all over, I feel like I might not be quite the same person as when I started.
That is why I'll never give up on gaming, and I'd like to thank everyone who worked on BioShock Infinite for helping me to remember that.
More Articles
There are no comments to display.