Halo: A Sales History - News
Miles Taven
, posted on 01 July 2011
/ 44,956 Views
Welcome to a new regular feature here on VGChartz, where we dissect the sales - past, present and future - of the biggest franchises in the industry. Today we'll be breaking down the iconic series that is Halo, with analysis on Pokemon, Gran Turismo and others to come. If you would like to nominate one of your favourite franchises for analysis please leave a comment below; let your voice be heard!

A Brief History

November 15th 2001 and it's a very special day for Microsoft. The Redmond giant launches its first bid in the games console race and with it, the birth of a new franchise, Halo. Although it very nearly didn't happen, as Halo started out life as an RTS on Apple's Mac. Microsoft, however, saw the potential the Halo franchise had, and that it was important they had that system selling series every console boasts, and bought Bungie. Xbox launched to a luke warm reception, but Halo: Combat Evolved dazzled, and is still to this day the highest rated FPS on any platform. The two became synonymous with each other, and without each other, who knows where either would be today.

Nearly 10 years have passed since that day, and as we look forward to celebrating with Bungie, Microsoft and all the Halo fans around the world, a lot has changed. Whilst the Halo franchise was thriving, with Halo 2 eventually selling to over a third of Xbox owners, the Xbox itself was a heavy burden for Microsoft. Come 2005, only 4 years after the Xbox's inception, the Xbox 360 was born. But wait.... no Halo launch title?! Not even a Halo 2 port to tide fans over. The wait, however, would be worth it, as nearly 2 years after the 360's release, Halo 3 launched to major fanfare, breaking all kinds of records in the process. Since then Microsoft have taken a slightly different route with Halo, deciding to capitalise on the series' popularity. We've had a prequel, a side story and even an RTS, all releasing to fairly positive buzz. Also rather controversially, Bungie decided they wanted to become independent again, with Halo: Reach being their last ever Halo game. 343 Industries was created to carry on the Halo name.

As we approach the 10th anniversary, Microsoft and 343 industries will release a remastered Halo: Combat Evolved, and looking to the future, Halo 4 is just over a year away. We'll be taking a look (and a prediction) at how these two games will sell.

Sales Overview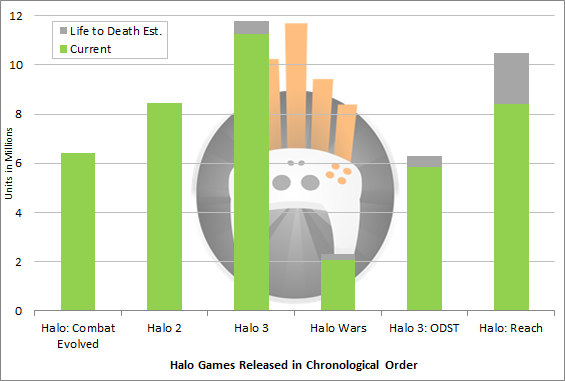 As you can see from the chart above, Halo's growth as a franchise is game dependant. Halo: Combat Evolved and Halo 2 achieved spectacular sales for a system with lifetime sales of 24 million; over 33% of the userbase bought Halo 2. Halo 3 continued the growth Halo 2 achieved, starting out on a base of 11.8 with sales slowing around the 30 million mark. It's important to note that whilst Halo 3's attach rate is just under 20% now, it was around 33% on its 2nd birthday. Halo Wars performed well for an RTS on a console, so its relatively low sales don't indicate any sort of fatigue or decline in the series. Neither does Halo 3: ODST, as a game that started out as an expansion pack, and was priced at a controversial $60, it will still manage over 6 million lifetime, and has an outside shot of overtaking Halo: Combat Evolved .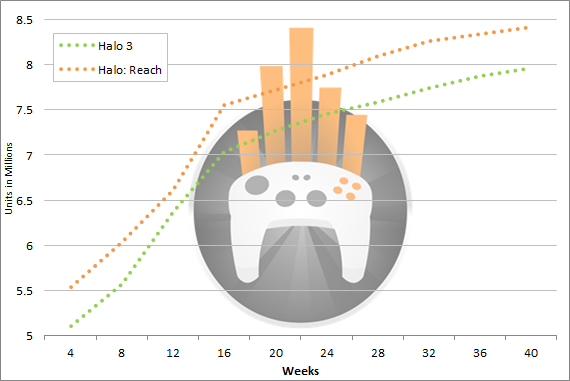 Halo: Reach is the first mainline game that won't achieve growth over its predecessor. It is currently tracking over 450k ahead, and has maintained that figure over the course of its life so far. Halo Combat Evolved: Anniversary should hinder sales, and with Halo 4 only around the corner, launching 1 year earlier than normal for a mainline Halo, Reach's legs will be cut short. That said it should reach around 10.5 million units, possibly 11 million.

Halo CE: Anniversary and Halo 4
First off I'll talk about Anniversary - a bit of a wildcard in that it's a bit hard to judge how it'll do despite there being several Halo games released to draw from. It's a remake, and we haven't seen how they fare on X360, especially one so big. It's a mainline game... but then it isn't. It's very unlikely it'll reach the dizzy heights of Halo 3, but then overall it's a better package than ODST, which only featured firefight as its real hook. Halo CE is a much loved game for Halo fans. In fact, I doubt you could find anybody that doesn't rank Combat Evolved in their top 2 Halo games. It's also $40, which is a big hook in itself. However, it's also going up against Call of Duty: Modern Warfare 3. On the topic of price though, as far as the UK goes Modern Warfare 3 is priced nearly 50% higher than Anniversary, £30 Vs. £55.

If I had to say which game Anniversary was going to mimic sales wise, it would be ODST, although it should slightly outsell it. Overall it's a better package for Halo fans, and $20 cheaper against a game that was considered expensive for what it was worth.

Halo 4, I believe, will be Halo's last outing and last big game to hit the 360. I don't see any more side-stories or remakes of any kind until Halo 5 launches 2 years after the '720' releases in 2013 (this is all speculation of course). If this is the case, however, it'll have a similar life to Halo 2 , but will obviously sell more. Halo: Reach has proven the series isn't yet growing stagnant, and that if the quality is there the fans will put their chips in. Halo 4 will sell beyond 10 million, and may even challenge Halo 3 for the title of best selling Halo.

Total Franchise Sales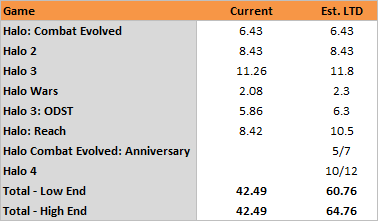 If the high end figure becomes a reality, Microsoft will have sold around 50 million Halo games this generation. That's growth of over 230%. Halo is well on its way to becoming a 100 million selling franchise; up there with Final Fantasy, Grand Theft Auto and Pokemon. The Halo franchise is going from strength to strength and doesn't show any signs of slowing down.
More Articles