Kinect Sales Reach 10 Million Units Worldwide - News
Miles Taven
, posted on 23 May 2011
/ 9,184 Views
With the recent financial report released by Microsoft revealing 10.4 million units of Kinect shipped, and with current estimates of Kinect sell-through to consumers at 9.94 million, VGChartz forecasts Kinect to pass the 10 million sell-through mark around the 30 week mark (28th May 2011).

For the purpose of this article I'm going to extract from a previous Kinect sales report to shed light on some of the comparisons you see here.
'There is some debate over whether Kinect can be considered as a videogame system or whether it is an accessory - this is certainly a grey area and Kinect exhibits characteristics of both. For the argument as a system, the fact that Kinect has it's own library of games which can only be played on Kinect certainly distances it from a typical accessory like a Guitar Hero guitar or even the Wii Balance Board, both of which are only supported by a handful of games, many of which can be played without those accessories. From a consumer perspective, Kinect is actually limited (in terms of potential sales) by the fact that you need an Xbox 360 to use it. Therefore, the two options available are to purchase in a hardware bundle starting at $300 or you effectively get a Kinect at a discounted rate of $150 if you already own an Xbox 360. So from a consumer perspective, Kinect is a very real competitor to the likes of Wii as a platform as it costs a similar amount and has a distinct library of games that can only be played on Kinect.' - Brett Walton.

6th Generation Hardware Sales at the 28 week mark.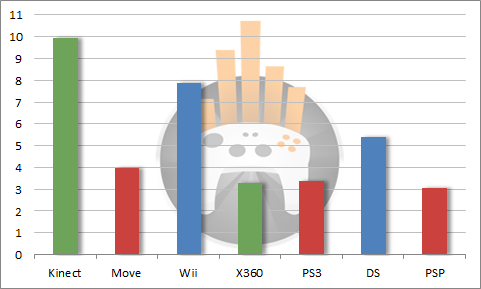 Back in January, Kinect almost had a 2:1 lead over the Wii, however since then the gap has closed in favour of the Wii, thanks to Nintendo sorting out supply constraints the Wii had over Christmas, and lower interest in Kinect due to lack of new software. Kinect still leads, but unless it sees significant software support in Q3/Q4 and perhaps a price cut, it could fall behind the Wii later this year, which stood at around 15 million at its first birthday. Given the massive Christmas Kinect had last year, though, it's unlikely Kinect won't sell another 5 million units up to November.

The Move figure is based on our estimated userbase for Move, and so Kinect still has a very healthy lead. At this point it's very unlikely Move will ever take the lead.

Going forward it's difficult to judge how well Kinect will sell this year until we get past E3 and see if Kinect and/or Xbox 360 get a price cut, and by how much, and what software Microsoft have coming.

Best case scenario is Kinect gets a $50 price cut, X360 gets a $50 price cut and so the Kinect bundles become priced at $199 and $299 for the premium model. With a slew of software releases from August to November, Kinect would most definitely be up year over year in Q4 and would likely pass 10 million shipped in that quarter alone, with anywhere from 2-4 million shipped in Q3. Along with Q2 shipments (which at this point are looking sub 1 million without any intervention at E3), shipments could reach beyond 25 million by the end of the year.

However, if Microsoft feel their software support for Kinect this Christmas is strong enough to sell the system alone, and Kinect and Xbox 360 don't receive price cuts, Kinect is likely to be at best flat year over year, but likely down, so around 5/6 million in Q4 and 1.5 million the Q before. This would put shipments in the region of 18/19 million by the end of the year.

Along with the bundled Kinect Adventures, Kinect software is at an attach rate of 2.1 games per unit.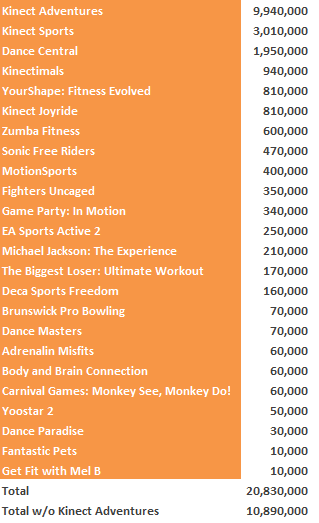 More Articles