Mighty Switch Force! Collection (XOne) - Review
Evan Norris
, posted on 01 August 2019
/ 2,875 Views
The Mighty Switch Force! franchise, which began its life as DSiWare and found a home on 3DS, WiiU, and PC, has finally made its way to Xbox and PlayStation. Now, players on Switch, PC, Xbox One, and PS4 can enjoy the clever puzzle-platforming series, via four games that show its evolution from 2011 to 2015. Some of the series' lesser-known entries are missing, and two of the included titles have overlapping challenges, but in general this is a fine starting point for fans of side-scrolling puzzlers, or anyone who doesn't want to carry around a 3DS, WiiU, and laptop to play all their favorite Mighty Switch Force! games.
WayForward, the independent studio that created the franchise—and many other fan-favorite side-scrolling action games—doesn't spend much time building up the fictional universe of Mighty Switch Force!, but there are some narrative constants. All of the collection's titles take place on Planet Land, and involve cybernetic peace officer Patricia Wagon and a group of convicts called the "Hooligan Sisters". In the first game, Mighty Switch Force!, and its enhanced HD counterpart Mighty Switch Force! Hyper Drive Edition, Patty must apprehend the Sisters after they escape police custody. In the sequel, Mighty Switch Force! 2, Patty, now a cybernetic firefighter, rescues the newly-reformed sisters from the inferno on Planet Land. Finally, in Mighty Switch Force! Academy, a training simulation at Planet Land Police Academy goes wrong, creating dangerous holographic scenarios featuring—you guessed it—the Hooligan Sisters.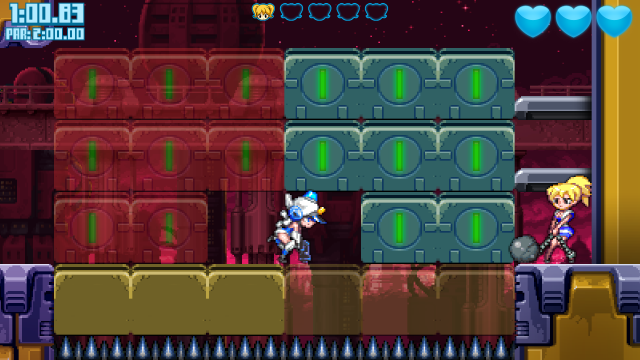 All four games are united by puzzle-platform mechanics and a foundational conceit—the ability to switch blocks via a special Siren Helmet. Players will use this ability to travel across maps, solve problems, and even destroy enemies by luring them over a transparent block then switching it solid and launching them into the foreground (you can also do this to yourself, so be careful). WayForward leverages this gameplay hook in many clever and creative ways across all four entries in the collection.
In additional to standard blocks, the developer introduces launch blocks, which send Patty screaming across each intricately-designed map, and pressure blocks, which maintain their solidity when Officer Wagon stands on one, regardless of the switch state. In the premiere game, there's a slow and steady uptick in difficulty and complexity across its 16 levels, or "incidents", culminating in a memorable vertical climb where blocks switch not according to the Siren Helmet, but to a regular rhythm players cannot control.
The best of the series, though, is Mighty Switch Force! 2, a fire-themed game with brand new blocks and some inventive puzzles. There are mud blocks that dissolve under a steady stream of water; pipe blocks that redirect the flow of liquid; and wooden blocks that will only crumble when on fire. The sequel also introduces an "Ugly Secret Baby", or "U.S.B", hidden in each of its 16 levels, providing players with an optional challenge on top of finding all five Holligan Sisters and beating par time.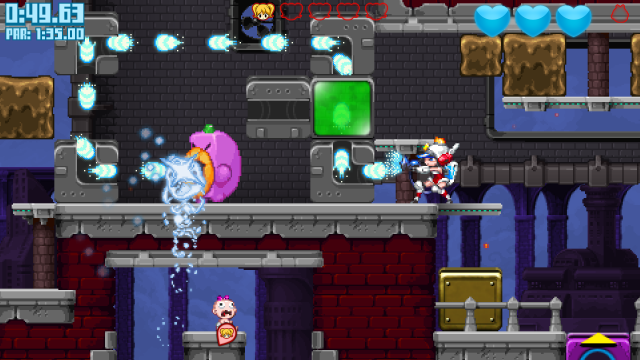 With only 16 levels, Mighty Switch Force! 2 is a sweet but short game—a trademark of the franchise. Across all four titles, there are only 78 unique levels, which would take around 10 hours to topple. Now, each adventure has two challenge tiers, which can stretch out the experience. On one tier, players attempt simply to nab or rescue each Sister and make their way to the end of the stage. On a secondary tier, players aspire to beat the par time for each "incident". Attempting every par time and seeking out all the ugly secret babies will most likely double your play time.
The longest, largest game in the anthology is Mighty Switch Force! Hyper Drive Edition, but it's also the most duplicative of the bunch. A WiiU launch title, Hyper Drive takes the 16 original levels from the first game (plus five bonus levels) and converts them from pixelated graphics to HD hand-drawn art, similar to A Boy and His Blob. It also adds remixed Hyper Mode versions of those 21 stages, making them harder. Overall, it's the best, most substantial way to experience the earliest game in the franchise, but it essentially nullifies one-fourth of this collection. You can play all 21 levels from Mighty Switch Force! via Hyper Drive, after all. Moreover, once you complete the first level in Hyper Drive, you unlock "pixel Patty", which allows you to view Officer Wagon in all her pixelated glory (the backgrounds remain HD) and co-opts another unique feature of the 3DS original.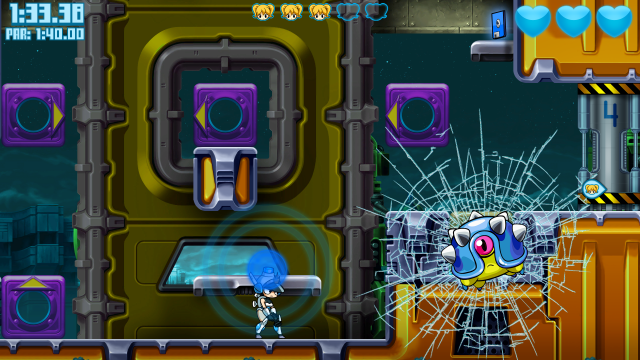 The redundancy of Mighty Switch Force! and its HD facelift Hyper Drive Edition would seem a smaller problem if more franchise games arrived in the collection. Unfortunately, a few forgotten titles have missed the cut. These include Mighty Flip Champs! and Mighty Milky Way, two proto-Mighty Switch Force! adventures that landed on Nintendo DS under the DSiWare label, and Mighty Switch Force! Hose it Down!, an iOS spin-off of Mighty Switch Force! 2 that plays like Pipe Mania.
Rounding out the compendium is Mighty Switch Force! Academy, an atypical entry that zooms out on the puzzle-platforming action to include the entire map on a single screen. While not as engaging as the first two games in the series, Academy adds some new wrinkles, like wrap-around levels (in the style of Pac-Man) and gravity switches, that make it stand out. It also supports four-player local cooperative play, although it's a bit hectic, as every player has access to the block-switching mechanic. The game's best feature is its competitive multiplayer, also available for up to four locally. Here, cadets race to collect each Sister and deliver her to Corporal Gendarmor, who appears at random.
While it's hard to appreciate the graphics in Academy, due to its wide view, it's easy to drool over the pixelated goodness in the first two Mighty Switch Force! titles and the hand-drawn aesthetic in Hyper Drive. The 2D artists at WayForward are some of the best in the business; their excellent work is on full display here. Music across the series is entertaining too, thanks to composer Jake Kaufman. Bouncy and catchy, the tunes match well with the lighthearted tone of the game. One of the best tracks is "Love You Love You Love".
With so many interesting visuals and fun tunes, the compilation could use a concept art viewer or music select option, but regrettably both are missing. Mighty Switch Force! Collection is, in general, short on special features. The most glaring omission is an online leaderboard—perfect for a series of games designed for speed runners.
Mighty Switch Force! Collection is a nice one-stop shop for the most important adventures of the franchise. There are a few warts—individual titles are on the short side, Hyper Drive more or less negates one-fourth of the collection, and several non-essential entries and special features are missing—but in general the anthology delivers fun, clever, and replayable puzzle-platforming action, wrapped up in some handsome pixel art, set to catchy music, and delivered all in one place.
This review is based on a digital copy of Mighty Switch Force! Collection for the XOne, provided by the publisher.
Read more about our Review Methodology here
More Articles