Greenheart Games Interview - Game Dev Tycoon's Transition to Mobile & the Future - Article
Dan Carreras
, posted on 09 December 2017
/ 1,701 Views
I was recently e-mailed about an opportunity to play through the iOS version of Greenheart Games' first game, Game Dev Tycoon, a long-time favourite of mine on PC, and send out a few questions to the developers about the game and its transition to the mobile platform. I jumped at the chance, and found that the mobility of the game didn't detract from any of its appeal while I was travelling across Japan.
So, with the help of Patrick Klug (Greenheart Games' co-director) and Rainer Angermann (Rarebyte co-founder, co-developer of the port), I reached out and asked some questions to follow-up.

---
Hi all at Greenheart Games! Thank you for taking the time out of your busy schedules to answer some questions about your new iOS port of one of my favourite sim games, Game Dev Tycoon.
The PC version of Game Dev Tycoon relied heavily on clicking on elements on a scene using a mouse, so did you find the transition to mobile hard at all considering that touch input is nearly identical to mouse in this respect?
Patrick Klug: The PC version offered a good start because it is touch-friendly and manages to work without tooltips or any other elements that wouldn't be possible on mobile, but even with such a base we spent a lot of time to iterate the mobile UI. We ended up with a largely new UI that doesn't just add a lot of icons but also adds a few important changes such as an improved way to highlight in-game messages and news to the player.
How did you find the work on porting Game Dev Tycoon to mobile platforms? I understand there are different constraints to take into consideration, such as trying to get the CPU into a low state of utilisation often to save battery life.
Rainer Angermann (Rarebyte): Creating a game for mobile devices that delivers a good user experience in terms of both performance and battery usage is always a challenge, especially because there are many devices to take into account. So we tested and optimized a lot, always thinking about this trade-off, and we hope players will enjoy what we have come up with.
I recently played through the game in its entirety while travelling across Japan these last two weeks. I found the pick up and play nature of it quite addictive, even going so far as to play the game before bed each night. What do you think makes Game Dev Tycoon such a great match for the mobile market?
Patrick Klug: It's a game that you can play at your own pace. Sure it has a 'only one more game' drive to it but you can stop gameplay at any point when you need to focus on something else and resume again when you have the time without much friction.
I've noticed there are quite a few new consoles present in the game's main career mode, especially the PS5 towards the end of the 35 years, that weren't present on my first play through of the game many years ago. Will you continue to update and support the game into the foreseeable future?
Patrick Klug: When we did the Steam release we added a few fictional future consoles but our predictions weren't always on point and we completely missed to add a future console for Ninvento. With the mobile release we now added the 'Swap' to the game and it was great that there was an interesting story to go along with that (hint: bitter cartridges). I'd definitely like to keep the story up to date but for some consoles I think it's better to wait a while longer and see what effect they have on the industry before jumping ahead and adding them in.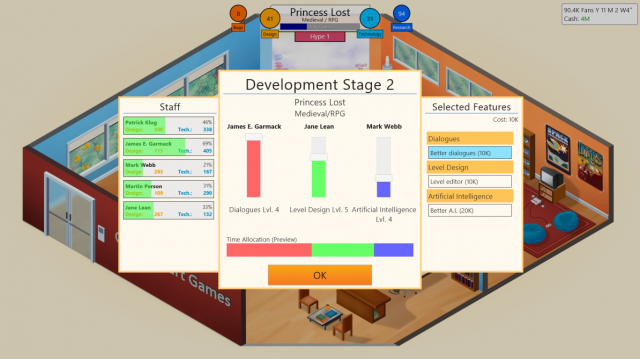 Do you think the mobile market is where the games industry is heading?
Patrick Klug: I definitely have a love/hate relationship with mobile gaming. I love how accessible mobiles are but hate the revenue models of free-to- play games. I really don't want to design nor play games that are made for revenue optimization and player retention instead of just giving you a chance to enjoy yourself. I am quite nervous how Game Dev Tycoon, as a premium title, will do on mobile but I hope that there can be a place on mobile for games that opt-out of the free-to- play practices.
Will you support multiple languages from the offset? I was hard pressed to find any traditional platforms in Japan and, if anything, think Game Dev Tycoon is a perfect match for the Asian market, so having localisations could help massively.
Patrick Klug: We launch with a bunch of translations but it's definitely a challenge. Game Dev Tycoon might look like a small game but it contains nearly 20,000 words to translate. We crowd-sourced most translations for the PC version and for the mobile release hired professional translators to integrate the new content but I think there will be several updates to polish up translations and perhaps add new ones.
Will the work you're doing on porting Game Dev Tycoon to mobile help in your efforts to develop your next game, Tavern Keeper?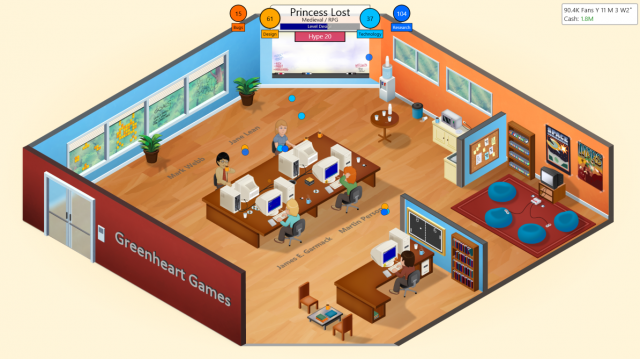 Patrick Klug: We knew that porting the game to mobile would require a lot of work. So much work that it wasn't feasible to do in-house while also developing Tavern Keeper. This is why we partnered up with Rarebyte, a game development studio in Austria, to bring Game Dev Tycoon to mobile. It's still a challenge to work on two projects but I am really glad that we can offer our fans a mobile version of our first game to bridge the gap to the second game.
Thank you for your time, and I wish you all the best with Game Dev Tycoon's mobile release!


Game Dev Tycoon can now be downloaded on iOS, and an Android release is scheduled for sometime in January.
---
A graduate in Computing, Dan is a games developer and writer. His first game, Twixel, was released for iOS, Android, PC and Mac in 2015, with it being released on Steam November 2016. A lover of all things games, Dan has been writing for VGChartz.com for over 2 years, attending conferences and interviewing developers to get the best content for VGChartz readers. His favourite games include Asura's Wrath, S.T.A.L.K.E.R and the Halo Series.
Dan can be followed on Twitter at: @Caesoose
More Articles