April's Nintendo Direct Summary - Article
VGChartz Staff
, posted on 17 April 2013
/ 2,665 Views
Well, another month another Nintendo Direct.
Sure you could watch it here, but if you don't have 37 minutes to spend ... I'm here to sum it up for you. Also be aware that this was from the North American direct, so your release dates and mileage may vary.
- Mario and Luigi: Dream Team (3DS) - launching August 11th
The fourth in the Superstar Saga it will feature Mario going inside the dreams of a sleeping Luigi in order to battle ... evil?
- Mario Golf World Tour (3DS) - launching Summer 2013
- Mario Party 3DS - launching Winter 2013
Some party games will take advantage of the stereoscopic 3D of the system
- Super Luigi U (Wii U) - Summer 2013

This DLC pack for New Super Mario Bros U will alter the over 80 levels of the original to be more challenging. You will have to play them as Luigi with his trademark higher than Mario jumps, but also slippery grease-covered shoes (I'm guessing). The other twist is the game timer will always start at 100 seconds instead of the usual 300 or more, proving yet again it isn't easy to be green.
- Donkey Kong Country Returns (3DS) - May 24th
The game will feature an optional easier mode (called New mode) that will give you an additional hitpoint. It will also feature some items to help ease the challenge. A portable barrel to easily bring back a lost Kong. A green balloon which is a single use item that will float you back onto the stage if you happen to fall in a pit. And crash protection which will allow you to absorb a hit during the minecart levels. Again these are optional with the original "Wii mode" also being selectable with these newer features missing.
- Yoshi's Island 3DS - TBA
Hey, you all remember one of the greatest platformers of all time? That one on the SNES staring Yoshi? Getting a 3DS sequel.
Be excited.
Very excited.
- Mario and Donkey Kong: Minis on the Move (3DS) - launching May 9th
- Pikmin 3 (Wii U) - launching on August 4th
The new flying Pikmin everybody. Guess what its special ability is.
- Earthbound (aka Mother 2, aka the one with Ness in it) - coming to Wii U virtual console by the end of the year.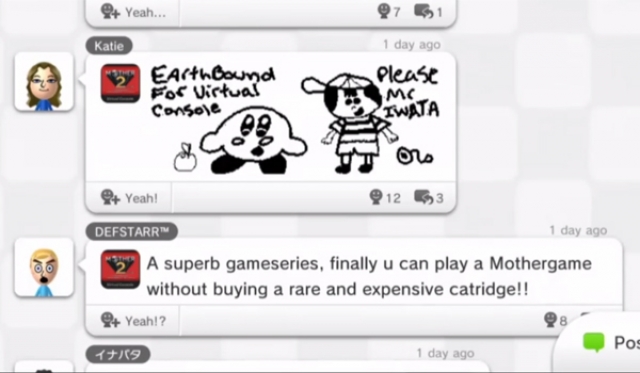 Apparently beggars CAN be choosers
- Game and Wario (Wii U) - launching June 23rd
- Animal Crossing: New Leaf (3DS) - launching June 9th
While not a new announcement Nintendo has finally announced that an Animal Crossing 3DS XL bundle will be arriving for the launch of the game. It will have a special Animal Crossing themed design and come with the game.
Also another gameplay trailer
- Legend of Zelda Oracle of Seasons AND Oracle of Ages (3DS eShop) - available May 30th
The Capcom developed Gameboy Color titles are finally showing up on the eShop. These are direct ports so you will still have to bust out the pencil and paper to write down the special code when beating one game in order to unlock the extra content in the other.
- Bravely Default: Flying Fairy (3DS) - TBA 2014
- Professor Layton and the Azran Legacy - TBA 2014
All three titles are coming to the North American 3DS eShop in a TBA sort of way.
- Starship Damrey will be a tutorial-less adventure title by Takemaru Abiko and Kazuya Asano.
- Bugs vs Tanks (by Megaman creator Keiji Inafune) will have you controlling miniature tanks in a war against insects. Why didn't Olimar think of that?
- Attack of the Friday Monsters! A Tokyo Tale by Kazu Ayabe will have a 70's giant monsters fighting in Tokyo battle feel.
- Shin Megami Tensei IV - launching July 16th
- Legend of Zelda 3DS - launching Holiday 2013
Nintendo's big "and one more thing" this time was a new Legend of Zelda that was inspired by the SNES classic A Link to the Past. It will take place in the same universe and have the same top down view, but it will have additional gameplay that takes advantage of the features of the 3DS.
Link will also be able to become 2D in order to reach new areas.
If you have a 3DS (and I'm assuming you do if you care about this direct) you will be able to watch a 3D video of the new Legend of Zelda game right now.
Well, Nintendo has yet again revealed more than I expected and left me wondering what is left for them to talk about at E3. Speculate away in the comments.
More Articles
There are no comments to display.