US Retail Preview for December 2011 - News
Miles Taven
, posted on 09 January 2012
/ 5,037 Views
NPD data covering November 27th to December 31st, will arrive this Thursday at 6:30 PM ET/11.30 PM GMT. Data on VGChartz is already available for the same period.
Despite this generation entering its 6th full year at this point we should be experiencing massive slowdown due to no successors being on the market, bar the 3DS. That's not the case, however, as hardware rose 6.8% year over year due to a bounce back by the 3DS, and X360 breaking records, offsetting DS and Wii declines. Software also rose 3.3% year over year this month. HD SW saw growth of nearly 10m units, which offset a 9m drop in Wii SW. 3DS more than made up for the DS drop, PC was up, and PSP basically flat. Kinect and Move were down, although not by a huge margin - 2.6m in 2010 Vs. 2.2m in 2011 for Kinect.

Hardware:




Overall hardware is up just under 600,000 units. However, due to official price cuts on the Wii and PS3, along with retailer deals on X360, and the 3DS being at comparable prices to DS last December, revenue was down substantially.

X360 claimed the top spot once again, without shortages marring potential this December and being the retailers' choice this holiday for giftcard deals and the likes, hardware rose over 50% month over month, coming off the back of an already impressive November which saw 24% growth year over year. Even though November saw 70% year over year growth, the PS3 was only slightly up in December. This can be attributed to the PS3 having attractive bundles at $199 this Black Friday (the main force in November sales), compared to last year's offers which weren't nearly as good, along with a lack of good deals this December.

Even new hardware couldn't offset overall Nintendo hardware being down year over year. 3DS picks up the slack DS leaves behind - 2.7m in 2011 Vs. 2.5m in 2010, but the Wii's 600,000+ drop was too much to overcome.

With a healthy December overall, 2011 ends on a high note. X360 breaks the 8m mark in a year, the first for any console in its 6th full year. It looked as though the PS3 was a shoe in for its first 5m selling year in the US, but ultimately fell behind at the last hurdle, whilst Wii experienced another harsh year over year drop, selling just over 5m units.

Also missing the 5m mark (4.8m), 3DS puts in an admirable performance for its first year, ahead of the DS's, and just enough (along with DS sales of 3.7m this year) to rise above DS 2010 total sales of 8.4m.

Software:




Over 12 games this December crossed the 1 million mark, with Activision's Call of Duty: Modern Warfare 3 claiming the top spot, although slightly down by 250,000 units compared to last year's Black Ops. Ubisoft's Just Dance 3 is up substantially, thanks to strong Wii sales and its X360/Kinect debut. The Elder Scrolls V: Skyrim managed 1.55m - very impressive for an RPG in its second month. Annual iterations such as Madden NFL 12, NBA 2K12 and Assassin's Creed: Revelations all did unsurprisingly well. Nintendo's heavy hitters came to the forefront - 3DS finally saw huge software numbers and various Wii evergreen titles passed 700,000+.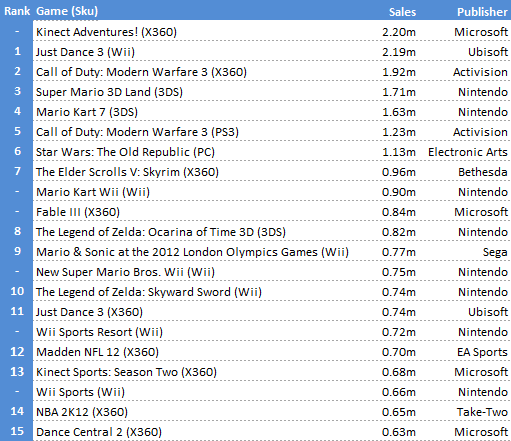 On an SKU basis the top 20 isn't vastly different. Nintendo, Activision, Microsoft, EA and Ubisoft are the big winners this December. The top 21 breakdown is as follows: X360 (9), Wii (7), 3DS (3), PS3 (1), PC (1).
More Articles