Rumour - Scalebound Being Revived as a Nintendo Switch Exclusive - News
Adam Cartwright
, posted on 18 February 2019
/ 4,075 Views
According to a rumour on Nintendo Insider, the former Xbox One-exclusive action-RPG Scalebound (which was cancelled by Microsoft in January of 2017) has been revived and is coming to Nintendo Switch as an exclusive title with Nintendo as publisher. The article notes that it's unclear whether the PlatinumGames-developed title has retained any of its original elements or has been rebooted.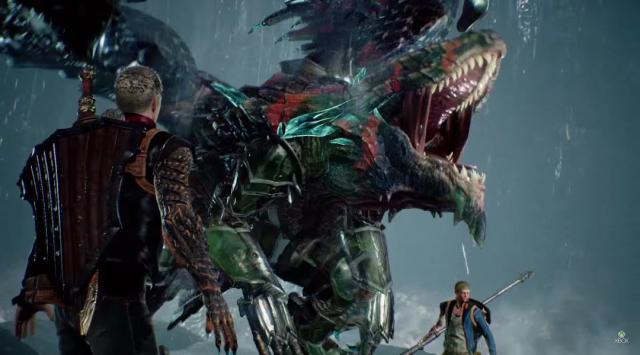 If true, the news would mark a continuation of the partnership between Nintendo and developer PlatinumGames that began in 2013 with the release of The Wonderful 101 and continued through to the recent announcement of Astral Chain.
Seemingly corroborating this rumour, Imran Khan from Game Informer appeared on Kinda Funny Games last week and revealed that a game "thought to be dead" was being revived by Nintendo that was "not one people would expect". Former IGN Producer Alanah Pearce also weighed in on the rumour, noting that she had heard that Scalebound was being revived "way back in June last year" but didn't believe the news at that time.
I was told Scalebound would still come out (just not as an Xbox exclusive) by someone I consider fairly credible all the way back in JUNE last year, but didn't believe them.
Maybe it is true 🤷🏼‍♀️. https://t.co/kqvry3CSab

— Alanah Pearce (@Charalanahzard) February 18, 2019
In its previous incarnation on the Xbox One, Scalebound cast players as Drew and his dragon Thuban in a fantasy world and focused more heavily on action-RPG elements than the traditional hack 'n' slash action that PlatinumGames were known for.
More Articles