Code of Princess EX (NS) - Review
Evan Norris
, posted on 30 July 2018
/ 4,568 Views
Code of Princess EX is a remastered, modified version of the action-RPG Code of Princess, which debuted on 3DS in 2012. It's a satisfactory role-playing game with a fun story, a generous pool of playable characters, and a robust suite of single player, local co-op, and online multiplayer options that's held back by some repetitive, button-mashing combat.
Taken at face value, Code of Princess EX is a stereotypical, exploitative sword and sorcery tale — the heroine, Princess Solange of DeLuxia, is mostly naked and carries a giant saber that makes Cloud's Buster Sword look like a pocket knife. As the story unfolds and more characters enter the equation, the game reveals itself as a knowing send-up of RPG and anime tropes. Thanks to some clever, subversive writing and an extraordinary English localization, Code of Princess EX is one of the funniest games you'll play in 2018.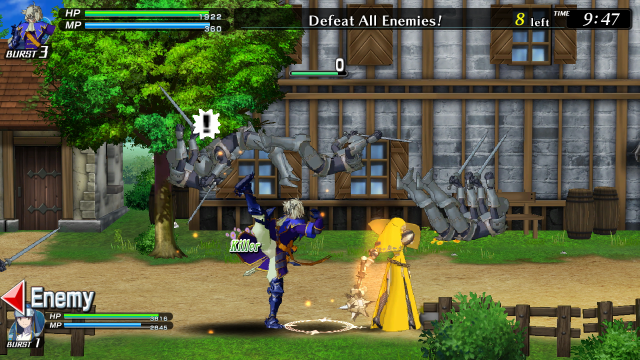 Even as the title lampoons its genre, it sustains a meaningful narrative in which a group of unlikely heroes unite to save the world from an evil queen and her monstrous minions. It concludes with a bit of a twist ending, with an accompanying, surprising moral choice.
While the story and script in Code of Princess EX deliver the goods, the 30-plus real-time battle sequences that pop up in the main campaign are less successful. The game is a hack-and-slash RPG in the spirit of the Sega Saturn cult hit Guardian Heroes, with side-scrolling combat taking place along three different planes. Before each encounter, you'll pick one of several playable characters, equip him or her with attribute-changing gear and items, and begin the fight. The problem: combat is only sporadically satisfying.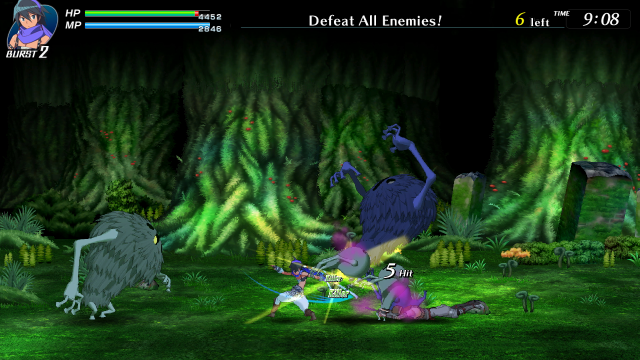 Fighting in Code of Princess EX is acceptable in shorts bursts, but long play sessions expose some monotonous action scenarios, which become more noticeable as the difficulty ramps up. The good news is that each character, despite having standard weak, strong, lock-on, and "burst" attacks, enjoys a unique list of special moves — although nothing that compares to the move-lists from Guardian Heroes. The bad news is that, almost inevitably, each fight degenerates into a button-mashing competition, with the same tried-and-true combos repeated ad nauseum.
This is particularly true in the game's final third, where swarms of smaller enemies and super-powerful boss creatures enter the fray. Pro tip: invest in equipment with the "boss slayer" and "super armor" buffs to reduce the grind.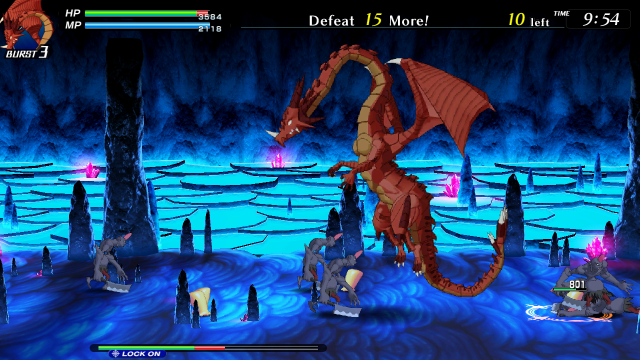 While some question marks hover around the game's combat situations, there's nothing questionable about its positively altruistic collection of modes and playable characters. When you finish with the main campaign, you can re-play individual levels for high scores or try several bonus quests. You can also attempt all these stages with a friend in local co-op, or try some cooperative and competitive modes with up to four players online. Available across several of these modes are 50-plus different characters, including heroes, villains, and monsters.
As a remaster, Code of Princess EX includes a few tweaks to the base 3DS game, which amount to something of a lateral move. The English voice-over from 2012 is gone, replaced with a Japanese VO and English subtitles — a strange subtraction for a "definitive" release. The game boasts an HD graphical overhaul, but the pixelated characters models that premiered on 3DS look jaggy on a large TV monitor. On the plus side, the framerate is now a steady 30 FPS, a big improvement over the dubious performance of the original. Other additions include rebalanced AI, experience point boosts for the entire party (at reduced rates), and, strangely, automatic stat allocation — which streamlines the process of raising attributes but removes player control.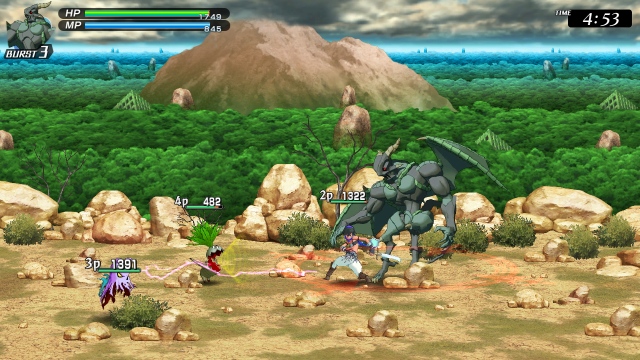 With a fun, subversive story, lots of playable characters, and hours of content spread across single player and multiplayer (both local and online) modes, Code of Princess EX is an attractive investment for action-RPG fans who don't mind some monotonous fighting or lackluster character models. Those who aren't diehard followers of the genre may wish to wait for a price drop or seek out other hack-and-slash titles with more dynamic combat.
This review is based on a digital copy of Code of Princess EX for the NS, provided by the publisher.
Read more about our Review Methodology here
More Articles
There are no comments to display.