Gran Turismo: A Sales History - News
Miles Taven
, posted on 18 July 2011
/ 9,990 Views
Welcome to a new regular feature here on VGChartz, where we dissect the sales - past, present and future - of the biggest franchises in the industry. Today we'll be looking at Sony's biggest ace, Gran Turismo. Watch out for other history lessons on Final Fantasy, Grand Theft Auto and Resident Evil coming soon. If you would like to nominate one of your favourite franchises for analysis please leave a comment below; let your voice be heard!
A Brief History
Gran Turismo has come a long way since its humble origins, when the now revered Kazunori Yamauchi and his seven man development team started work on the original Gran Turismo back in 1992. Since the release of that first title (five years after work initially began on it), the Gran Turismo franchise has become synonymous with PlayStation consoles, and undoubtedly Sony's most important exclusive. Each Sony console has seen the release of at least one main-line Gran Turismo in its time, each achieving some truly staggering sales numbers. The latest release, Gran Turismo 5, has proven that there is still a huge demand for this most iconic of driving simulators, but how much has the series' sales relevance changed over time?

Sales Overview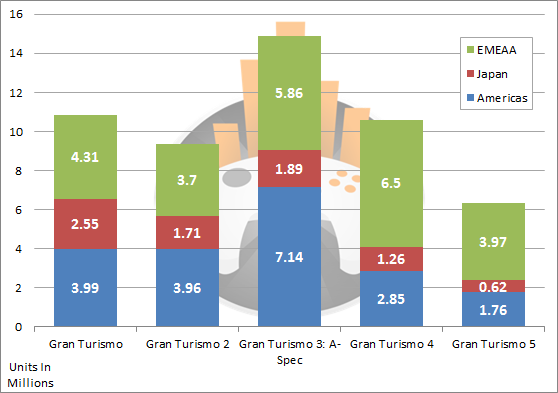 The Gran Turismo franchise from a sales perspective follows a very interesting journey. The original debuted to more than 10 million units; very impressive for a new franchise, exclusive at that. Whilst EMEAA and Americas were on an almost even keel, Japan still put in decent numbers. Gran Turismo 2, which also came out on the original PlayStation, saw declines in each region. Americas held pretty strong, and EMEAA dropped 600,000 units, meaning GT2 is most popular in Americas. Still, the drop from GT1 to GT2 isn't that harsh for EMEAA given it did such good numbers in the first place. Japan, however, saw the largest drop - over 800,000 units. Given the original sold the least in Japan, it's clear the franchise wasn't resonating with the Japanese audience as well as it was with Western audiences.

Gran Turismo 3: A-Spec was the first GT on the very popular PS2, and so no surprises when it propelled the franchise much higher in each territory, except Japan. GT3 grew over 3,000,000 units in Americas over GT2, and over 2,100,000 in EMEAA. In Japan, however, it only managed a 180,000 unit rise. Whilst going in the right direction it pales in comparison to the other regions' gains. Gran Turismo 4 was the last outing on the PlayStation 2, which continued to prove the GT franchise was unpredictable when it came to sales. In Americas it shed more than half its sales over GT3, dropping a whopping 3,300,000 units, becoming the lowest selling GT in Americas. However, the opposite took place in EMEAA, as it grew over 650,000 units over GT3, becoming the best selling GT in EMEAA.

After a long wait, Gran Turismo 5 made its debut on the PlayStation 3. EMEAA continues to be the lead region, with more than 50% marketshare, whilst Japan saw yet another harsh drop from the previous iteration. Americas put in some solid numbers but are unlikely to reach any previous games' numbers in the region (depending on bundling of course). GT5 should follow a similar pattern to GT4 in Americas, maybe a little less, or a little more with significant bundling. In EMEAA GT5 is ahead of GT4 in the same timeframe, however GT4 saw some tremendous legs throughout the remainder of PS2s life. 10 million units is within grasp for GT5, even with the 600,000 unit loss from Japan (which is unlikely to grow unless it gets heavy bundling there).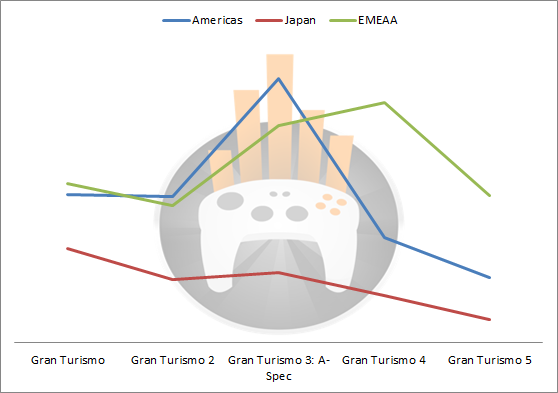 From the chart above we can see Gran Turismo has been on a rollercoaster-esque path. The first outing was much more even across the board, whilst the second saw Americas take the lead. GT3 saw gigantic gains, in Americas especially, but then in the same generation sales plummeted and EMEAA actually grew significantly enough to take over as the dominant region for Gran Turismo. As it stands today EMEAA is still firmly GT's most favoured region. However, if we do see Gran Turismo 6, could we see yet another shock switch in popularity across regions?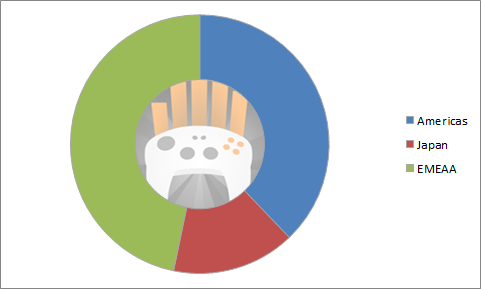 Overall EMEAA sells the most Gran Turismo games, at 47% (24.34M), whilst Americas comes a close second a t38% (19.7M) and Japan is in a distant third at 15% (8.03M).

Along with the PSP version of Gran Turismo, which shifted 1.31 million copies (over 66% marketshare in EMEAA), and the various Prologue games, the total sales for the Gran Turismo franchise sit at 61.47 million units.
More Articles