Cake Bash (NS) - Review
Evan Norris
, posted on 25 November 2020
/ 1,253 Views
If you love party games and pastries, then Cake Bash might be the game for you. Set inside a bakery and starring several animated baked goods — cakes, eclairs, muffins, donuts, etc. — it's a game designed to tickle your funny bone and tug on your sweet tooth. Yet for all its good parts, which include a convincing and charming aesthetic, four-player functionality, and a few fun mini-games, it struggles to remain compelling. With only two modes and 13 mini-games, Cake Bash doesn't demonstrate the depth or variety necessary to elevate it among other party games.
The principal mode in Cake Bash is "Get Tasty," which is based on a clever premise: four cakes competing to be the most adorned for a picky customer. By competing in multiple mini-games, all set in life-like, bakery-related settings, each aspiring cake will earn coins. At several intervals during a Get Tasty campaign, cakes can spend coins to buy toppings, which grant points. The dessert with the highest number of points at the end is the winner.
It's a cute, charming twist on the typical party game mise en scène, aided by some terrific art direction and presentation. Everything about Cake Bash is visually endearing, from its drawn-to-life cakes, full of personality, to its detailed, realistic settings, to its sugary props — cookies, pies, and macaroons that look good enough to eat.
If Cake Bash played as well as it looks, it would be something special indeed. Regrettably, the game is light on content and modes, and the gameplay isn't sufficiently fresh or interesting to sustain what's on offer. The game supports a mere two modes, the aforementioned Get Tasty plus "Recipe", essentially a free play mode where you can play 13 mini-games separately. With only five backdrops and 13 mini-games, Cake Bash ends up feeling repetitive and routine. The limited selection means you'll see the same places and play the same games over and over as you move through subsequent Get Tasty campaigns.
Even with a relatively small amount of mini-games, Cake Bash could succeed if the games were especially entertaining, but that's not the case. There are a few winners, but many of the games are unexciting or overly similar. This holds particularly for "Cake Bashes", five free-for-all mini-games focused around combat. While each has unique victory conditions — in "Hundreds & Thousands" you must accumulate the most sprinkles and in "Fruity Pie" you must throw the most fruit into a central pie crust — they're all variations on a theme. You're trying to get something of value, either a piece of fruit or a sparkler or a fortune cookie, and denying that thing to your competitors by pummeling them with a simple three-punch combo or a charged "megabash".
The best mini-games of the bunch are the eight so-called "Snacks", which remove combat from the equation and focus on tests of timing and dexterity. The highlight must be "Campfire", a cozy game where each contestant lowers a pristine marshmallow into an open flame, and ideally removes it in the Goldilocks zone between slightly-singed and volcanic ash. The closer to golden-brown perfection, the more points you get. Another good one: "Fork Knife", a cheeky play on Fortnite, where you must survive the longest on a slowly-shrinking cake bombarded by deadly cutlery.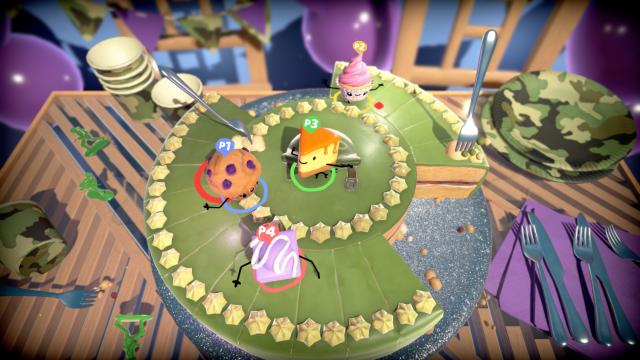 Where Cake Bash lacks variety in its mini-games and modes, it demonstrates some impressive diversity in its playable characters. There are seven characters total, all based on a classic confection, with six flavors apiece. You can unlock special flavors by hitting certain benchmarks, like achieving five perfect shots in a single match of "Bakewell Ballet" or bashing eight or more wasps in a row in "Wasp Attack."
Like any party game worth its salt, Cake Bash supports up to four players, locally or online. In the online portal, you can choose to host a friends-only lobby or opt for "Matchcake", a contest with folks from all over the world. If you're playing solo, the game has you covered with computer-controlled bots, although, as a party game, Cake Bash is less viable as a single-player experience.
Cake Bash is a visually-enchanting game with a great premise and charming characters but it's regrettably short on content and variety. Once you've seen everything the game has to offer in terms of modes, locations, and mini-games — which should take between three and four hours — there isn't much, outside of its winsome setting, to keep you coming back for more.
This review is based on a digital copy of Cake Bash for the NS, provided by the publisher.
Read more about our Review Methodology here
More Articles