Guacamelee! 2 (PS4) - Review
Evan Norris
, posted on 21 August 2018
/ 3,037 Views
The age of the singular genre is long gone; in the modern video game industry, developers take bits and pieces from several categories and sub-categories to build something original and compelling. Guacamelee! 2, a sequel to 2013's stellar Guacamelee! is, like its predecessor, a game of many categories. It's a Metroidvania (itself a melting pot of genres), with interconnected 2D maps and gated-off areas; it's a brawler, with a deep moveset and complicated combos; and it's a platformer, complete with intricate jumping, running, climbing, and flying challenges. On its own, that mixture of types is not impressive. However, DrinkBox Studios makes Guacamelee! 2 shine by succeeding on all three fronts: the game is one of the best Metroidvania titles of 2018, and it's also one of the finest brawlers and platformers of the year.
Guacamelee! 2 picks up after the "good" ending of the previous installment. Our hero, Juan, is a retired luchador living with his wife and two young children in a modest home in the middle of an agave field. While running an errand in town, Juan runs into his old mentor Uay Chivo, who informs the ex-wrestler that although he saved the world in his own timeline, things have gone terribly wrong in a parallel timeline, where another masked luchador threatens to collapse the entire "Mexiverse."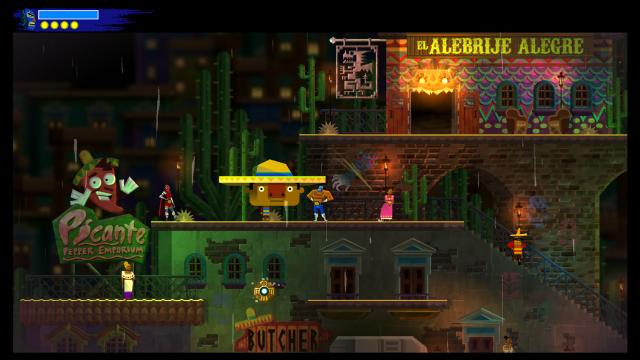 Like the first game, Guacamelee! 2 pokes fun at its own story, characters, and premise — even if it, on occasion, embraces some serious moments. Many silly, subversive characters return from Juan's initial adventure, joined by new NPCs, bosses, and allies. The writers at DrinkBox have a smart sense of humor, and it manifests in everything from character design to dialogue to visual gags. The studio's penchant for pop culture references is apparent, and reinforced by the dimension-hopping plotline. Expect to explore a timeline that looks suspiciously similar to the bonus car-destroying stage from Street Fighter II and a timeline populated with dank memes. Also keep an eye out for billboards and wall graffiti peppered throughout the Mexiverse, which wink at media like God of War, Mystery Science Theater 3000, He-Man, Star Trek, and DrinkBox's own Severed. Even the game's intro is a nod to Castlevania: Symphony of the Night.
Guacamelee! 2 is a spectacular blend of action, adventure, brawling, and platforming. As an action-adventure game, in the style of Metroid or the later-gen Castlevania games, it's a treat. There's a slow drip of power-ups and skills that allow greater access to previously gated areas, and lots of secret chambers to discover and explore. As a brawler, it's even more substantial and refined than the debut game, thanks to twice as many enemy types and a brand new "trainer" upgrade system that allows Juan to exchange gold for new combat and movement skills. Finally, it includes some of the cleverest, most acrobatic, most intimidating platforming challenges of the generation.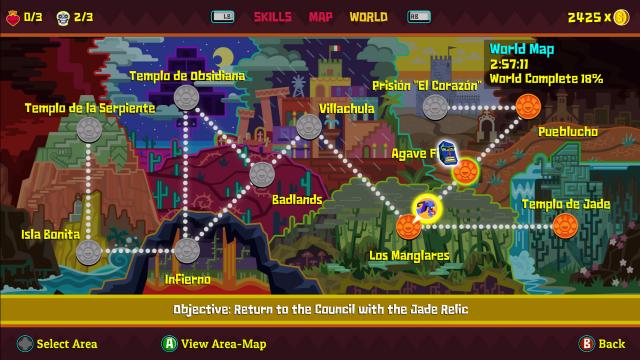 It's difficult to say which genre Guacamelee! 2 does best. Exploring the "darkest timeline," the dimension in which the majority of the game takes place, is great fun. There are chests of gold to discover, along with health and stamina upgrades and costumes. Some of the overworld levels are a tad overlong and suffer from a lack of frequent warp points, but Juan's advanced movement techniques, once unlocked, make locomotion much easier.
Fighting is similarly joyous. The game will often "lock" Juan in a chamber until he vanquishes a collection of skeleton foes, and it's here where players can experiment with ground and air combos, mix grapples with special moves, swap between human and chicken forms (chicken Juan plays a much bigger role in this sequel), and send the combo meter north of 50, then 100, then 200 and beyond. The only downside is a collection of boss fights that don't quite live up to the challenge of the original.
Platforming, maybe, is the best of the bunch. The skill and imagination on display in platform design in Guacamelee! 2 is staggering. Players will discover challenges involving dimensional shifts, floating orbs that refill your stamina meter, character transformation, mid-air grapple points, wall-running, and some — the hardest and most memorable of all — that deploy all of the above. There are optional platforming tests, necessary to achieve 100% and the "good" ending, that require almost superhuman dexterity. Fans of the first Guacamelee! who still have nightmares about the Tule Tree: steel yourselves for what's to come.
Tying all these genres together are some gorgeous cartoon graphics, courtesy of a new rendering engine, and some catchy electric music. The entire game is steeped in Mexican culture, art, food, language, and music, which gives Guacamelee! 2 a unique sense of place and lineage. In addition, the game boasts four-player local co-op — a neat feature that becomes impractical during some of the more formidable platforming sequences.
It's one thing for a game to embrace the mechanics of many different genres; it's another entirely to nail them all. Guacamelee! 2 is an excellent action-adventure game, a fun brawler, and a gripping platformer, all rolled into a comical, beautiful, great-sounding package. A few overlong overworld segments and some underwhelming boss fights are the smallest of blemishes on this game-of-the-year contender.
This review is based on a digital copy of Guacamelee! 2 for the PS4, provided by the publisher.
Read more about our Review Methodology here
More Articles