Severed (PSV) - Review
Evan Norris
, posted on 26 April 2016
/ 7,234 Views
Sony may have pulled the plug on first party software development for the PlayStation Vita, but there's at least one company out there that still believes in the little handheld that could. That company is DrinkBox Studios, which brought to the Vita Tales from Space: Mutant Blobs Attack, Guacamelee!, and now Severed.
On the FAQ page for Severed, DrinkBox Studios answers the question "Why didn't you just make Guacamelee 2!?" with a simple answer: "We needed a new creative outlet." Well, the folks at DrinkBox weren't kidding around. Severed is unlike any of the developer's previous projects. In fact, it's quite unlike any game on the market today. Part dungeon crawler, part touchscreen game, Severed is emblematic of a generation of video games that refuse to be shoehorned into a single genre.
In Severed, players take on the role of Sasha, a one-armed warrior who searches for her missing family in a nightmare world. On her journey she must fight monsters, solve puzzles, explore dungeons, and meet some colorful locals. The dreamlike-search-for-loved ones plot device has been done before - in games like Limbo and Drinkbox's own Guacamelee! - but in Severed it's particularly moving and haunting.
Severed plays like a mix of Shining in the Darkness and Fruit Ninja, with a little Metroid and Dead Space thrown in for good measure. Players move and turn Sasha, depending on handedness, with either the d-pad or the triangle, square, circle, and cross buttons, and interact with the game world via the Vita's touchscreen. They can slash at enemies by drawing their fingers across the screen, pick up keys with a simple touch, and rotate wheels by performing a circular motion.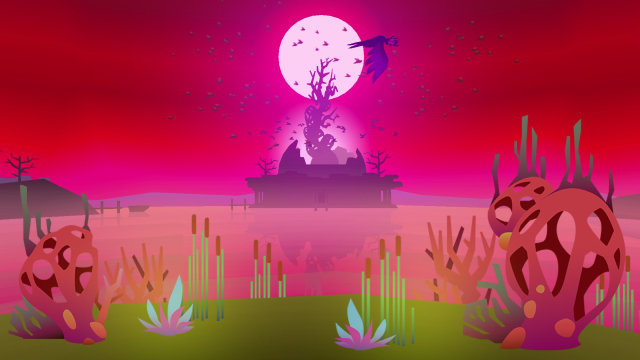 Everything is done in a first-person perspective, and Sasha moves forward one room at a time. Exploring Severed's beautiful and strange landscape is essential, and one of the many joys of the game. In dungeons and in the overworld there are secret rooms with breakable vases, mementos, and heart and brain pieces, which enhance Sasha's health and mana, respectively.
A handy map shows the lay of the land, keeping track of secrets found and the percentage of the area discovered. It's a completionist's dream come true, even if some of the puzzle rooms are a little on the easy side. The only real drawback of exploration is a lot of backtracking; expect to trudge back and forth across the game world early and often. There is no fast travel mechanic, unfortunately, and only late in Severed does the game offer shortcuts between dungeons.
Exploration is just one part of the Severed trinity. The other two - combat and crafting - are similarly enjoyable. As Drinkbox demonstrated with Guacamelee!, it can make an action-adventure game with a deep and rewarding combat system. Severed is no different. Players must employ careful timing, accurate swipes, and judicious use of magic to take down the many different monsters in the game.
At first, monsters appear that are easy to dispatch. There's a multi-legged beast whose vicious attacks need to be countered with a swipe in the opposite direction. There's a cyclops whose moldy growths must be whittled down before Sasha can attack his vulnerable eye. As the game progresses, however, more formidable foes appear. Some have armor; some attack three times in quick succession; some use magic buffs.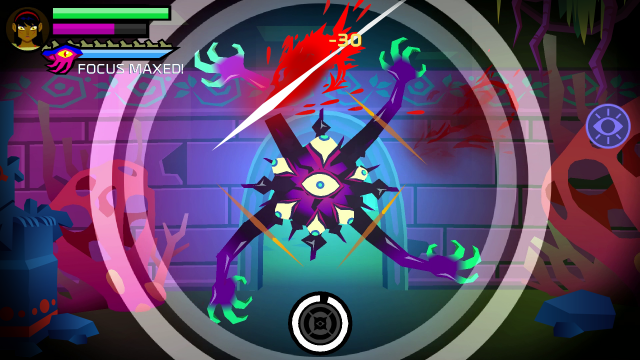 In order to topple these monsters, players need to upgrade Sasha's skill trees. This is where the Dead Space inspiration comes into play. If Sasha builds up her combo meter to a fever pitch, enemies will freeze briefly once defeated. At this point players have a small window to sever enemies' organs and limbs. You can then use the parts to boost Sasha's attack power, increase mana regeneration, and enhance magic. If you run out of parts, you can convert giblets, which are found in vases around the game world, into organs, wings, and arms.
Overall, Severed is an extraordinary game. It's visually and thematically rich; it boasts a deep and involving combat system; it includes plenty of wonderful places to explore; and its light RPG elements give players just enough control over upgrade paths. If this is to be the Vita's swan song, so be it. It's arguably DrinkBox's greatest work, and it's an early contender for game of the year.
Our Severed giveaway has finished. Congratulations to our winners - Shadow8 and iamRockman.
This review is based on a digital copy of Severed for the PSV, provided by the publisher.
Read more about our Review Methodology here
More Articles