Sky Force Reloaded (NS) - Review
Evan Norris
, posted on 02 February 2018
/ 4,800 Views
Sky Force Reloaded is that strangest of games, one where its greatest strength is simultaneously its greatest weakness. In a world where many studios construct their horizontal and vertical shooters around the "perfect run" — going the distance from point A to point Z on a single credit — Sky Force Reloaded is all about the imperfect run. Its 15 stages are designed to be played again and again for stars, bonus cards, points, and ship parts, in an RPG-style leveling system. It's a refreshing and rewarding premise, but it comes with a catch: a long and sometime tedious grind.
There isn't much of a story in Sky Force Reloaded. It's the good guys versus the bad guys, and that's about it. Sure, games like Sine Mora EX proved that a shoot-em-up could be paired with a cerebral and engrossing storyline, but ultimately this genre, more so than many others, is about the basics: shooting mechanics, enemy placement, gameplay loops.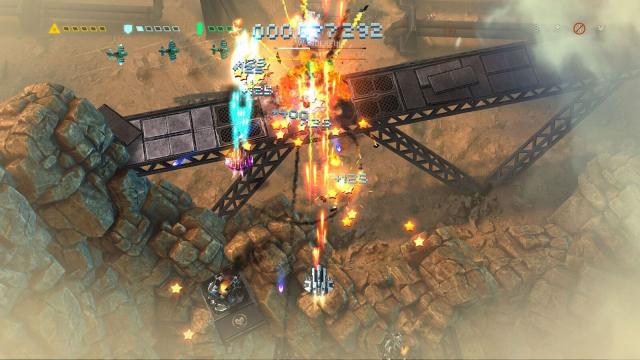 Judged by those basics, the game delivers. Sky Force Reloaded is a vertical shooter like Raiden or 1942, and it does its ancestors proud. Controls are snappy and responsive; enemies come in different shapes, sizes, and attack patterns; and tangible rewards arrive early and often, compelling you to replay the stage just one more time. Where many shooters are digested in small bites, Sky Force Reloaded tends to stick around for a while. Here's a game where you sit down to attack a couple levels, then turn around and discover that two hours have passed.
Why does the game consume time like this? The answer is the double-edged sword: the grind. For a while, playing and replaying each level is enjoyable. Developer Infinite Dreams hides dozens of collectible items in each level, including stars, a currency to upgrade your ship's health and weapons systems; cards, some of which grant time-based buffs and others which bestow permanent rewards; ship parts used to manufacture new vessels; and more.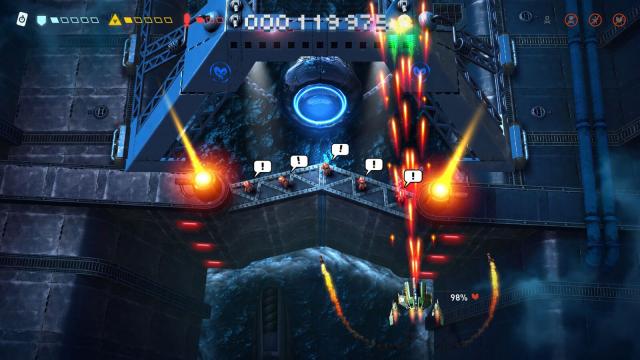 Moreover, each level comes in four flavors of difficulty, and offers up several side objectives. So you can choose to simply outlast a level, or you could try to rescue all of the level's survivors, or attempt to smash 100 percent of its enemies. Mission variety is perhaps the game's greatest attribute, one that boosts replay value considerably. There are also challenges, for example "destroy 200 boxes," that grant prestige points that unlock bonus-gifting technicians. There really is no shortage of optional challenges, objectives, or milestones to meet in Sky Force Reloaded.
Even the audiovisual language of the game is rewarding. The clink of a collected star, the neon hum of a plasma cannon, the narrator congratulating you with "wonderful" at the end of an uninterrupted chain of downed enemy planes — it's catnip for gamers.
Eventually, however, the tedium of the grind surfaces and, ultimately, drags the game down. Around its midpoint, Sky Force Reloaded says "no más" and sends its players back to replay beaten levels on harder difficulties to farm stars, used to shape their ships into the killing machines necessary for forward progress. Attempting the same level for the umpteenth time is ultimately exhausting; the sights and sounds grow old, and the experience devolves somewhat into an unthinking routine.
For the first half of the game, Infinite Dreams makes you want to replay its stages. For the second half, it makes you need to replay its stages. It falls victim to something like a free-to-play economy, no doubt a holdover from its mobile origins.
Even with a tiresome grind, Sky Force Reloaded is a fine game. In addition to all its objectives, difficulty levels, and unlockables, it features a fun two-player local co-op option and, on weekends, friendly tournaments on endless stages. It's packed with content and fun to play, just weighed down by the process of farming stars.
This review is based on a digital copy of Sky Force Reloaded for the NS, provided by the publisher.
Read more about our Review Methodology here
More Articles