The Rise and Fall of Halo, Part III: Guardians of the Galaxy - Article
Evan Norris
, posted on 22 November 2016
/ 13,458 Views
Although Halo creator Bungie and benefactor Microsoft collaborated on five successful games between 2001 and 2010, their relationship was far from perfect. In 2007, seven years after Microsoft had acquired Bungie and repurposed what would become Halo: Combat Evolved into a launch title, Bungie split from Microsoft Game Studios to become a privately held independent company. According to a deal between the two, the Halo intellectual property would belong to Microsoft.
With Halo: Reach in the books and Bungie gone, Microsoft needed a new studio to take ownership of its most recognizable property. That studio was 343 Industries, named, ominously, after a duplicitous, untrustworthy character from the Halo series. 343 began work on Halo 4 in 2009 and released the title in 2012 as the first part of a new Halo trilogy.
Although Halo 4 was a smash hit for Microsoft — it grossed $220 million on launch day and $300 million first week, setting a new record — it proved to be the worst and weakest entry in the Halo franchise, a game that strayed far from the series' successful staples. How and why 343 botched the development of Microsoft's most beloved property is a long and unfortunate story.
Two things contributed to the mediocrity of Halo 4: the developers at 343 focusing resources on the wrong things, and their misguided belief that Halo needed "fixing." Before Halo 4, campaigns in Halo had sourced their strength from three main, interrelated items: open level design, cutthroat artificial intelligence, and improvisational gunplay. Yes, Halo campaigns during the Bungie era featured a number of linear corridor levels, but always there was a certain freedom of movement and tactics.
Instead of building off of that foundation, 343 went in another direction, focusing intently on art direction, graphics, world-building, and storytelling. The result was a game gorgeous to watch and rich in backstory that nevertheless played poorly. Levels in Halo 4 are painfully linear; enemies are decidedly dumber than in previous installments; and the opportunities for spontaneity in enemy firefights relatively non-existent.
Aggravating those problems was Bungie's insistence that the Halo formula needed significant tweaking. 343 brought in developers and programmers from over 25 "AAA" studios, many of whom disliked Halo. "We had people who were hired who hated Halo because of 'X'", said Frank O'Connor, former community evangelist for Bungie and current Halo franchise director. "But what that really meant was 'I feel like this game could be awesome because of 'Y input' that I'm going to bring into it.'"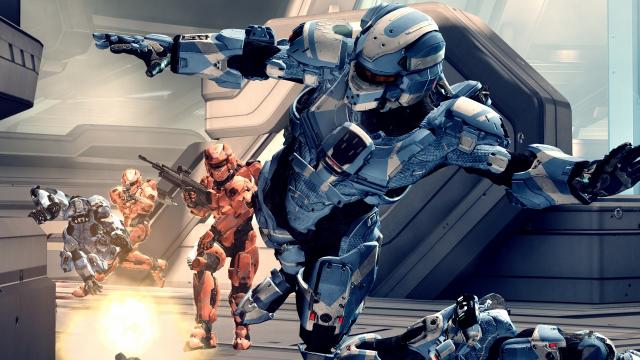 That "Y input" turned out to be a healthy dose of Call of Duty. For the campaign that meant more straightforward level design and an influx of scripted events and QTEs. For multiplayer, which was partially farmed out to Certain Affinity, that meant custom loadouts, ordnance drops (basically kill streaks), perks, and killcams. Bungie had flirted with loadouts specific to game type in Halo: Reach, but 343 went even further in Halo 4, offering up to players fully customizable loadouts.
The result was a muddled, messy, unbalanced multiplayer mode that was neither Halo nor Call of Duty but rather an uncomfortable hybrid that failed as both a twitch and arena shooter. Consequently, the online community in Halo 4 began drying up several months after launch. Three years later, 343 would listen to fan feedback and make amends for its multiplayer failures in Halo 4. Its stewardship over single player, however, would only deteriorate in the years that followed.
The new Halo trilogy continued in 2015 with Halo 5: Guardians. Set eight months after the events of Halo 4, Guardians follows two units: Blue Team and Fireteam Osiris. Shockingly, the campaign in Guardians is even worse than the one in 4. Learning nothing from the metaphysical meanderings and unexplained characters in its freshman effort, 343 doubled down on a vague, context-less story in Halo 5 that begins in media res and requires extra-curricular research, even for Halo veterans.
Even more detrimental is the campaign's focus on co-op. Halo has featured co-op play since its 2001 debut, but never did it impinge on the solo experience. By shoehorning in co-op features to fit a particular narrative, 343 robbed Halo 5 of its strength as a single player adventure. It's not much fun babysitting three Spartan teammates who wander around aimlessly soaking up bullets. Making matters worse is Halo 5's lack of offline and split-screen options, a staple of Halo multiplayer going back to its origins.
Luckily, the campaign failings in Halo 5 did not translate to competitive multiplayer. The game represents a true return to arena shooting. Loadouts, ordnance drops, and armor abilities are gone. Fixed weapon spawns are back. "A big part of it is just putting all players on an equal footing," said Executive Producer Josh Holmes. "Making sure there's an equal playing field. [Creative Director] Tim [Longo]'s been very passionate about making sure every player has the same set of abilities that they can employ and use as tools on the battlefield."
343 further enhanced multiplayer in Halo 5 with "Warzone," its single greatest contribution to the series. A twist on Battlefield's "Conquest" mode, Warzone is a 24-player, objective-based mode that incorporates some player vs. environment aspects. Although the action is diminished somewhat by a dubious "requisition" system, Warzone stands as a brave new entry for the long-running franchise.
Although it fixed some of the self-inflicted wounds of Halo 4 and introduced in Warzone the biggest game-changer for the series since Forge, the staff at 343 Industries have been poor guardians of the Halo property, especially when compared to series starter Bungie.
By emulating Call of Duty, focusing on world-building instead of game design, and eschewing local multiplayer options, 343 (and by extension Microsoft), have demonstrated either ignorance of or hostility towards what makes Halo great. Multiplayer in Halo 5 is however a step in the right direction; one that will hopefully be a stepping stone to a better all-round package in Halo 6.
More Articles