Pirate Pop Plus (New 3DS) - Review
Evan Norris
, posted on 19 October 2016
/ 8,320 Views
Remember Nolan Bushnell's mantra, "easy to learn and difficult to master"? It's something many modern video games have walked away from, for better or worse. Enter the charmingly old-school Pirate Pop Plus, a bubble-popping action game that wears its four-color pixel art and 8-bit chiptune music like a badge of honor.
The story in Pirate Pop Plus is basic and entirely inconsequential, much like the arcade games of yesterday. Pete Jr. wakes up one morning to find strange bubbles dotting the horizon. On closer inspection he sees the bubbles imprison local villagers. The dastardly Bubble Pirate is up to his old tricks.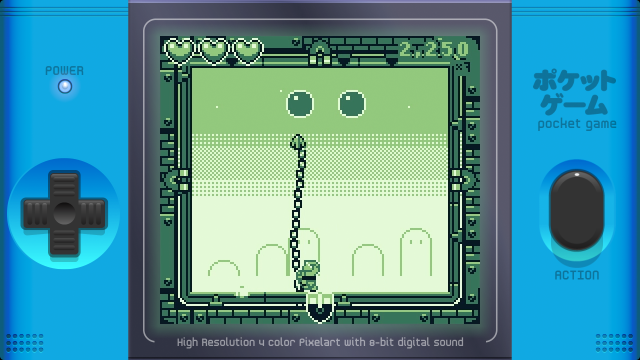 Anyone who's played Pang, aka Buster Bros., will immediately recognize the gameplay in Pirate Pop Plus. The purpose of the game is to pop bubbles dropped by Bubble Pirate. Large bubbles, once popped, break into two smaller bubbles, and so on. By popping several bubbles in a row without missing, players can rack up combos and high scores.
It's an entertaining and surprisingly addictive formula that's made even more impressive by the addition of power-ups and anti-gravity. Some popped bubbles will drop shields, rapid-fire weapons, and even a clock that freezes time — all of which are super helpful in later levels when tiny bubbles fly around erratically. To make things even less predictable, Bubble Pirate will change the gravitational pull of the stage, forcing players to the left, right, top, and bottom of the screen.
Developer Dadako Studios didn't stop its old-school experiment with gameplay, graphics, and chiptunes, though. It layered over the top screen on the New 3DS a retro "pocket game" border with buttons that move as players press the d-pad and buttons below. Moreover, by spending coins earned in the game, players can unlock dozens of custom faceplates, stickers, buttons, and back-lit screens. Want a transparent faceplate, a cockatoo sticker, and a fuscia button? You're in luck!
This customization comes at a cost, though: reduced screen size. With 40 percent of the screen reserved for the retro faceplate and buttons, the box that displays the main action is unfortunately tiny.
Apart from screen modifications, players can use coins in the game's shop to unlock chiptunes and playable characters, including Satura and Val from Runbow. They can also spend 25 coins to try "Hyper!" mode, where points are doubled, the action is faster, and players have only one heart. Hyper mode is a nice diversion from the main game, but it underscores the lack of modes in Pirate Pop Plus. A cooperative or competitive mode, or even a challenge mode, would be most welcome.
Despite a scarcity of game modes, Pirate Pop Plus is a winner. The main gameplay concept is deceptively simple, but calls for quick reflexes and smart strategy in later levels. When players aren't popping bubbles like a boss, they can spend hard-earned coins for characters, music tracks, and custom faceplates. Proudly nostalgic in appearance and unabashedly retro in game design, Pirate Pop Plus is made for gamers who live by the words of Saint Bushnell.
Editor's note: Pirate Pop Plus is a cross-buy compatible game, meaning a New 3DS purchase will entitle the buyer to the Wii U version, and vice versa. Older 3DS models are not supported.
This review is based on a digital copy of Pirate Pop Plus for the 3DS, provided by the publisher.
Read more about our Review Methodology here
More Articles