Tokyo Mirage Sessions #FE (Wii U) - Review
Spencer Manigat
, posted on 22 July 2016
/ 9,773 Views
---
WHAT MAKES A GOOD CROSSOVER?
Well, that depends largely on the type of game. The success of projects like Super Smash Bros. or Marvel vs. Capcom relies a lot on fan service. Crossovers like these succeed when every facet of the game is crammed to the brim with knowing references, subtle nods, and an unwavering reverence for every character being featured. With others, like Mario & Luigi: Paper Jam or Professor Layton vs. Phoenix Wright: Ace Attorney, success hinges more on the games' ability to entice fans of one familiar series to become interested in an unfamiliar one.
Tokyo Mirage Sessions #FE happens to be of another ilk of crossover all together - one that fans of the Kingdom Hearts games should already be familiar with. What makes crossovers like these special is their independence from their parent franchises. Tokyo Mirage Sessions #FE borrows themes, elements, and characters from both the Shin Megami Tensei and Fire Emblem series, puts them in a blender, and creates something wholly original. Because of this, it can also appeal to newcomers who have never experienced either series before, introducing them to both franchises simultaneously.
Context is key, so in the interests of full disclosure, I have to mention that my only frame of reference going into this game was my experience with Shin Megami Tensei IV. I've never played any other entry in the series, and I have never played a Fire Emblem game either. While covered from head to toe with imperfections, Shin Megami Tensei IV's macabre setting and brutal combat system cemented its quality. In many ways, Tokyo Mirage Sessions #FE is the complete antithesis of that game, but I mean no disrespect when I say that. The game oozes happiness, and that oddly makes it fit snugly alongside its other Megami Tensei brethren to form a neat sort of trichotomy. If the mainline Shin Megami Tensei games are bleak and dreary, while the Persona (as well as other) spin-offs have leaned a little more in the middle, then Tokyo Mirage Sessions #FE sits comfortably at the sweetest end of the spectrum.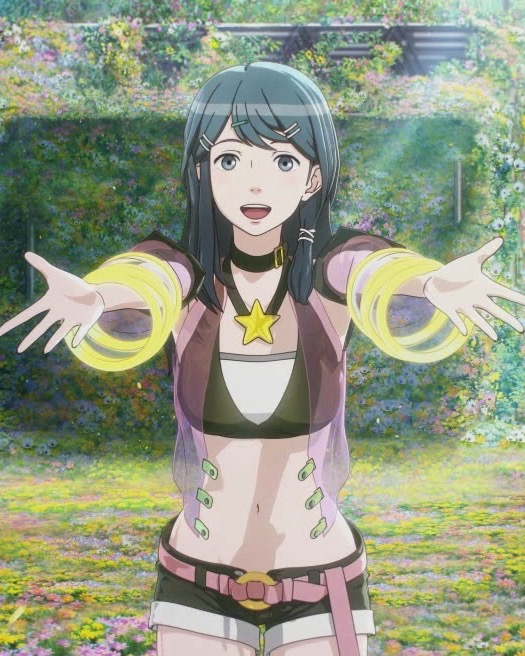 THIS WORLD IS BRIMMING WITH OPTIMISM
And that's reflected in every crevice of the game. The art direction is boisterous, the characters are endearingly campy, and the music is everything you could ever want from a ridiculously J-Pop soundtrack. Tokyo Mirage Sessions #FE desperately wants you to crack a smile, and that's evident even in its combat. This is an Atlus game through and through, so the satisfying brand of punishing turn-based combat they are well known for shines brightly here. Each character overflows with personality as their attacks dance energetically across the screen. The animation on display here is fantastic, yet each attack is courteously quick and snappy.
Like with Shin Megami Tensei IV, you'll be exploiting enemy weaknesses to trigger the game's central combat gimmick. Here, it comes in the form of Session Skills. With these special attacks, you'll rack up even more damage as the cast chains together more and more attacks in quick succession. As the game progresses, each playable character will gain more Session Skills as well as the ability to eventually participate in sessions even when they are not in the active party. This ends up culminating in an immensely satisfying, rhythmic series of attacks that will make you feel like a powerhouse.
The loop of positive feedback is further exemplified by all of the different stats there are to level up. Throughout the game, you'll level up each cast member. You'll be leveling up dozens of weapons to unlock new attacks. Leveling up each cast member's invisible Skill Rank is essential to unlocking their ability to participate in sessions while not in the main cast, on top of other useful abilities. All these different skill trees updating simultaneously means that you feel a perpetual sense of accomplishment after every battle, because you'll almost always end up leveling up something for someone. No fight feels wasted; every altercation will nab you a new attack or stat boost, and that feels great.
The combat system in this game is complex enough to be engaging, but taught organically enough throughout the course of the game to never become frustrating. You will never feel overwhelmed with the complexity of battle in this game. But while Tokyo Mirage Sessions #FE does everything it can to make you feel good, the experience is not always so smooth. Expect to have to grind a lot. It's incredibly pace-breaking to hit a brick wall just because your party is under-leveled or because your party is ill equipped moveset-wise to take on the current boss. Shin Megami Tensei IV was a significantly more difficult game, yet it never had this issue. It's a situation where I think that the feel-good design mentality of the game got in the way of smart design.
I was under leveled for every single boss I encountered while playing Shin Megami Tensei IV, but never did I feel ill-equipped for the coming fight the way I did most of the boss fights in Tokyo Mirage Sessions #FE. I have a feeling that this is mostly due to the fact that, in Tokyo Mirage Sessions #FE, you can actually avoid enemy encounters entirely because attacking an enemy in the overworld will fully immobilize them, unlike in Shin Megami Tensei IV.
In that game attacking an enemy in the overworld would immediately start the battle. Sure, you could just run away from every battle after you were already in the battle screen, but it made more sense just to stay and get the battle over with. What this meant was that you would always gain just enough experience to be at an adequate level to fight the next boss. With this in mind, it seems to be less an issue of needing to grind, and more of an issue of the game's design allowing for situations where level growth can become paced incredibly poorly. This wouldn't really matter much if the dungeon design didn't outright encourage you to avoid combat as frequently as possible.
Tokyo Mirage Sessions #FE has some of the most unremarkable dungeon design I have ever seen in a JRPG, and that's made worse by the mindless "busy work" puzzles inside each of them. You'll have to run around each dungeon completing mundane tasks in order to progress, and this means that enemy encounters stop feeling like fun obstacles and start feeling like annoying interruptions. I have a sneaking suspicion that the team allowed enemies to be avoided entirely to grant players a sense of leisure as they complete the dungeon tasks.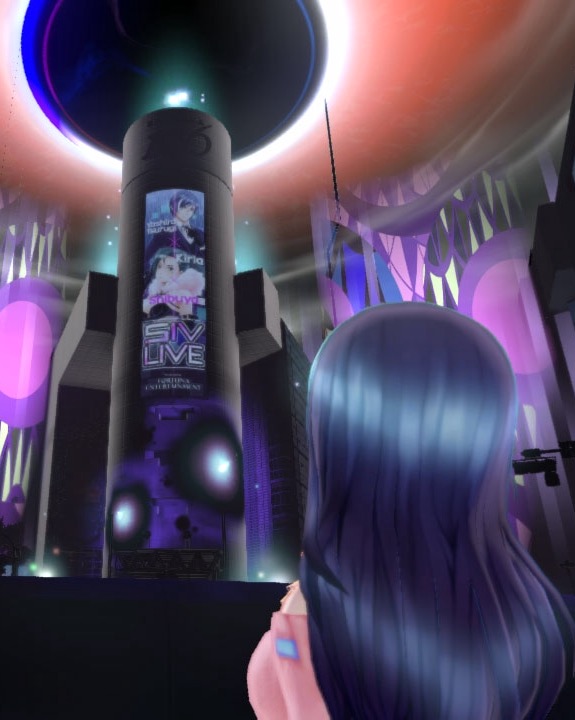 IT'S A CHEAP FIX TO A DEEPER ISSUE
Considering how much of a breath of fresh air it was to finally be able to play a JRPG in Shin Megami Tensei IV that negated the need for grinding entirely, while still being challenging, I have to say that this was absolutely the wrong decision. The team should have realized that the way they were designing their dungeons was in direct conflict with the combat, and balanced accordingly. Ideally, they would have realized early on that the dungeons weren't very fun regardless, and opted for a different kind of design altogether. The game would have done well to integrate its dungeons with the overworld, rather than segregate them as they are now. This would have made the overworld feel less restricted, the dungeons feel more organic and based on exploration, and the combat feel more like fun obstacles again.
By the time you beat Tokyo Mirage Sessions #FE, it's not an exaggeration to say that you'll likely have spent at least a dozen hours of your playtime just grinding, and that's unacceptable. In this instance, the design of the game actually lies in direct conflict with its happy-go-lucky feel, because it feels like the game doesn't respect your time. This is compounded by the fact that a purchasable DLC exists that will literally allow you to turn hours' worth of grinding into minutes.
Tokyo Mirage Sessions #FE doesn't respect your time, but it does respect its characters. While starting off a little too abruptly, which is ironic considering my prior statement, the game slowly and meticulously uses little tricks to get you invested in these otherwise flat characters.
The cast will send you messages on the GamePad via the Topic messaging system. Different side quests will open up as you progress through the game, giving each of the archetypal cast members a much-needed second dimension. Many of these side missions will result in a character appearing on a new television show or debuting a new hit song, which will make that character appear on posters and billboards throughout the overworld. Some will even unlock special moves to use in battle, always relating to the content of the side quests, cementing the event in your head as an important memory that has a lasting effect on you, them, and the world around you. The game does a great job of contextualizing its world in this way.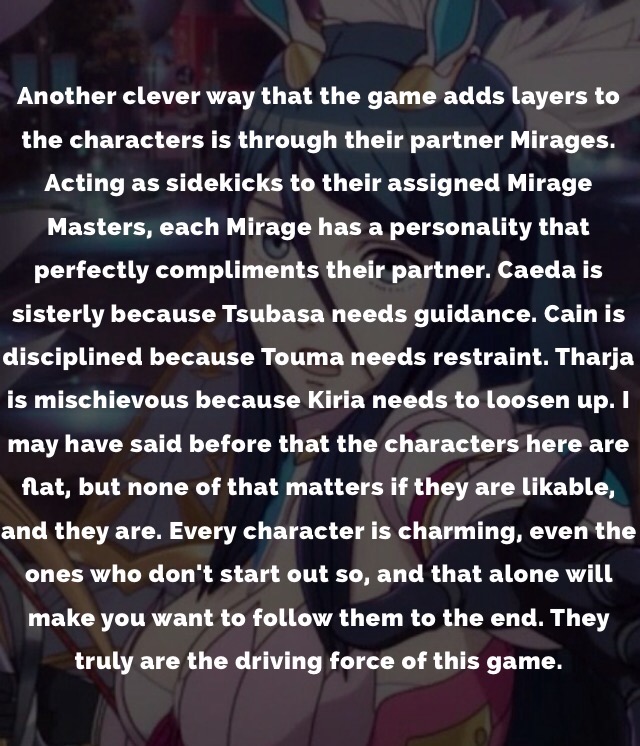 Tokyo Mirage Sessions #FE wears its roots in the entertainment industry proudly on its sleeve, but this isn't merely a presentational gimmick - it's how it builds its world. You'll see a billboard from Tsubasa's very first single, remember all the hard work and struggle that led up to it, and suddenly that's not just a billboard anymore. It's fascinating how such a simple trick can immerse you so deeply inside this world.
Every poster is a story that your character Itsuki was intimately involved in, and I imagine that this is how many big celebrities feel like as they go about their daily lives regularly seeing themselves, their friends, and their family on posters and magazines. They may hear a song on the radio or in a commercial, and directly know where the idea came from first hand. That's the world that this game allows you to be a part of. The songs in the game were actually done by Avex Group, a big music label in Japan. While the music is absolutely fantastic, it suffers from an element that was completely out of Avex's control: the lack of a proper localization.
The localization in this game truly is its Achilles' heel in a lot of ways. Just look at the nonsensical title that I have refused to abbreviate throughout this entire review: Tokyo Mirage Sessions #FE. It feels like the localization team were intentionally sending this game to die in the west by not choosing a more simple title like "Performa." But while many people will decry the alleged censorship done to the game, the true casualty of this game's disastrous localization situation is its lack of an English dub. I don't think a lot of people take into consideration just how important it is for a game like this to have a dub. When you look at games from Japan that have gained any real popularity in the west, every single one of them had a competent dub. I would even go as far as to say that many of the industry's most iconic franchises wouldn't be where they are today without their dubs. Metal Gear Solid. Devil May Cry. Resident Evil. Even in anime, when you look at shows like Dragon Ball, Pokémon, Cowboy Bebop, or movies like Ghost in the Shell and Akira, it was their dubs that allowed for them to be able to appeal to any sort of mainstream audience.
I think that a lot of fans of titles like this reject the notion that a dub is important because they can personally have an enjoyable experience just by reading subtitles. But this should really only be a last resort, as these games were originally intended to be experienced aurally. Atlus can actually afford make good dubs. They've always done a fantastic job in this department, and again, I'd argue that this is the only reason why many people in the west even gave games like Persona 4 a chance. If there were any Atlus game in the history of Atlus games that desperately could have used a dub, it would have been Tokyo Mirage Sessions #FE. The game will regularly treat you to absolutely stunning music videos that you will not be able to pay full attention to because you're too busy trying to read the lyrics that are weaved contextually into the narrative the same way a song in a musical might be. You will regularly hear characters speak what may as well be gibberish during battle, and those don't even have subtitles. While this dialog may not be integral in moving the plot forward, it absolutely is integral in experiencing the world the way the characters do.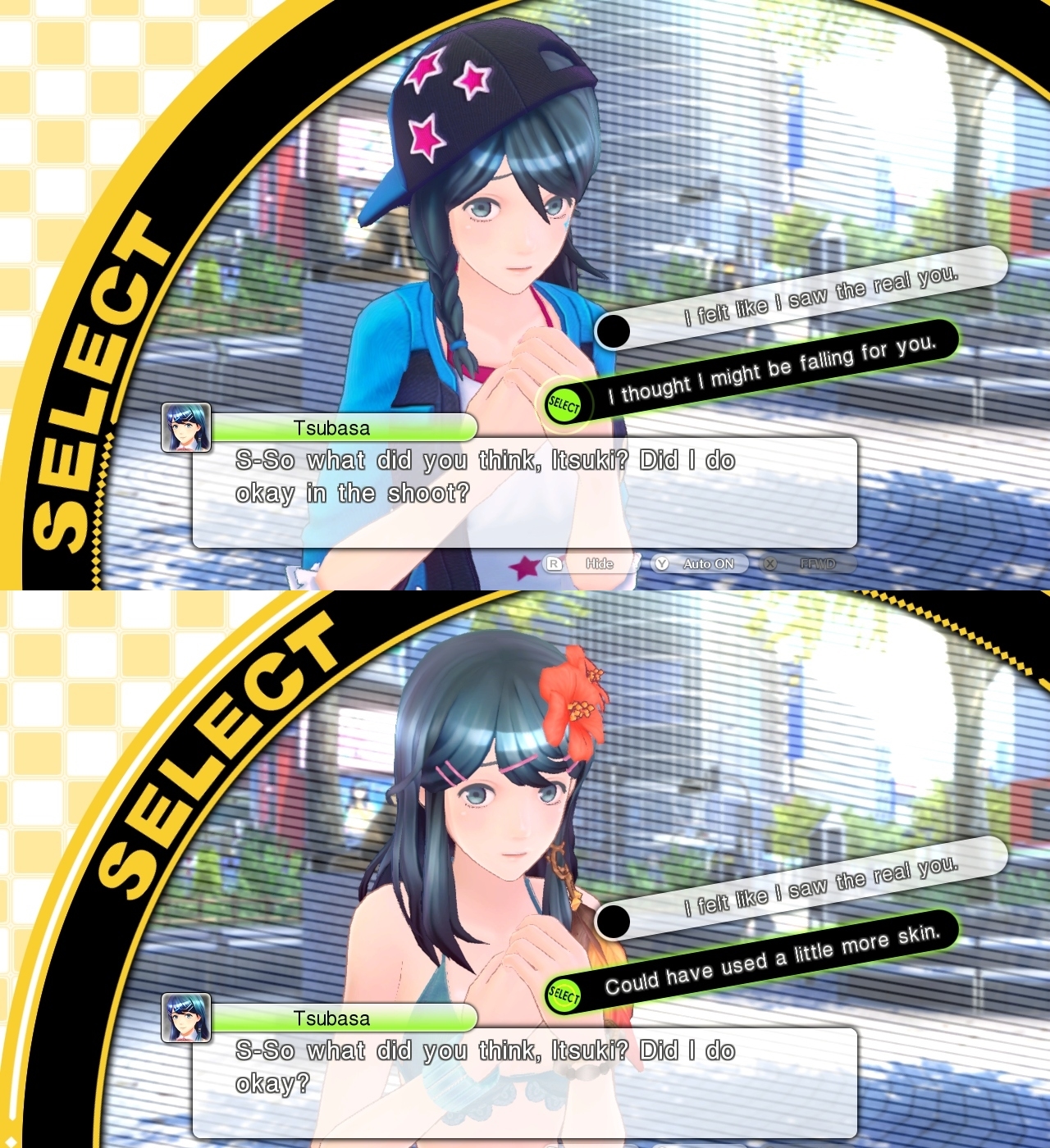 THE LOCALIZATION IN THIS GAME WAS HANDLED POORLY
Cast members actually talk to each other during session attacks, and what they say is often contextual to who came before or who will attack next, but that's something you are subconsciously taught to tune out because you can't understand it anyway. Bosses speak during battle, but there's no way at all of telling if what they are saying relates to the story or is just relevant to the battle at hand, and that's not the way these things are meant to be experienced. There's a button for making the dialog progress automatically instead of through manual button presses, and another one dedicated to making the text box go away. None of these make sense in a game where you cannot understand what's being said to you, forcing you to divide your attention by reading instead of listening and watching to understand what's going on. The list goes on.
Tokyo Mirage Sessions #FE tries so hard to immerse you in this world of Mirages and pop idols, but the localization team works double to take you out of it. Even so, and even with the many blemishes that this game has, it succeeds spectacularly. I went into it with one simple metric for success. I mentioned before that I have never played a Fire Emblem game, and that's honestly because I've never felt compelled to. I don't typically go for strategy RPGs, and I never really understood the appeal of building bonds with those characters. With that in mind, I thought to myself that I would consider this game a success if it got me interested in finally playing a Fire Emblem game. While it eventually was successful in this regard, I finished this game primarily with a completely different thought. I just want to see a sequel. It's not perfect, but it's the start of something good. No, something great. This game deserves a franchise. It deserves a legacy. The localization was problematic, but this game is an absolute gem, and it deserves a second chance to get things right.
It's humble and it has heart. It tries too hard and it even stumbles from time to time, but what it stumbles onto is something good. It deserves fair criticism because it actually makes an honest effort. Tokyo Mirage Sessions #FE was actually first teased way back in 2013 and, at the time, all that was really known about it was that it would be a crossover. Even still, the way the teaser was cut gave fans a very different image of what the game might be to what we eventually got. Known only as "Shin Megami Tensei x Fire Emblem" at the time, the teaser suggested that the game would be ominous, foreboding, and ultimately very familiar to fans of Shin Megami Tensei. When it was finally unveiled to be what it currently is years later, the reaction was overwhelmingly negative. Even I was upset by what I saw from the reveal trailer. The game betrayed every single expectation it had built up over the span of two years and people were furious.

---
AT THE TIME, I THOUGHT THEY WERE RIGHT TO BE ANGRY
Now, I'm not so sure. My favorite video game of all time is The Legend of Zelda: The Wind Waker, and it faced an eerily similar kind of backlash when it was first revealed. I was too young to be part of that reaction back then, but I've always wondered what side of history I would have been on if I had been a little older when it all went down. Would I have slammed the game for betraying my expectations, never giving it a fair shake, or would I have given the game a chance and allowed myself to experience something that would end up being very special? I now have that answer.
---
Playing video games since the age of 5, Spencer Manigat has been fascinated with the possibilities of this interactive medium for nearly as long as he could speak. Recently, his growing obsession with learning about tactile mechanics, interactive narratives, and all things on the academic side of gaming has lit a new passion in him to discuss, debate, and critique various topics in this brilliant medium of video games that we all find ourselves participating in. The Legend of Zelda: The Wind Waker, Pokémon: Platinum Version, and Super Metroid are a few of his favorite games. You can contact Spencer at spencer.manigat@gmail.com or follow him on Twitter @spencewashere.
This review is based on a digital copy of Tokyo Mirage Sessions #FE for the WiiU
Read more about our Review Methodology here
More Articles