Razer Introduces the "Razer Edge" - A PC, Console, and Tablet in One - News
Jake Weston
, posted on 09 January 2013
/ 2,710 Views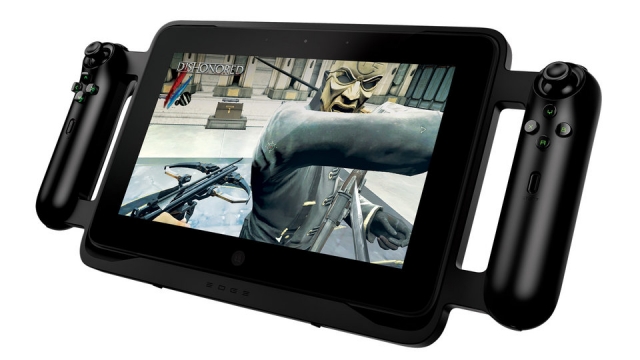 Valve's proposed "Steambox" may already have its competitors. At CES today, Razer revealed the "Razer Edge", a unique hybrid of gaming PC, console, and tablet. Introduced at last year's CES as "Project Fiona", the Razer Edge made its new reveal with a whole new desigh, and was designed with input from over 10,000 fans and PC gamers.
Dubbed "the most powerful tablet in the world", the Razer Edge features a 10.1-inch multitouch screem, a USB 3.0 port, Bluetooth 4.0, and will run Windows 8.
The tablet will come in two version: the standard Razer Edge and the Razer Edge Pro. The standard Razer Edge features an Intel Core i5 processor, Nvidia GT640M LE GPU, 4 GB DDR3 RAM and a 64 GB solid state drive, while the Razer Edge Pro is outfitted with an Intel Core i7 processor, Nvidia GT640M LE GPU, 8 GB DDR3 RAM and the option for a 128 GB or 256 GB solid state drive.
The tablet was designed with PC games in mind, with Razer CEO Min-Lian Tan boasting the Edge's ability to play games such as Dishonored, The Elder Scrolls V: Skyrim, and will be compatible with Steam and its Big Picture Mode.
The Razer Edge is set to launch Q1 2013, with an expected price of $999, and will also feature accessories such as a gamepad (assumedly in the picture above), as well as mouse-and-keyboard dock for keyboard-centric games.
What do you guys think of the Razer Edge? Let us know in the comments!
[Source: Polygon]
More Articles
There are no comments to display.