Dark Souls 'Mod God' Applauds Dark Souls II PC Port - News
VGChartz Staff
, posted on 18 April 2014
/ 2,913 Views
"Mod God" Peter "Durante" Thoman, who took it upon himself to write code to improve the Dark Souls: Prepare to Die Edition experience on PC, was asked by PC Gamer to evaluate the release of the Dark Souls II port. Overall, he was pleased:
"Dark Souls 2 on PC is a massively improved effort compared to its predecessor. It renders at any resolution a given system supports, its framerate varies smoothly up to 60 FPS, it performs well even on modest systems... and it comes with a wealth of graphical options."
He explained that the worst offenders from the original Dark Souls port - the resolution and framerate - were completely solved. Textures, models, even small touches which allow the player to scroll through menus with the mouse wheel, impressed Durante and "make it obvious that the game was truly developed with PC in mind."
For those who love technical tidbits, Durante dove into the nature of Dark Souls II's performance in detail:
"With all in-game settings maximized and rendering at 2560x1440, I never noticed a single drop below 60 FPS on my PC (equipped with a Core i7 920 CPU and Geforce GTX770 GPU). In fact, the GPU was generally below 60% loaded in order to maintain that framerate. Even medium-range systems should easily maintain a solid framerate, particularly at the more common 1920x1080 resolution.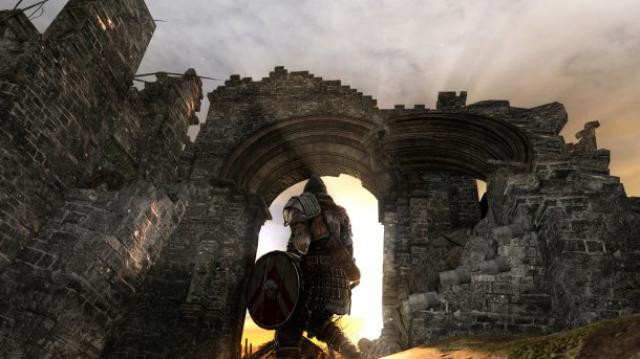 Another relevant aspect of game performance which is independent of framerates is the length of loading times, which is particularly relevant for Dark Souls 2 in light of their distracting duration in the console versions. The PC version, with maximized settings, consistently loads in 3-4 seconds from my traditional 7200 RPM HDD, and presumably installing the game to an SSD could further lower these times."
In summary, Durante acknowledges that From Software and Namco Bandai learned from their mistakes and fixed many of the resounding issues which PC gamers harped on:
"While it is not quite the (almost generational) leap which was initially shown in previews, Dark Souls 2 on PC is a better experience and a more beautiful game than even a fully modded Dark Souls 1, and it also performs well on a wide range of hardware. It adds effects which greatly enhance the visual impact of some scenes, such as dynamic godrays, improves the resolution of environment textures, greatly improves shadow resolution and filtering, and maintains the highly detailed equipment models, textures and ambient specular reflections which were a hallmark of the original Dark Souls' graphics."
Source: [PC Gamer]
More Articles
There are no comments to display.