USA Retail Preview for January 2011 - News
VGChartz Staff
, posted on 07 February 2011
/ 4,740 Views
NPD is set to report video game totals for the four weeks ending January 30, 2011 this Thursday at 6:30 PM ET. VGC data for January is already available. Trends for January are summarized below.
January was a good month for revenue overall, with stronger figures for hardware and accessories offseting a slight decline in software sales and dollars from January 2010. Hardware revenue increases came despite the continuing deterioration of PS2 and PSP, and flattish sales for Wii, DS, and PS3 against January 2010. In other words, X360 growth just about offset the large PS2 and PSP declines which was enough with the three other systems producing nearly the same amount of revenue as last year. Accessories were up on the ongoing uptake in Kinect and Move by existing owners of X360 and PS3. Dollars used to buy Kinect and Move with new systems for $300 or $400 are counted under hardware for estimates.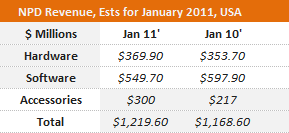 As with November and December, Wii and X360 remained at similar levels as is shown in the figures below. Microsoft's system topped Nintendo's by about 20,000 units for the month. Both Wii and X360 each gained over 100,000 units on PS3, even with PS3 growing a touch from last January to quite respectable figures - almost 300,000 units. All hardware is down massively from December, as is the usual pattern. In fact, overall industry sales dropped from over $5 billion in December to just under one fourth of that level in January 2011. February should be even farther off December, as people who missed out on hot items and who have fresh new giftcards do quite a bit of shopping in December.
Nonetheless, the figures for January are quite strong aside from the ancient PS2 and the rapidly shrinking PSP. The Wii, DS, and X360 figures, each sold over 400,000 units in January. Those numbers could easily turn into 6m+ year for each system if the pace was to hold for most of January to October. For the consoles, such paces are unlikely without price cuts given current penetration levels. Nintendo may struggle to get much past 6m with DS as well as the 3DS will slow it down quite a bit. On the other hand, price cuts are likely for both consoles, and the cost and feature difference between DS and 3DS should give the DS another strong year even though it will be down quite a bit from 2010. History suggests good things come after 400,000+ January figures. Since 2000, every system to sell at least 400,000 units in the USA during January has sold over 5.50m units for the entire year.

When considering the drop off from December to January, it is also important to remember that December has five weeks for our purposes, while January has four. The fall offs for Wii and X360 are thus less severe - a 78% drop in weekly sales for Wii, and 71% for X360. Sony's PS3 drop off from December weeks to January weeks is similar to the X360 drop, 70%, but it comes from a lower sales peak, resulting in sales 150,000 behind X360 in January after falling behind X360 by ten times that amount over November-December 2010. DS and PSP dropped off similarly to Wii, with weekly sales dropping 78% and 77% from December to January. Sony's PS2, after seeing no signfiicant lifts over November and December when all other systems did, dropped more modestly than the others. Also of note: Sony is now selling more PS2s outside the USA in the Americas than inside the USA and PSP is about 50/50 between the USA and the remainder of the Americas.
Overall, 2011 is off to a 2010 like start. Roughly 1.68m systems were sold in total during January 2011, up 2% from 1.64m in January 2010. The only real difference so far is that Microsoft sold almost 110,000 more systems than it did in January 2010, while Sony sold 25,000 fewer, and Nintendo sold 40,000 fewer.
Top software for January shows a healthy mix of new games from 2011 and older games from 2010 or before. Non-ranked games ('NR') are those which are entirely or heavily bundled. They are shown to look at Kinect and Move figures, as well as to see the full plethora of software in homes that is purchased each month.
The transition from December to January is not kind for software either. Games in the top ten need to sell 500,000 to 1,000,000 units to chart in most Decembers, but in January 2011, 165,000 units was good enough to reach the top ten on a single platform basis. For the month, the major new titles were Dead Space 2, LittleBigPlanet 2, and DC Universe Online at 200,000 units or more sold during January. Square-Enix's Kingdom Hearts Re:Coded for DS, which also released in January, missed the top ten but topped 130,000 units for the month.
On a multiplatform basis, Activision's Call of Duty: Black Ops sold nearly 570,000 units - the top performance of January. Multiplatform totals combine game sales across all platforms on which they were released, excluding PC, phones, and digital distribution markets.
There are two titles which are in the multi-platform top ten, but not in the single-platform top ten. Madden NFL 11 and Zumba Fitness each sold well during January without topping 165,000 units on a single platform. Madden is usually a good seller in January and early February, in the run up to the Superbowl. This January was no different. EA Sports Active 2, and most other "motion" focused multi-platform titles have done rather poorly to date. In that respect, Majesco's Zumba Fitness is really the first motion multi-platform game to succeed on each platform. Zumba is tracking 50% ahead of EA Sports Active 2 in the USA, a game which was the sequel to a big hit on Wii in 2009. Majesco's game is Zumba - which is part fitness and part dancing. Given the title has entered into heavily contested hot genres, Zumba is more than holding its own against Wii Fit Plus, Your Shape, and EA Sports Active 2 in the fitness sector of the industry. Moreover, Zumba is also carving out a niche against popular dancing games Just Dance 2 and Dance Central (153k in January 2011).
January data also allows for a look at the motion battle between Sony and Microsoft after Christmas. VGC data for the month shows Sports Champions which is bundled with controllers and also some PS3s, sold 105,000 units in the USA and stands at 1.19m units sold lifetime. Some PS3 owners with PS3 eye are also choosing to buy Move games and controllers, but not Sports Champions - and thus the Move audience in the USA is at least 1.2m users, but not much more. Over the past five months then, Move penetration has grown to about 10% of the 16 million-user PS3 audience in the USA. Microsoft's Kinect Adventures, which is bundled with Kinect standalone cameras, as well as the $300 X360 package that includes Kinect, sold about 550,000 units in January. These figures bring the Kinect base to 4.7m users in the USA, or roughly 18% penentration into the X360 base in the USA in a period of about three months.
With Wii at about 34.8m in the United States, the "motion base" for third party publishers is now about 41.1m users (consoles), 6.3m of which is HD. The "wand" vs. "body" split is 36.4m vs. 4.7m in favor of Wii and Move over Kinect if you were to group the systems by interface similarities.
Contact VGChartz at jmazel@vgchartz.com
More Articles