Ninjin: Clash of Carrots (NS) - Review
Evan Norris
, posted on 16 September 2018
/ 3,949 Views
Ninjin: Clash of Carrots is about what you'd expect from its name: a fun, silly action game with an offbeat attitude. Developed by Brazilian studio Pocket Trap, Ninjin is an unlikely marriage between scrolling shooter and beat 'em up. With solo and co-op (online and offline) options, an endless rogue-lite mode, dozens of unlockables, and post-level grades, the game isn't lacking for options, even if its main campaign is relatively short, beginning to end. However, some fussy, floaty controls and uneven difficultly spoil the production to a degree.
Ninjin stars the titular rabbit (and his partner Akai, an anthropomorphic fox, in co-op) as they travel across a medieval Japanese-esque landscape in pursuit of the Shogun Moe, whose minions have absconded with all the carrots in Ninjin's village. It's a silly, slight, ultimately forgettable story, but there are enough visual gags, jokes, and cute NPCs — the adorable corgi owner of the weapons shop is a stand-out — along the way to keep you engaged.
It helps that the game sports a comely, cartoon art style and plenty of visual flourishes, including a Mega Man-ish introduction for new enemy types.
You'll take on these enemies across five worlds and 30+ levels in a mash-up of horizontal shooter and arcade beat 'em up — think Final Fight by way of Gradius. Controlling Ninjin (and perhaps partnering with Akai) players will auto-scroll left to right through dozens of multi-staged levels, fighting off bad guys with projectile, melee, and dash attacks. While you can move your character up, down, left, and right around the battlefield, you cannot stop or start the auto-scroll; nor can you face backwards, apart from on a few special stages. During the action, three gauges come into play: health; energy, which empties according to player inputs; and a special meter, which activates an explosive timed attack once full. At the end of each level you are ranked; earn S ranks across the board to unlock some secret gifts.
This auto-scrolling, face-paced stage-based action works well for the most part, despite some finicky controls. Ninjin features an odd situation where Ninjin and Akai move faster forwards than backwards — which makes sense physically, but clashes with the game's arcade sensibilities — and somewhat slippery, traction-less controls. At times, it feels like you're on ice skates, struggling for grip.
Floaty controls are only a small inconvenience compared to the Ninjin's difficulty spikes, which threaten to derail the entire game. For its first two worlds, this shooter-cum-brawler increases in difficulty and complexity at a smooth, even rate. Upon entering world three, things go sideways fast. From that point on, the game sends several punishing levels at the player, including a few that seem unfairly complicated. The penultimate and final levels are especially taxing.
There's relief in sight, though, thanks to a steady stream of rewards. By defeating enemies and bosses, you'll pick up carrots — the currency of the game — and treasure chests, which hold new weapon types. Using these accumulated carrots, which you keep regardless of whether you finish or fail a level, Ninjin and Akai can purchase swords, spears, kunai, and other offensive weapons in the Corgi Shop, alongside artifacts that increase health points, energy, and offensive potency, among other things. These weapons, each with their own stat lines, can give you a fighting chance if you find yourself failing a level over and over again.
Collecting new weapons is one of the most enjoyable parts of the game, particularly because Pocket Trap dreamt up some creative designs and names — some clearly paying tribute to other video games. There's the Fantastic Sword, which looks suspiciously like Cloud's buster sword, and reads "Who needs a remake when you've got this sword?", and the Sword of the Masters: "Last time I touched it, I woke up years later wearing a skirt...". With 101 swords, 40 projectiles, and 28 artifacts, there are plenty of items to find and experiment with in Ninjin.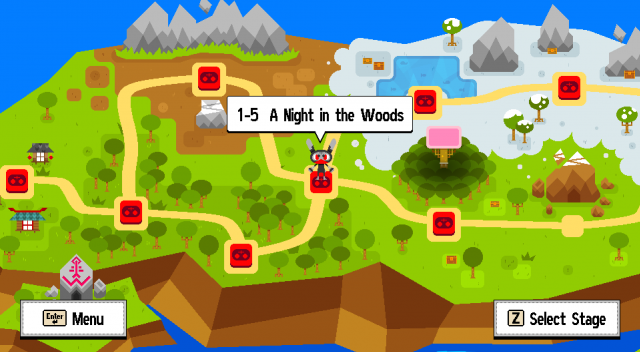 Many of the more powerful items are found in Ninjin's rogue-lite Oni TV Show, an endless survival mode, also playable in co-op, that unlocks rare rewards at certain stage benchmarks. It's a fun, challenging diversion from the central campaign, and it adds greatly to the game's high replay value.
Ninjin: Clash of Carrots is a nice little game with lots of replayability, thanks to post-level ranks, dozens of unlockable items, and the endless rogue-lite mode Oni TV Show. While the gameplay loop — drawn from strange bedfellows scrolling shooter and beat 'em up — works for the most part, the overall production is held back by some floaty controls and difficulty spikes.
This review is based on a digital copy of Ninjin: Clash of Carrots for the NS, provided by the publisher.
Read more about our Review Methodology here
More Articles