Interview: Maxime René of Redlock Studio on Shattered: Tale of the Forgotten King - Preview
Dan Carreras
, posted on 12 September 2016
/ 10,307 Views
Redlock Studio is constantly updating fans on its latest project, Shattered: Tale of the Forgotten King, over on Twitter, and I was intrigued enough to give the game a go. And who can blame me? A quick look at the game's most recent trailer sets the stage for what looks to be an ambitious game for such a small studio:
So I reached out to Redlock Studio and was lucky enough to be given the opportunity to play the latest alpha build of the game, as well as to ask Creative/Art Director Maxime René some questions about the game.

First off, having played the game for a while now, I've found it to be genuinely charming in both presentation and feel. I'm curious as to where your influences come from?
There are many of them! For the gaming part: Metroid, Dark Souls, Darksiders, Soul Reaver, Shadow of the Colossus, and Journey of course.
But Shattered also takes its inspirations from other fields like Hinduism in terms of cosmogony, and in the idea of life predestination. The writers H.P. Lovecraft and J. C. Somoza are our scenarist's all-time favorites, just like the artist Peter Mohrbacher is for me.

Fantastic! We have many fans of those series in the VGChartz community.
The game features a combination of 2.5D platforming and 3D free roaming. What was your thinking behind combining two distinctive genres into one?

Initially, the game was meant to be fully in 2D, as that's what our small team felt more comfortable with at the time, and this way we could have made the most of our concept artists' work. But as the production team grew at lightning speed and we switched to Unreal Engine 4 (which offers a lot of possibilities on that front), we tried out a 3D scene, to see what it could feel like. The team loved how the scenery and enemies were a lot more awe-inspiring.

We had a strong idea of the look and feel we wanted, so a fully 3D game wouldn't have worked for the platforming parts, so we agreed on marking some key moments with 3D (boss fights in particular) and have the rest in 2.5D. This back and forth between the two gives Shattered a depth that hopefully the players will enjoy as much as we do.
Although it's early days, and there wasn't much story in what I played, the world you're creating looks rich and full of history.
How long of a game are you hoping to make and will there be any side content which expands upon the lore of the world you've created?
Indeed, the Hypnos universe is very rich. Max (the project creator) has been shaping its lore through RPG campaigns for about ten years. Shattered aims to offer a deep context for players willing to look through the different layers of the story and the game, to discover more about the lore.
As you understand what goes on in Hypnos, you start to play differently. We want players to restart a run being aware of that, so that they can unlock new lore elements - and this for several iterations. You can expect between 10 and 15 hours for a run.

Redlock Studio also has other projects meant to expand this universe, but obviously we can't tell you more about it at the moment...
The crafting system looks to add a lot of replayability to the game. Are the item drops random, or will there always be a specific item to collect from specific monsters?
After a few playtests, we've decided to swap crafting for an upgrading system, more instantaneous and interesting than a classing craft (look out for it in future updates!). However, there will be several item types hidden in the levels at fixed points, allowing you to unlock alternative paths, secret areas and lore.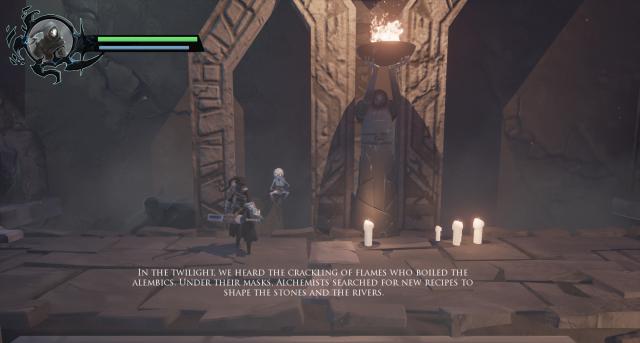 The combat mixes 2D mechanics along with the manoeuvrability of 3D. Will there be combos to unlock as the game progresses, and will you make more use of the 2.5D aspects of your game (e.g. players having to walk/jump into the foreground or background)?
We wanted the character to get better through the player's skill, so we decided not to include combos, in order to maintain challenging fights and not go in a 'beat them all' style.

About the 2.5D, we experimented a lot with the camera since the demo you played, and we've realised that we could do whatever we wanted with it; letting it free in a kind of Dark Souls style, formally placing it near the character or behind him like a Crash Bandicoot, or even fixing it in the scene like the Resident Evils do. We developed a module to easily manipulate those transitions without any loading time – and now we even use it in the level design.
Finally, when can players expect to get their hands on Shattered?
Sometime in 2018 :)
Redlock Studio and Shattered: Tale of the Forgotten King can be followed on Twitter over @RedlockStudio.
---
A graduate in Computing which was centered around Gaming, Dan is a games developer and writer. His first game, Twixel, was released for iOS, Android, PC and Mac in 2015, with the Steam a release coming November 18th, 2016. A lover of all things games, Dan has been writing for VGChartz.com for over 2 years, attending conferences and interviewing developers to get the best content for VGChartz readers. His favourite games include Asura's Wrath, S.T.A.L.K.E.R and the Halo Series. Dan can be followed on Twitter at: @Caesoose
More Articles
There are no comments to display.