2010 Year on Year Sales and Market Share Update to January 1st - News
Miles Taven
, posted on 07 January 2011
/ 3,834 Views
Here we see data representing the global sales through to consumers and change in sales performance of the three home consoles over comparable periods for 2007, 2008, 2009 and 2010. Also shown is the market share for each of the consoles over the same periods.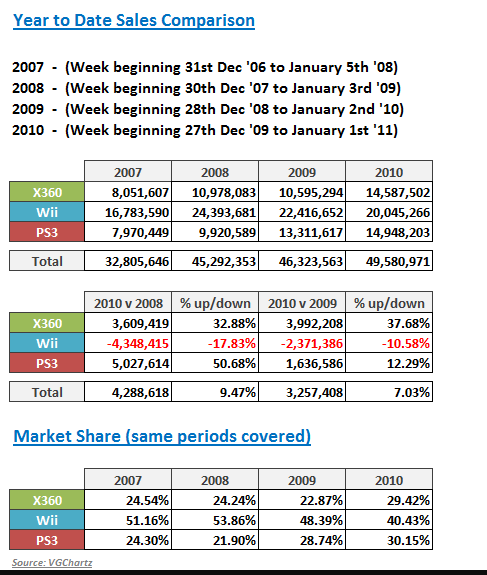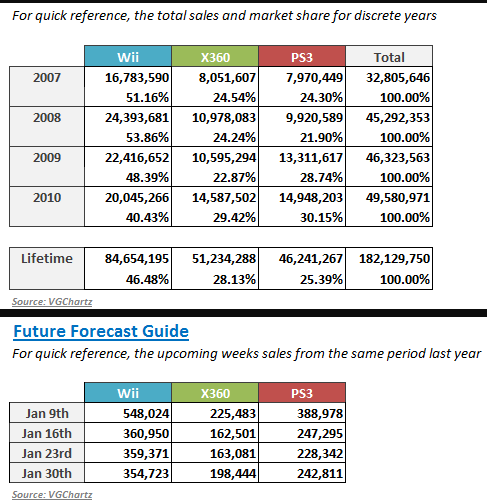 "Year to date" sales for 2007, 2008, 2009 and 2010 sales are shown in series at the top of the table and then just below a comparison of 2010 versus 2008 and 2010 versus 2009 is displayed. This provides an easy-to-view summary of all the data.

Xbox 360: UP Year on Year this week by 337k. UP Year to date 37.68%

Due to adjustments, the 360 has passed the 14 million mark for 2010. Nearly a whopping 40% up YoY and within 400k of the PS3 marks this as a monumental comeback. Up over 300k YoY, it's clear to see the X360 is the console going forward with the most momentum.

Wii: DOWN Year on Year this week by 174k. DOWN Year to date -10.58%

Wii hits its 20 million target for 2010, but sales are down YoY over 10%. Not too shabby given the competition and lack of any price cuts.
Playstation 3: UP Year on Year this week by 5k. UP Year to date 12.29%

PS3 stays UP YoY, again, impressive given that last year it had the slim and a price cut. PS3 just misses the 15 million mark but does achieve a new peak year. Up over 10% on an already steller year is a great achievement for the PS3 and Sony.
More Articles