Halo: Reach - Biggest Week One Sales Ever for an Exclusive - News
Miles Taven
, posted on 25 September 2010
/ 15,915 Views
So, what happens when an iconic, record breaking blockbuster franchise, a multi million advertising campaign and the swan song from one of the most acclaimed developers in video game history all come together? Halo: Reach that's what, and an opening week that smashes so many records it's a contender for "amount of records smashed in one week"

Halo: Reach released to midnight launches across the globe to great fanfare from loyal long time fans there from the very beginning, to girlfriends dragged along, completely oblivious to what all the fuss was about. At the stroke of midnight cash registers started ringing and kept ringing .. and ringing, and in just 24 hours, Halo: Reach had generated over $200 million.

Read on to see how Halo: Reach compares with other first weeks sales, upcoming contenders, a Halo franchise analysis and of course those all important records.

First week sales

VGChartz data for the week ending 18th September 2010 include the 5 days of Reach availability since Tuesday 14th.




Halo: Reach debuts as the 2nd highest ever launch week on a single platform, behind the jugganaut that is Modern Warfare 2, however it does steal 1st place as the highest week one exclusive game of all time from Halo 3, it's predecessor, naturally. I should note GTA: San Andreas launched exclusively on PS2 and released on Xbox and Windows one year later.
What about the upcoming competition? Well it's looking very likely Call of Duty: Black Ops on X360 will topple Halo: Reachs week one total, thanks to heightened console sales due to the holiday season hotting up. Pokemon Black/White debuted to an enourmous 2.63 million in Japan this week, meaning it stands a real chance of also topping 4 million first week. It's possible Grand Theft Auto V, wherever thou are, could beat Reach. Other than that it's unlikely we're going to see anything else contend.

Halo Franchise Analysis

As you can see from the above chart, Halo games may not become the highest selling of all time, but they're undoubtably the most anticipaited and home to the most loyal fans you could ever find. Even on a userbase of around 17 million, peaking at 24 million, Halo 2 managed an incredible 2nd place at the time.

Launching in September 2007, Halo 3 didn't just smash all first week video gamer sales and revenue earnt, but became the biggest entertainment launch of all time, toppling Spiderman 2 the film from it's perch. To a lesser extent, the expansion standalone game Halo 3: ODST didn't do too badly either, it sits just outside the top 20. Not bad for an expansion pack eh?

Can a franchise keep growing? Can every consecutive main game sell more than it's successor? Halo: Reach isn't bucking that trend that's for sure. Opening to over 4 million units, a first for the Halo franchise, shows it's all but a declining franchise as some had predicted. With 343 Industries taking the helm for the first time, the Halo franchise will live on. In what form we've yet to find out, one things for sure however, Microsoft arn't going to let their prize pig shy away from the spotlight and stop reaching for new heights.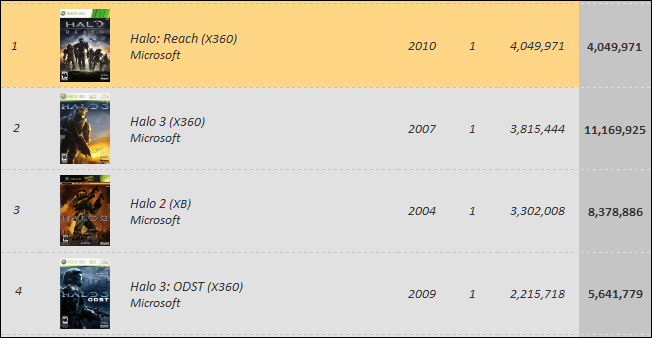 Unfortunately Halo: Combat Evolved first week sales are unavailable at this time. It did however manage 6.43 million LTD on the Xbox. Along with the RTS effort from Ensemble, Halo Wars (1.94 million) the Halo franchise has surpassed over 38 million units and should fly past 45 million without another Halo release this generation.

Just for the Record


Highest first week sales ever for an exclusive game.
Highest ever Halo Debute.
Only exclusive to pass 4 million first week to date.
Only exclusive to pass 3 million first week in Americas.
70 Million+ Games played
Highest rated Xbox 360 game at VCGhartz!
More Articles