The VGChartz Gap Charts Monthly Update for July 2010 - News
Miles Taven
, posted on 06 August 2010
/ 4,009 Views
Xbox 360 v PS3
Here we have three charts representative of the three main regions tracked by VGChartz, and a global chart which brings all of the data together. The line on each graph represents the gap in the install base (sales through to consumers), and the title indicates which console is in the lead in the particular region covered.

Americas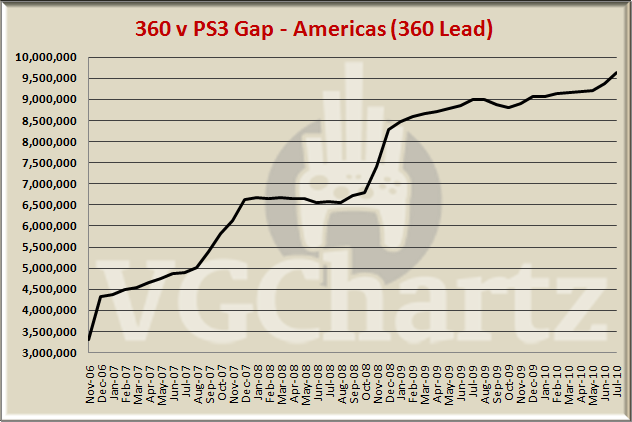 360 lead is 9,640,050

Japan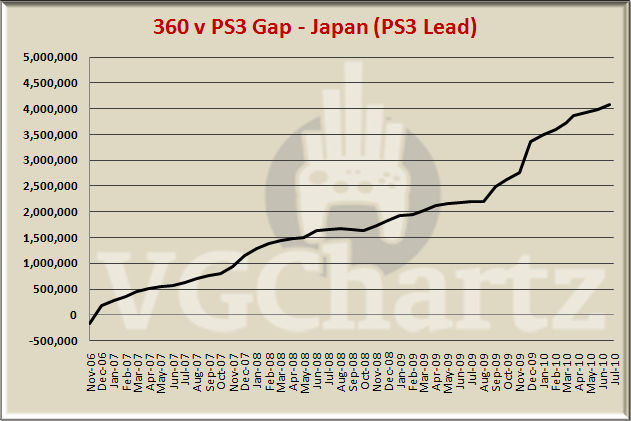 PS3 lead is 4,078,365

Others (Europe, Asia, Africa, Australasia)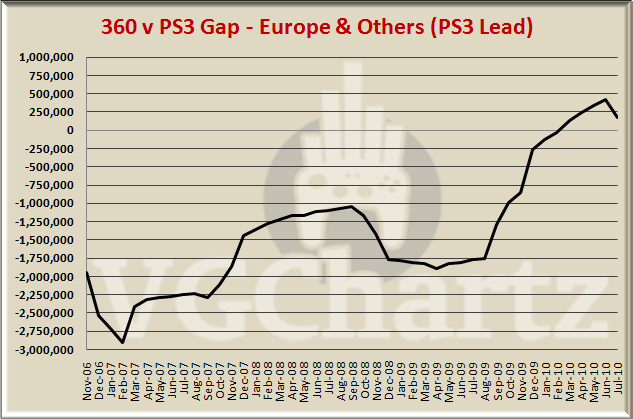 PS3 lead is 179,463

Global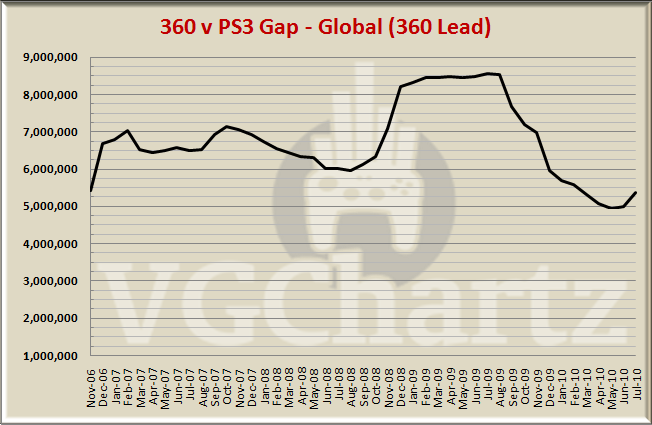 360 lead is 5,382,222



HD Consoles (PS3 + 360) v Wii
For the Wii to reach 50% market share (total install base) the line must drop below zero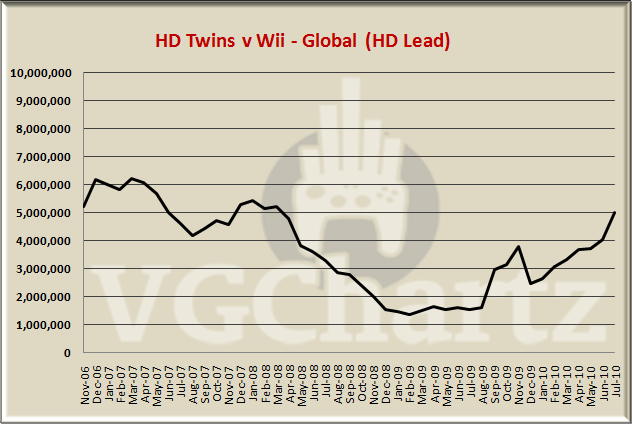 HD lead is 5,011,900


360 v PS3
In the Americas the 360 S enjoyed its first full month of sales, resulting in around a 230k lead for the month. It's unknown if its weekly drops, although small, are due to stock levels or if it's just begginging to level off. Whichever it is, the Arcade S which launched this Tuesday in Americas should disrupt that, and further outsell the PS3 by around 200k/400k depending on stocks. The X360 should reach a grand milestone of outselling the PS3 by 10 million in the Americas around the launch of Halo: Reach.

Others/Europe favoured the X360 for the first time since April 2009. After one of the most successful console launches the UK has ever seen, the X360 managed to outsell the PS3 in July by over 250k. The lead is still in PS3's favour, but, for as long as it's still outselling the PS3 by around 50k, that 180k lead will diminish fast.

Japan unsurprisingly went to PS3, although the new 360 S has managed to settle X360 figures around 6k. The PS3 saw a boost this month with the White PS3 Slim releasing, resulting in it outselling the X360 by around 100k.
The Global Gap Chart is now over the 5.0 Million mark again. With the upcoming months favouring the X360, we could see the lead extended to 6.0 by the end of September.
HD v Wii
The Wii took a massive blow this month, being outsold by the HD consoles by more than 1 million units. With weekly Wii sales at an all time low, and with seemingly no solution as of yet from Nintendo, it seems the elusive 50% will be forever out of reach. With Halo: Reach, Gran Turismo, Move and Kinect, as well as the new 360 S, the HD consoles are on top form to finally give the Wii a challenge this holiday.
More Articles