Farming Simulator 15 (PS4) - Review
Joseph Trotter
, posted on 04 June 2015
/ 3,783 Views
The notion of farming as a life choice is not one that sits particularly easy for me. Manchester, where I spent my formative years, is known only for farms hidden behind garages and regularly raided by the Police every two years.

Perhaps, however, I had missed the potential of a pastoral lifestyle while hidden in the red bricks and ginnels of an urban upbringing. Farming Simulator 15 is the most peaceful game you are ever likely to play; it drifts and swoons, meandering through its gameplay potential with the patience of a loving grandfather.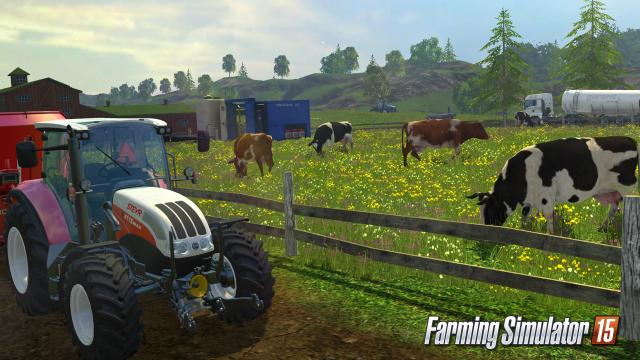 This is not farming management sim, where you could micromanage behind the safety of a wall of statistics. As a simulator, everything must be done yourself, and everything is time-consuming. It takes 10 minutes to till a field, and that's before you have to seed, fertilise, harvest, and deposit your crops. The sheer depth to this process is intimidating if you're a newcomer, and the game makes no pretence at hiding its difficulty. A short tutorial is followed by vast expanses of space and time with which to do whatever you wish – if you can actually work out what the hell that is.
Many would find this process inaccessible, some exciting. Most, like myself, are stuck somewhere in the middle; intrigued, but mollified by the process. There are a huge amount of options. Would you like to concentrate on livestock, crops, or forestry? Are you going to do all the work, or hire expensive workers who eat into your profits? Should you take out a bigger loan for better equipment, or allow the farm to gradually improve as the existing debt is worked off? Challenges, generally of the fetch-and-deliver trope, are offered to give the game focus, but these are soon forgotten about in favour of casual tinkering.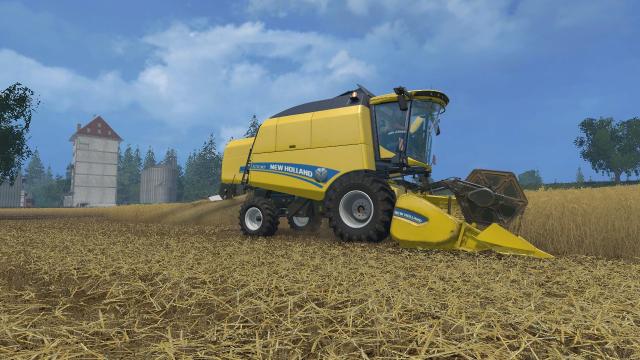 Time goes slowly in Farming Simulator 15, allowing for a lot of pondering. It would be easier if the game had a clearer management ethos, where decisions could be made quickly with a sure indication of success and failure. However, this is beyond the point of Farming Simulator 15. The game is slow, ponderous, and time-consuming because that is the nature of farming. A player must do everything because so must a farmer in a tough economic climate.

The result is surprisingly addictive. I woke up one morning having decided, in my sleep, which crop I ought to pursue for the biggest yield. I even sleepily told my partner, who somehow managed to dull the urge to immediately dump me for a more interesting man. But yet the thought was there.
For many, and indeed most, this casual gameplay style could easily be re-defined as exceptionally boring and hugely inaccessible. The farms are huge and spare, graphically uninteresting, while only a true enthusiast could be excited by the range of licensed tractors, mowers, forklifts, and other equipment normally seen outside a lonely John Deere garage.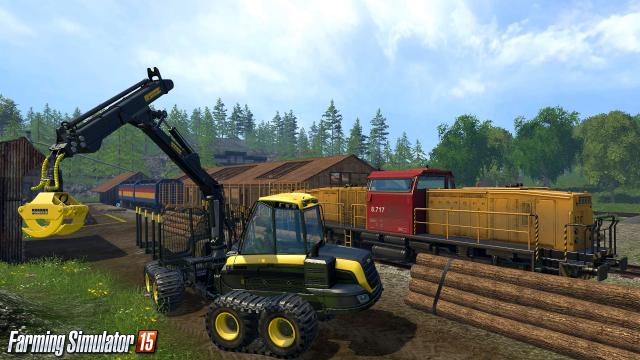 The tutorials are useful but brisk, and the game makes little attempt to help thereafter. An icon to show which trailer can be used by which vehicle? A legend to show what each of the tiny symbols on the tiny, vague map mean? It is one thing to be difficult, another to be deliberately unusable. Whether you find the experience peaceful or mind-numbingly boring is probably clear depending on your reaction to the phrase 'Farming Simulator.'

There is enjoyment to be had with Farming Simulator 15; at least, more than you might expect. Great depth coupled with challenging, thoughtful gameplay can lead to great swathes of time being soaked up by the harvesting and forestry. Too often, however, this experience is hampered by shoddy mechanics and an inaccessible framework that shuts out all but the most patient players. A gradual learning curve may have increased enjoyment, but it would also have taken away from what Farming Simulator 15 represents – the graft and monotony of an industrial agricultural life. It's not an easy life, and this is not an easy game; some will find it greatly rewarding, but they are likely in the minority.
This review is based on a retail copy of Farming Simulator 15 for the PS4, provided by the publisher.
Read more about our Review Methodology here
More Articles