Confirmed: Metro 2033 and Last Light Tunnelling to Next-Gen - News
VGChartz Staff
, posted on 31 March 2014
/ 2,847 Views
UPDATE:
4A Games and Deep Silver confronted the leak (see pictures below) head-on only hours after it hit the web:
Metro Redux. You may have heard of it... even though you probably shouldn't have!

We could issue a 'We do not comment on rumour and speculation' statement and pretend this never happened. They're pretty boring to read. They're also pretty boring to write.

So we're going to comment on rumour and speculation instead.

Is Metro Redux real?

Yes. We never made any secret of 4A's desire to bring Metro to the latest generation of console hardware.

But what you saw leaked was taken from an old, internal planning presentation, containing some nuggets of truth but a lot of hypothetical ideas and place holder material.

(Eagle eyed fans will recognize the artwork on the 'packshot' as the art from the original Russian edition of the Metro 2033 novel. And that 'logo' is just the old Metro 2033 logo with the '2033' scrubbed out and 'Redux' added... )

As you can see, we're not quite ready to reveal 4A Games' first next-gen console project, but we will be making an announcement this side of E3.

And we think the reality is a lot more exciting than the out-dated material that got leaked shows, and we're itching to share it with you. Just not yet.
-Deep Silver
Reading a gaming publisher go head-to-head with a rumor like this is refreshing. Bravo, Deep Silver.
ORIGINAL STORY:
Images for Metro Redux, formally Metro 2033, and Metro: Last Light on next-gen consoles have been circling the web. They were originally spotted on an Italian website called Everyeye.it.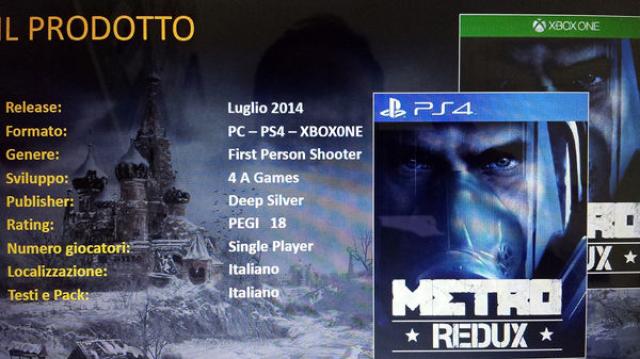 If these images ring true, we can expect to see the "Definitive Editions" of Metro 2033 and Last Light packaged together with:
- Season DLC Pass
- Physical or Digital Soundtrack
- Art Memorabilia
- Limited Edition Packaging
These games would be a welcome addition to the PS4, Xbox One, and PC libraries, having been praised for their gorgeous graphics and sound design by many, including one of our own reviewers.
More Articles
There are no comments to display.