PS Vita Reaches 1.4m Install Base after Successful Global Launch - News
Miles Taven
, posted on 27 February 2012
/ 41,559 Views
It may have taken a while for the PS Vita to arrive on western shores, with an unfortunate delay from the lucrative holiday season into the less than desirable launch month of February and one full year after Nintendo's 3DS debut the Vita has its work cut out, alas it's finally here. With the PlayStation Vita now officially available in all major territories we can reveal first week sales and how they compare to the 3DS and last gen portables.
Due to a staggered launch in the USA, first week sales include the first edition bundle (70k units) that released February 15th, one week before the official launch. Even with those bundles factored in the Vita launch it's still one of the weakest launches for a portable in the US, over 25% less than the 3DS (as well as the PSP and the DS).




Europe seems to have embraced the Vita, (UK figures at 125k) experiencing its largest launch week numbers out of the 3 main territories. Not quite reaching the impressive PSP launch numbers back in 2005, but still above both the 3DS and the DS.


Including figures from its Japanese launch last year, the Vita clears 1 million units in its first week. This puts the install base at 1.4 million, and should top 2 million fairly soon.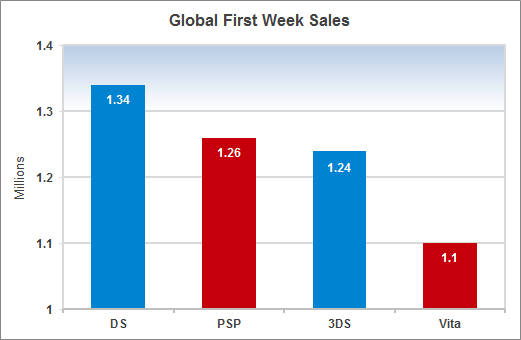 A strong launch line up helps PS Vita off to a good start, certainly comparable to the 3DS. In the coming weeks we should have a vague idea on how the Vita will perform during the summer. Though if we look back to this period last year after a similar launch to the Vita, the 3DS endured a difficult start in life before getting a significant price reduction. With the holiday season a way off it's likely we're going to see something similar with the Vita. Sony however has commented that they're content with the current sales and not something they should be worried about.

Do you think the PS Vita's launch has been successful? Leave your comments below!
More Articles