Evercade Product Director Talks About the New Retro Games Console - Article
Evan Norris
, posted on 10 June 2020
/ 2,826 Views
The Evercade portable console, which plays dozens of retro video games via cartridge, arrives on the scene at an ideal time. Not only have video games sales in general skyrocketed due to folks retreating from other forms of entertainment during the COVID-19 pandemic, but there is clearly a demand for retro gaming and physical media in the games industry — just look at the sales numbers of "mini" consoles like NES Classic or the runaway success of something like Limited Run Games.
Here are the basics of Evercade. It's a handheld console with a 4.3" screen and 4-5 hours of battery life. Currently the system supports ten cartridges, each containing 6-20 games from publishers like Atari, Namco, Data East, and Interplay. Every cartridge comes with a color manual and Genesis-esque clamshell packaging.
Andrew Byatt, Product Director at Blaze Entertainment, the UK company responsible for Evercade, was good enough to share some thoughts about the origins of Evercade, its focus on physical media, and its partnerships with several gaming pioneers.
Q: What originally inspired the Evercade? Did you notice a gap in the video game market, or an unfulfilled demand for retro games?

Andrew Byatt: We saw the success of the Mini consoles and love to play on them, but felt they had missed the idea that customers like us wanted an expandable system which takes you back to your childhood. We focused on that experience for the Evercade.
Q: It looks like the Evercade is already popular, with the ALL-IN edition back-ordered on Funstock. Can you share some early sales numbers?

AB: We are not sharing numbers, but we can say we are very happy with the start for the product.
Q: All Evercade games will arrive on a physical cartridge. How important is physical media to this kind of product?

AB: It defines the experience. We realised that this was one area where digital was less appropriate. The carts are so much fun to collect and play. The other aspect is that carts that you buy today can be used on future hardware we develop.
Q: Several game makers, including Atari, Namco, and Data East, have partnered with you to port games to Evercade. How did these partnerships start?

AB: At the beginning we approached these companies to show them our concept. We have spoken to nearly all the big players in gaming and had some great conversations. There is a lot more to come!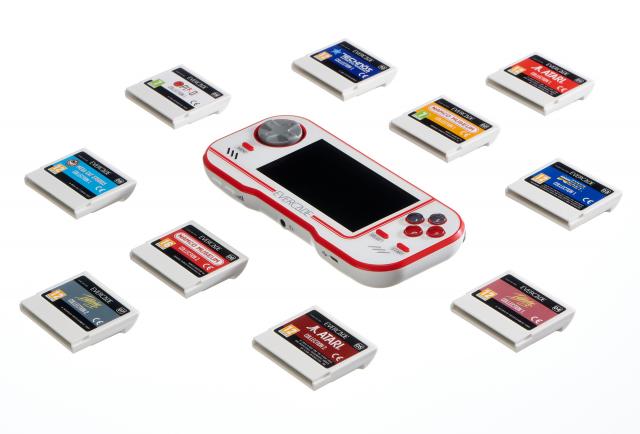 Q: Can you tease any future partnerships or unannounced games?

AB: We have announced The Oliver Twins Collection today which includes some amazing games. We have a load more in the pipeline so watch this space.
Q: Emulation can make or break a retro console like Evercade. How did you attack the issue of emulation?
AB: We spent more time on this than anything else. We tried to work with the best emulator developers to customise their software for our device. We tried to deliver a "it just works" experience so customers could just plug in and play.
Q: Finally, have you discovered any hidden gems while playing through the Evercade catalog?

AB: There are plenty of quirky titles on the carts. We have games like Libble Rabble on Namco 2 which was designed by Pac-Man's designer, new games on Mega Cat Studios, and the first official translation of Mappy Kids. There are plenty of classics like Earthworm Jim and Splatterhouse, but you can always find something new and interesting which might never have been discovered.
Thanks to Andrew Byatt for his time and insight into the design of Evercade. You can learn more about the portable retro console here.
More Articles