Zelda Replay Part I: The Legend of Zelda - Article
Evan Norris
, posted on 25 July 2019
/ 3,418 Views
Welcome to Zelda Replay, a celebration of what I consider the best video game franchise. Each article in this ongoing series will explore a specific The Legend of Zelda game—which I will replay and re-evaluate—starting with the first installment on NES and moving forward according to release date.
Note: I will cover only mainline, official titles for this project, so don't expect non-canonical entries like The Wand of Gamelon or side projects like Link's Crossbow Training. Every game will get a review and will enter into a series ranking that I'll update with each new article. Please enjoy.


Part I: The Legend of Zelda
"It's a Secret to Everybody"
In a series two episode of Doctor Who, the Doctor responds to the Face of Boe's mysterious words by saying, "That is enigmatic. That is textbook enigmatic." As I sat playing The Legend of Zelda, the premiere adventure in the evergreen series of the same name, I thought of this quotation a lot. The Legend of Zelda, after all, is a mysterious, borderline baffling game. From its beginning, which drops an under-equipped would-be hero in the middle of nowhere, to its final showdown with Ganon, a fight that demands a hard-to-find powerful item—a fact advertised only in the game manual—the seminal action-adventure title refuses to be straightforward, unambiguous, or forthcoming with its many secrets. If you wish to survive its subterranean gauntlets, deadly combat, head-scratching riddles, and general opacity, you'll need to figure it out for yourself. This is a game that must be earned, ultimately, through hard work, patience, intelligence, and a healthy dose of trial and error.
The Legend of Zelda is beloved for many reasons—for changing the rules of console gaming, for codifying the mechanics and gameplay loops of the action-adventure sub-genre, and for kick-starting what is arguably the finest video game series of all time—but I'd wager that above all else its enigmatic, aloof nature keeps it firmly in the hearts and minds of fans, more than three decades later. It's a difficult, sometimes exasperating experience, yes, but in all the right ways.
It's also a great-looking, great-sounding action adventure title with a satisfying, seamless mix of arcade action, cRPG dungeon-crawling, and adventure-style puzzle-solving. By marrying the open-ended, methodical gameplay of pen-and-paper role-playing games like Ultima and Wizardry with the arcade sensibilities that made Nintendo a household name in the 1980s, The Legend of Zelda achieves a near-perfect blend of short-term and long-term objectives and rewards. As the hero Link, players will face immediate, tactile challenges like escaping from a locked room full of Gibdos (mummies), and prolonged, cerebral quests like the hunt for the Power Bracelet or Magic Sword.
The Legend of Zelda, then, is stimulating on both physical and mental planes. It's equally affecting on a psychological level. Playing through the ground-breaking game is a powerful emotional experience, even in 2019. The map, which seems to go on forever, creates an atmosphere of limitless adventure. Its subterranean dungeons, far-flung secrets, and riddle-dispensing sages summon a feeling of discovery and intrigue. Even the Old Man's warning—"It's dangerous to go alone. Take this!"—is intoxicating. Producer and co-director Shigeru Miyamoto modeled the game after his boyhood experiences exploring the fields, woods, and caves outside his native Kyoto, and that sense of childlike wonder and danger lingers, 33 years later. "I wanted to bring that sense of adventure to a video game," said Miyamoto.
Layered over that sense of adventure are some great melodies—including the immortal overworld theme, which should trigger Pavlovian responses in even the most casual video game fans—and spectacular sound design for the era. Whether it's the whoosh of a sword, the whipping of a boomerang, the clink of a collected rupee, the muffled explosion of a bomb, or the low, plaintive growl of a boss creature in the next room, The Legend of Zelda hits all the right notes.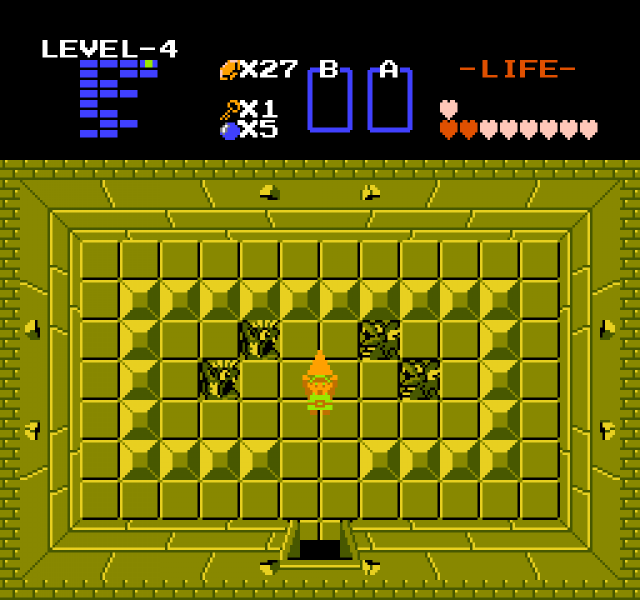 Despite its stellar gameplay, atmosphere, and sound design, The Legend of Zelda isn't flawless. It can be painfully difficult, particularly in dungeons six through nine, and too obscure for its own good. Moreover, the game's graphics engine will buckle when there are too many enemies and special effects on screen. Run into a pack of Lynels firing beam projectiles all over the place and expect the normally smooth action to transform into a slide show.
The Legend of Zelda is textbook enigmatic. It's mysterious, difficult, and secretive—sometimes to a fault. It will challenge your reflexes, your wits, your courage, and your patience. It will open up for you a world of heroes, monsters, dungeons, and dragons. If you are up to the task and worthy of the legend, it will deliver a physically-taxing, mentally-demanding, emotionally-powerful adventure that transcends the limitations of the 8-bit era. As the Old Man says, "Master using it and you can have this."

Updated Ranking:
1. The Legend of Zelda
More Articles