Sword Art Online: Fatal Bullet Info Details Characters, Co-Sleeping, New Area And More - News
William D'Angelo
, posted on 11 January 2018
/ 2,965 Views
Bandai Namco has released new information for Sword Art Online: Fatal Bullet that details new characters, a new area, co-sleeping, and more.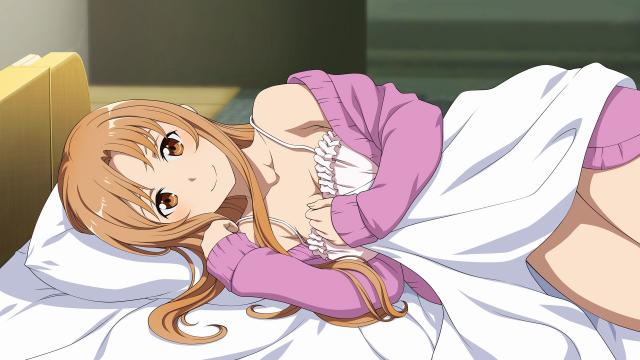 Read the complete details below:
■ New Visual
■ Co-Sleeping
The "Co-Sleeping Events" that have become an established feature of the Sword Art Online game series will return. In Sword Art Online: Fatal Bullet, the characters that you can co-sleep with are different in the "Main Story" and "Kirito Mode." By raising your affinity with the target character, you can enjoy Co-Sleeping to your heart's content.
■ Characters
Agil (voiced by Hiroki Yasumoto)
A big, male player with a shaved head. He is one of the "Sword Art Online" players that survived the death game. In "Sword Art Online," he engaged in the business of transactions between players, and would immediately enter business negotiations upon seeing a rare item.
In "Gun Gale Online," he perfers to use heavy weapons, which counterbalance with his own large build. The shots from his Gatling gun scatter crowds of small fry, and turn large enemies into honeycombs.
Klein (voiced by Hiroaki Hirata)
A core gamer who befriended Kirito when "Sword Art Online" first began. He is absurdly weak when it comes to beautiful women, and a Bushido spirit that is pleased to be relied upon. He is looking for a girlfriend to call his own.
In "Gun Gale Online," he uses a rifle, and his Japanese style-loving heart seems to be alive and well.
Premiere (voiced by Yuiko Tatsumi)
A girl who appeared in Sword Art Online: Hollow Realization. She develops an admiration for Kirito following a certain occasion. Since she sticks by Kirito, she logs into "Gun Gale Online" as an ordinary player.
In "Gun Gale Online," she wields two hand guns as weapons.
■ Agil's Appraisal Shop
Some the items that drop during battle will be "unidentified items." Unidentified items cannot be used as is, but by bringing them to Agil and paying a fee, to receive his appraisal, you can get an item with special effects.
—Hand over your unidentified items to Agil.
—The higher the price of an appraisal, the higher the chance of it being a rare item.
■ Area Introduction
"The Sand-Covered Island," where giant worms, flying robots, and ghost-like enemies that gather in the ship graveyard appear. This area will test the strength of players who honed their skills in the "Remnant Wasteland."
Since you will encounter powerful Named enemies and countless worms if you charge in recklessly, you should proceed with caution. Also, you should always be mindful of your remaining ammo and party members' HP. And be sure to watch out for attacks from underground and snipers from above.
—Giant worms lie in wait to jump out at the player.
—Giant flying robots that can deal severe damage will take aim at the player from above.
Sword Art Online: Fatal Bullet will launch for the PlayStation 4, Xbox One and Windows PC on February 8 in Japan, and February 23 in North America and Europe.
Thanks Gematsu.
---
A life-long and avid gamer, William D'Angelo was first introduced to VGChartz in 2007. After years of supporting the site, he was brought on in 2010 as a junior analyst, working his way up to lead analyst in 2012. He has expanded his involvement in the gaming community by producing content on his own YouTube channel and Twitch channel dedicated to gaming Let's Plays and tutorials. You can contact the author at wdangelo@vgchartz.com or on Twitter @TrunksWD.
More Articles
There are no comments to display.