Wii Mini Available in Canada December 7th - News
Brent Galietti
, posted on 27 November 2012
/ 2,704 Views
Rumors have been pouring in about a new mini version of the Wii being released this holiday. It recently appeared on Best Buy Canada's home page. Now Nintendo has made it official: The Wii Mini will release December 7th for $99.99...but only in Canada.
The console's family-friendly design is touted. It will have no internet access and cannot play Gamecube games. It comes with a Wii Remote Plus and Nunchuk.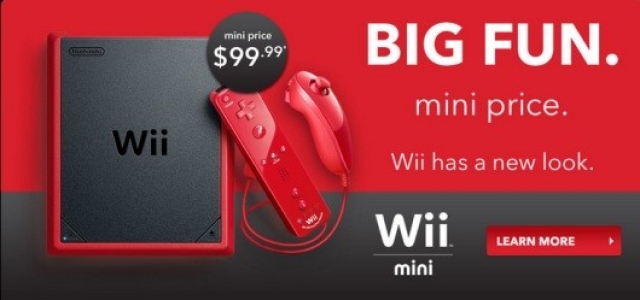 "Wii Mini is a great gift for the holidays that brings everyone in the family together to play. Wii Mini has a mini price, but it's all about big fun", says Nintendo of Canada VP and General Manager Ron Bertram.
Nintendo did not announce the Wii Mini's availablity in any other region. Rejoice, Canadian readers! You have yourself an exclusive that those of us south of the border will not get to experience this holiday.
Source: [Nintendo of America]
More Articles
There are no comments to display.