Steam Community Market Enters Beta - News
Craig Snow
, posted on 13 December 2012
/ 2,119 Views
The Steam Community Market is a way for players to buy and sell in-game items they've acquired with other players using the Steam Wallet. At present, if you wish to sell in-game items, you either have to trade for other items or use a third party website. This trading system alone is already a major success for Valve, with over half a million trades being carried out each week, but with the Community Market players will be able to buy and sell items through Steam for the first time, making the whole process much smoother.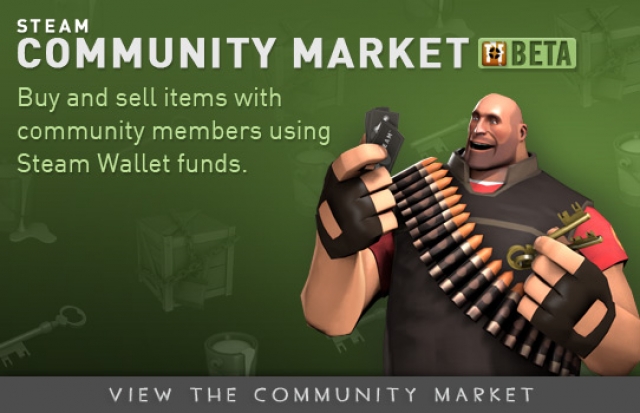 The first game to be included in the Beta test is Valve's own Team Fortress 2 (hats!), but the Community Market will be extended to other Steam games over time.

The Community Market FAQs details the small print, most notably:

- A transaction fee of 5%, paid by the buyer.
- A game-specific fee set by the publisher (for Team Fortress 2 it's 10%).
- A limit of 200 transactions a year during the Beta period.
- A maximum sales price of $200, and a maximum Steam wallet balance of $200.
Not wholly unreasonable restrictions. And with both a transaction fee and a publisher fee there should be decent incentive for publishers to jump on board and for Valve to push and continually improve the system.
More Articles
There are no comments to display.