Why Tapped Out Might be the Best Simpsons Game Ever - Article
Xavier Griffiths
, posted on 14 January 2014
/ 11,002 Views
Over the years The Simpsons have had numerous videogame incarnations, starting with the 1991 Konami beat 'em up arcade game. Television's favorite yellow family has had its ups and downs over the years in games such as The Simpsons Road Rage, The Simpsons Hit & Run, and 2007's fairly well received The Simpsons Game. While the prospect of turning a television sitcom into a fun videogame has always posed an interesting challenge I have to say that The Simpsons: Tapped Out for iOS and Android is the first Simpsons game to get it absolutely right. I am not a big fan of gaming on smart devices, but The Simpsons: Tapped Out has a special spark that keeps me coming back for more day after day.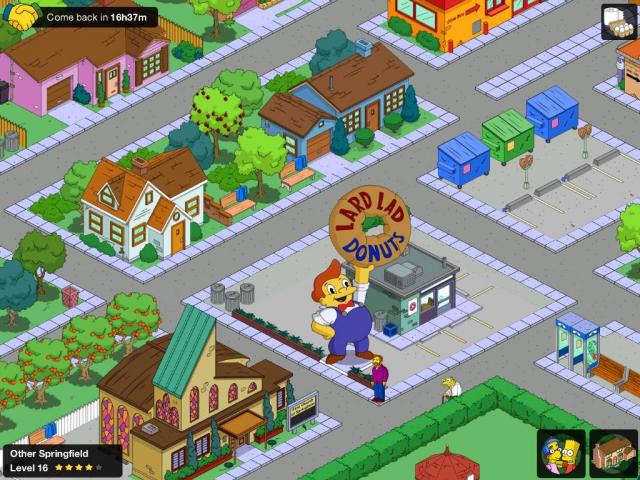 The story begins with Homer slacking off at work playing a game on his Mypad. Through his carelessness he accidentally causes a meltdown at the Nuclear Power Plant that destroys the town of Springfield. Being the last man left it is up to Homer and the player to rebuild the town, landmark by landmark, character by character. In that sense it is a city building game but there is very little strategy involved. You don't have to micro-manage and there is very little risk of failure in any aspect of the game. Instead, you pick your characters to do certain jobs that take actual time to complete. So you can be playing the game while being away from it for hours at a time. The gameplay requires you be connected to the internet at all times, which can be annoying when you have an itch to check on your town but are nowhere near an accessible wi-fi connection, but I cannot imagine the game working so well otherwise.

Currency plays a big role in just about every facet of The Simpsons: Tapped Out. Completing tasks will earn you money which you can use to buy new buildings and the characters that usually accompany them. There are all sorts of other uses for the virtual cash, from buying scratch off lotto tickets to betting on dog races at the track. You also earn XP that determines how fast you level up your town, thus unlocking more items for purchase. Donuts ("Mmmm donuts...") serve as premium currency that you can purchase using real money, though the game will bequeath some to you in small doses. You can get a very satisfying experience from the game without buying donuts, but doing so will allow you complete jobs faster as well as unlock exclusive items and characters. So far the model has proven successful for EA as The Simpsons Tapped Out is one of the highest-grossing games for iOS and Android.

The writing is sharp and captures the spirit of the TV show. Say what you will about the quality of the last few seasons of the show, but The Simpsons: Tapped Out can be genuinely funny. The game feels like a natural extension of the brand, and every so often the characters will break the fourth wall and reference upcoming storylines on the TV show. The best example of this was that the newest Simpsons character, Kumiko, recently made her debut in the game before the show.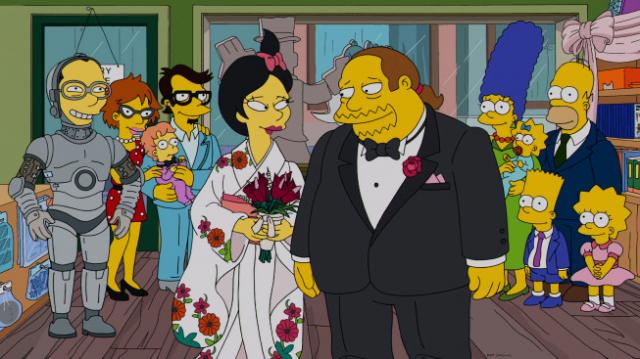 The game leverages the show's most appealing asset - its expansive cast of memorable characters. Most, but not all of the cast lend their voices to catchphrase-like soundbites uttered by the characters whenever you tap on them. The most prominent Springfield landmarks are all available, from Krustyburger to Moe's Tavern. Even more obscure places that show up in perhaps one episode, such as the Itchy and Scratchy Store, also make an appearance. Tons of references to past seasons fill out the dialogue, which are fun to spot for long time fans.

Visually, the game stays true to art style of the show. Where previous 2D incarnations were overly pixilated and 3D ones were just plain wrong, The Simpsons: Tapped Out is nearly seamless in its graphical presentation. Only five fully animated and voiced cutscenes are included but they are of high quality. When I first started playing many months ago I was mesmerized by how authentically the town was recreated to the point where I spent many minutes staring at the fans rotating atop the Kwik-E-Mart. Watching the characters act out their various activities is a real treat, even if they do repeat incessantly for hours on end.

For Halloween, Springfield was covered in darkness and thick fog. The game set up a system in which players were rewarded for harvesting ghosts haunting the town. The community got involved as well. You could visit a friend's town and collect a number of ghosts as well as plant gremlins that would collect ghosts for you while you were not playing. A number of Halloween specific jobs opened up for the characters, and new characters like the ghost of Maude Flanders, Kang, and and Strongman Homer were offered either for free or after collecting a certain amount of ghosts.
Thanksgiving saw a smaller scale event introduced. It involved a storyline about Lisa trying to save the town's turkeys from becoming dinner and brought about exclusive items and even a Black Friday deal on premium items.

The Christmas event was the biggest yet. There were no less than 10 individual and 5 community prizes to unlock, ranging from Plow King's Plow to the guy that always say "YESSSSSS!" It was topped off by a Springfield blanketed in snow. The holiday storylines were all long and sprawling. You earned rewards by collecting gift cards and sharing gift bags with your friends. There was even a prize wheel you could spin for a chance at more prizes.

This is not a review, but I cannot recommend the game enough to fans of the show. I write this as an avid fan who has sunk more time than I care to admit into fussing over a virtual Springfield. This game has blown up into a certified addiction for me. Hopefully my interest will taper off now that I have reached the current max level of 37. That said, I still have to build up my Krusty Land theme park that comes with its own currency and unique jobs, and the game is constantly expanding, so I doubt that I can stay tapped out for long.
More Articles
There are no comments to display.