TGS 2018 Preview - Devil May Cry 5 (PS4) - Preview
Thomas Froehlicher
, posted on 02 October 2018
/ 3,739 Views
A famous IP coming back years after the last entry is always a very special moment. And when you think that Devil May Cry was the game that revolutionized the action genre 17 years ago it makes it even more important. So I was excited to make first contact with Devil May Cry 5 at Sony's Tokyo Game Show 2018 booth.

The demo features Nero facing fiends in a devastated city. The look of the scenery was splendid; you could see a giant maelstrom on the top of demolished European-type buildings. As expected, Capcom's team has clearly put a lot of effort into the game's design and Devil May Cry 5 seems to retain that key sense of grandeur that made the previous games in the series so great to experience.
That's not the only aspect in which Capcom's new action game correctly inherits the DNA of its famous lineage - the particular sense of humor that has been the series' trademark looked very much intact in the demo. Nero would find himself in silly situations, or would straight up make fun of a boss monster fifteen times his size. That definitely reminded me of Dante in the first game.

In terms of gameplay, Devil May Cry 5 immediately feels more impressive than the last-gen entries. The gun is louder and every kind of move feels more brutal, having more impact on foes. In addition to his gun and sword, Nero possesses a cybernetic arm that's capable of using elements like fire or lightning. There were three or four different types in the demo, each one allowing Nero to perform fancy skills such as dealing an electric shock, grabbing and beating down an enemy, or even riding a missile!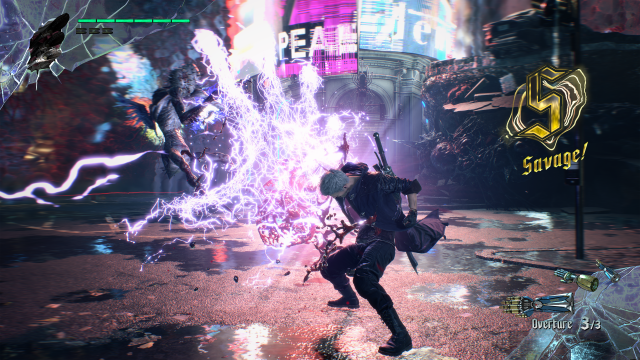 It's important to bear in mind that those arms come in limited stock, so you can run out of them fairly quickly. I would find more on the ground when progressing through an urban area, but they seem to come in very limited quantities. From my point of view, it's a tad bit disappointing to limit the use of the artificial arm, given that it seems to be the heart of the gameplay.

At one point you come across a telephone box that is used to call Nico, the girl taking care of Nero's equipment. Although it wasn't functional in the demo, it's where you'll manage and improve his skills, and maybe this will allow you to make greater use of the cybernetic arm.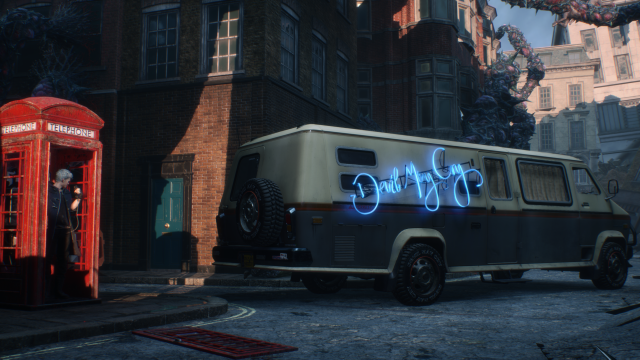 Devil May Cry 5 also retains the little score evaluation for your combos. "A", for example, stands for Apocalyptic when you achieve a good series of moves. The various moves and combos seem more difficult to pull off than before. It takes more parameters, like switching between the different types of arms, and mastering what they do. It's probably not something that can be learned in ten minutes, so it's hard to evaluate these changes based on a short demo, but it certainly felt less accessible than before.
For many fans this will come as good news; it hints at room for deeper gameplay and suggests that Capcom isn't softening the challenge in an attempt to appeal to a wider audience (even though there is an optional assist mode for those who find themselves struggling). That alone is, I think, a good sign.
As much as I still have some concerns, Devil May Cry 5 mostly echoed fond memories of the first Devil May Cry, suggesting that Capcom knows what fans truly want and hasn't attempted to excessively modernize or westernize the formula. Based on this initial hands-on, and given that there are more characters to come, I think we can expect a rich and fun action game from the final product.

This preview is based on a 10 minute demo that was playable at the Tokyo Game Show 2018.
More Articles