Atelier Lydie & Suelle: The Alchemists and the Mysterious Paintings (PS4) - Review
Thomas Froehlicher
, posted on 23 February 2018
/ 5,000 Views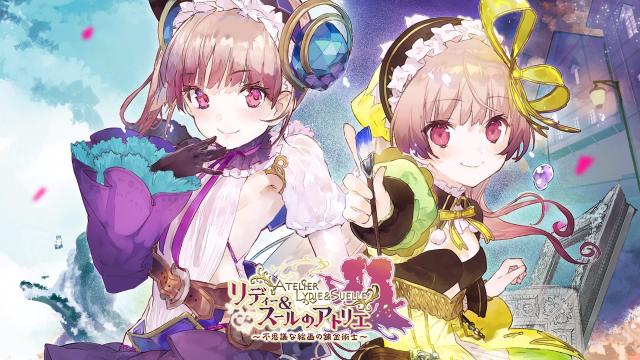 The Atelier series has long featured the same core gameplay. Since Gust absolutely wants to keep it an annual series, it's becoming increasingly difficult for the developer to implement features innovative enough to keep players satisfied and interested. Last year, Atelier Firis overcame this challenge brilliantly by offering a large and rich open world for the very first time, but can Atelier Lydie & Suelle: The Alchemists of the Mysterious Paintings succeed in the same way this year ?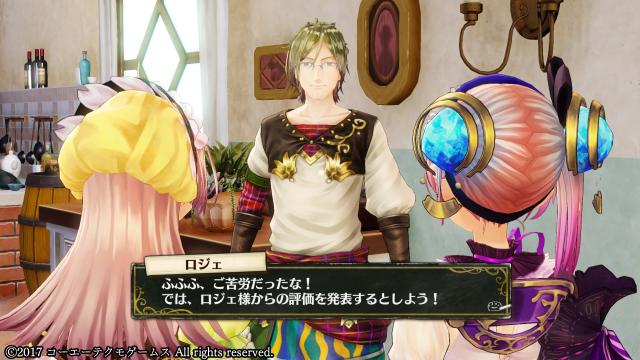 Lydie and Suelle are two rookie alchemists working in an unpopular atelier located in a town called Merveille. Not receiving much help from their father Roger - a painter who keeps wasting the household's money - the twins struggle to make ends meet until the day they find themselves magically transported inside of one of Roger's paintings. There they find materials of far greater quality than in the real world. From there, they firmly believe they can fulfil the promise made to their late mother: become the best atelier of alchemy in the country.

With such a start, there is no doubt that Atelier Lydie & Suelle intends to revive the idea of a fully-fledged story within the game, which had been more or less abandoned since the beginning of the Mysterious trilogy. Yet the narrative is not entirely convincing. Many of the story parts are introduced too suddenly, or taken too lightly. It's a little more captivating when it comes to scenes involving the twins' family, but it doesn't match Atelier Totori in that respect either. I can't help thinking Gust could have made better use of the "lost mother" subject, as it lacks more dramatic developments and real trials to immerse the player.
But a certain lack of emotion doesn't mean that Atelier Lydie & Suelle lacks the traditional humor of the series. Whether it be Roger's eccentric requests, Mathias always trying to pick up women, Ilmeria's short temper, or Lucia's dirty tricks, there are plenty of entertaining scenes along the way. The character who takes the cake is undoubtedly Captain Bakken, an undead pirate who keeps embarrassing the group with hilarious memories of his time among the living.

The progression system in Atelier Lydie & Suelle is very close to the one found in Atelier Shallie, that is to say consecutive chapters with no time limit. Long-time fans of the series will probably be disappointed that Gust hasn't retained the trade-off from the previous entry when it comes to time management. To advance to the next chapter, you need to improve the rank of the atelier. Mireille - the representative of the royal family - gives you tasks related to alchemy that you have to complete in order to rank up. These ranks go from G to A, and then S in the final challenge.

However, in order to earn the right to take the rank examination, you first have to improve the popularity of your atelier by completing daily errands. These tasks are listed in Suelle's notebook, where you'll find actions like beating certain monsters, meeting designated people, creating more or less elaborate alchemy objects, finding some ingredients, and so on. Once again, it's the very same system that was used in Atelier Shallie. As for recipes, you need to find most of them by yourself, which implies that you need to pick key ingredients in the field or create alchemy objects with precise properties. This system is directly inherited from Atelier Sophie. Far from building its own identity through innovation, like Atelier Firis did last year, Atelier Lydie & Suelle looks like a wobbly mix of previous entries.
The big novelty here is that some of the stages are actually located inside of paintings. Lydie and Suelle regularly receive orders to restore a magical painting and then can jump into it. Here you find theme-based environments and some of them are well-designed, particularly "Sawameki no Mori", which successfully depicts a Halloween atmosphere, or "Kuro no Chiheisen", which effectively symbolizes void and despair with its grey shades. But there's a snag: all of these worlds are ridiculously tiny and not very compelling in terms of content. It's very, very long way from Firis' large and rich open world. The gimmicky painting system doesn't make up for the huge leap backwards to the lackluster geographical structure of Atelier Sophie.

That said, the game experience remains solid in other respects, especially when it comes to the alchemy system, which grows better every year. The catalyst-based system featured in Atelier Firis has been generalized - each catalyst (which you can find in the fields like any material) is represented by a grid and materials by geometric colored shapes. Your goal is to place as many correct colors as you can on the grid, so that the item you're creating reaches the best possible quality and properties.
The interesting thing is that there are numerous catalysts, all very different from each other. Generally speaking, the rarer the catalyst, the larger the grid is and the more bonus squares you get. Those special squares have very useful effects like doubling the output, raising the quality, or implementing more passive skills. Later in the game, you can even create your own dream-like catalysts capable of producing powerful gear quickly. Improving your weapons becomes more convenient too thanks to the introduction of two external modules built separately, which in fact reduces the time and effort required to make the desired weapon by half. There are a lot of connections between the various ingredient types thanks to the perfect balance found in the well-thought-out and extensive recipe list, all resulting in a new pinnacle for the alchemy system.

You do need to be familiar with all of those alchemy features because the final stages of the story are very demanding in terms of general knowledge. The abnormally strong final boss can't be beaten unless you've made yourself top-notch armor, highly destructive attack items, and perfect healing items. An easy mode is nevertheless available for those who would have trouble, but there's also a more difficult mode for veteran players who like to bite the dust. In any case, the last chapter does ask the player to give his or her best and that's very rewarding.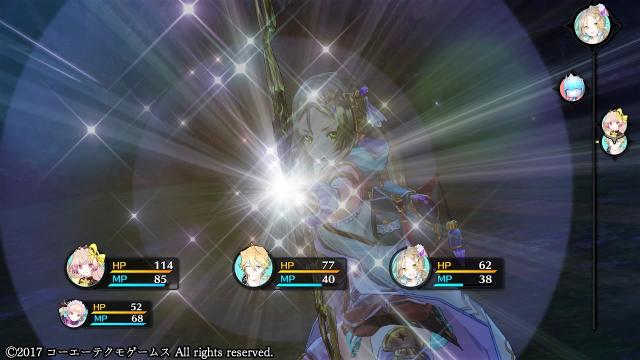 Combat feels really close to what you could experience in Atelier Escha & Logy. The battle system in Atelier Lydie & Suelle makes use of two lines of three characters, the ones on the back being able to assist the active battle members thanks to a vast array of impressive support skills. As you would expect, the Lydie & Suelle duo is particularly efficient: Lydie can for example heal Suelle regularly to keep her standing as long as possible, and she can also resurrect her in case of a KO. Similarly, Suelle can fire at will to support her sister when attacking. Firis also deserves a mention here for her exceptional capabilities: she can shoot arrows of extreme power, so much so that her assists are limited to only one per encounter. There's even a clever tip to have her perform all her assist skills in one turn, making her the strongest character by far. Generally speaking, all skills feature stunning animations, various strategic options, and detailed effects.
The twins can use alchemy during battle to create more powerful bombs or effective healing items. Nevertheless, that feature is fairly limited, because only Lydie & Suelle can use it (despite three other alchemists being in the group), and you have to meet very specific requirements. For example, Suelle can trigger it only if she takes an enemy by surprise. Similarly, combination arts allow two partners to perform their ultimate move if you manage to fill the combination gauge - Firis and Suelle can, for example, boost all characters' status by five levels.

Although offering a world far smaller than its predecessor, Atelier Lydie & Suelle is still a long RPG thanks to numerous challenges and character events. It takes well above 50 hours to clear the main story, and you have plenty more to experience outside of that. However, this entry leaves a bitter taste because of a general lack of variety - there's not much to do in the paintings, the bestiary is rather poor (the game keeps throwing out the same boss over and over), and there aren't many playable characters either. You'll have no more than six playable characters in the whole adventure, which is significantly less than in Atelier Sophie (nine playable characters), Atelier Firis (ten playable characters), not to mention Atelier Shallie Plus, which had twice as many. Consequently, even though combat is really exciting, it's not as varied as it used to be. Furthermore, Atelier Lydie & Suelle does not contain additional in-game costumes, while its predecessor had half a dozen of them.
I think it's also reasonable to express concerns about Gust announcing two additional DLC characters for 1000¥ each in Japan, coming as late as March, whereas the game launched in December 2017. Party characters are a key element in JRPGs, so I don't think they should come three months later, when everyone has finished the game already. Remember that in the previous Atelier trilogy, DLC characters (Wilbell and Escha respectively) were made available within a month and for half the price that Gust is asking now. Ilmeria and Lucia are the ones scheduled for DLC, and it's worth pointing out that Lucia actually comes along with the party in every dungeon. So storywise there is very little reason she wouldn't be playable from the start. I'm not against DLC - I do think it's an opportunity when used in the right way - but Atelier Lydie & Suelle is a perfect example of DLC practices hurting the basic enjoyment of the game.

While entertaining enough as an RPG, Atelier Lydie & Suelle is overshadowed by its revolutionary predecessor and can't match its overall experience. The shallower content and lack of variety makes it a bitter entry for series fans, and the emphasis on story doesn't make up for this. The flurry of late DLC also shows a lack of care towards the final episode of the Mysterious trilogy. True, the game system is solid, combat is great and the soundtrack is nice, but I expected more from a title marking the 20th anniversary of the series.

Reviewed based on a Japanese version of the game.
This review is based on a retail copy of Atelier Lydie & Suelle : The Alchemists and the Mysterious Paintings for the PS4
Read more about our Review Methodology here
More Articles