Legend of Kay Anniversary (Wii U) - Review
Evan Norris
, posted on 12 August 2015
/ 6,595 Views
Ten years ago, Neon Studios released Legend of Kay, an action platformer in the same vein as Spyro the Dragon and Jak and Daxter. It received average scores and went largely unnoticed. That's why news of its remaster a decade later came as something of a surprise. In a generation of remasters, Legend of Kay is the one no one asked for.
As a remaster, Legend of Kay Anniversary isn't half bad. The graphics are polished, the character models and HUD are much improved, and the game manages a consistent 60 frames per second throughout. While some low textures and clumsy animations betray its sixth-generation origins, Legend of Kay is, overall, much prettier than it was ten years ago on PS2. That's the good.
The bad is that all of the flaws of the original game are intact. These include a lackluster plot, cheesy dialogue, dreadful voice acting, frustrating combat, and an uncooperative camera. It begs the question: why didn't Nordic Games and Kaiko remake the game altogether?
Legend of Kay takes place in the land of Yenching where, once upon a time, animal tribes lived in harmony according to The Way. As time passed, the animals forgot The Way, which allowed for an invasion by rats and gorillas, who now force their own philosophy, Din, on the inhabitants of Yenching.
With its anthropomorphic animals and east Asian setting, Legend of Kay provides an interesting mythology. Unfortunately, that mythology is misspent on an inconsequential and often silly plot and a protagonist who's more annoying than heroic. In fact, Kay, the cat hero of Legend of Kay, is something of a jerk. He's weirdly aggressive and petulant, and issues insults to his enemies like "dipwad" and "rat bastard." Sadly, these insults are emblematic of the entire script of Legend of Kay, which is immature and groan-inducing.
Making matters worse is some truly cringe-worthy voice acting. Not only is the acting mannered, but the accents are downright offensive. The rats speak in broken English like something out of Charlie Chan. Every frog has a heavy Jamaican accent. And the crocodiles sound like Soviet villains from a Bond movie.
In terms of gameplay, it's a slightly rosier picture. Channelling games like The Legend of Zelda and Sly Cooper, Legend of Kay boasts a healthy combination of platforming, puzzling, and combat, all with responsive controls. Platforming is derivative, but enjoyable. Kay can double jump, wall jump, swim, and use zip lines. In some stages, he can even pilot a rowboat. Solving puzzles, too, is fun. Legend of Kay features a handful of "dungeons" that require some mental energy to traverse.
Combat, however, is a mixed bag. Kay has an assortment of moves and three different weapons at his disposal which, in theory, provides a canvas for improvisation and strategy. In reality, though, the dog-piling tactics of the game's enemies prevent the kind of fluid and tactical combat that would make Legend of Kay stand out among the crowd.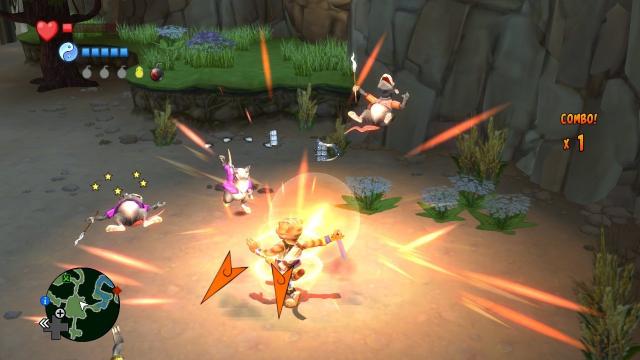 Even the combo system in the game, which rewards players with harder hits as the combo meter rises, is slightly broken. Once a combo starts, Kay can bounce back and forth among enemies, building the combo. But making those connections is frustratingly difficult. More often than not, Kay flies through the air at no one in particular, as enemies clear his hits by a mile.
Despite this issue, combat would be more than serviceable if it wasn't for Legend of Kay's camera, which spoils everything from combat to boss fights to platforming. It sometimes has a mind of its own, deciding not to move an inch when you need a new perspective, or obscuring platforms and ropes above or below. Fixing this poor camera should have been a priority during the remastering process.
One area where Legend of Kay shines is its open world levels. Some early levels are linear, but as the game moves forward you see more and more open-ended worlds. The highlight is "Misty Islands," which features a large environment packed with secret paths and chests.
Legend of Kay is a rather substantial game. The base experience can last around 15 hours, but if you choose to take on side quests or collect crystals (which unlock concept art, movies, and music) you could clock almost 20 hours. Unfortunately, many of those hours will be wasted in tedium or frustration, or both. While Legend of Kay is improved technically, its production values, mechanics, and camera are still stuck in an uncomfortable past.
This review is based on a digital copy of Legend of Kay Anniversary for the WiiU
Read more about our Review Methodology here
More Articles