BreakQuest: Extra Evolution (PSV) - Review
Brent Galietti
, posted on 29 October 2012
/ 2,971 Views
A deconstruction of the establishment.

Breakout, despite not earning the same notoriety as Pong, was a hit when it was first released in arcades in the 1970s. Over the years, the Breakout formula has been used to create many different games, each with their own take on the arcade classic. BreakQuest: Extra Evolution is the latest game from that group. Not content to simply give you a ball and bricks, BreakQuest takes you to many exotic 8-bit inspired locales, tasking you to clear the board in this strange new world.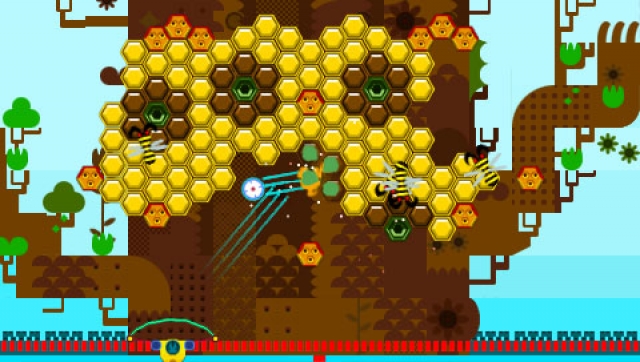 BreakQuest originally released on the PC in 2004, and was ported to PlayStation Minis in 2010. For Extra Evolution, developer Beatshapers have re-designed each of the 100 levels for this release, keeping the original levels intact but changing them up a bit from the last time. There's also a secret 101st level and ten boss battles newly added to Extra Evolution.

Gameplay works like many other Breakout based games. You control a platform (spaceship in this case) and bounce a ball off of objects to destroy them. Clearing out all the objects completes the level and lets you move on to the next one. Along the way, powerups will drop that do various things, such as widen the spaceship, change its shape, change the ball's shape, equip the spaceship with missiles and guns, and more.

Those features are all something you have likely heard of from playing a different Breakout-style game, but Extra Evolution adds some new twists. As you can see from these screenshots, the levels are vibrant and full of objects that must be destroyed. It's not simply bricks - sometimes you'll have to trigger switches in sequential order to detonate a bomb in the center of the screen, or bash moving objects that float around the level. My only complaint is that sometimes, there's so much color and so many objects around that it can be hard to tell which objects must be destroyed and which are just there to impede your progress. That's an issue that goes away with repeated playthroughs.

Holding Square or Circle will slow the momentum of the ball and then bring it back down quickly. At first, this may cause a lot of accidents, but once the skill is mastered, it can be used to guide the ball to objects that would not normally be in its path, allowing for more to be destroyed and levels to be completed more quickly. There is also an Energy Shield that builds at the bottom of the screen. Once it's charged, pressing L or R will raise the shield, which gives you a mulligan if you miss the ball entirely by bouncing it back up. Use of these abilities is key to beating the levels and getting a top score.

The soundtrack features songs from the SandS band. They are a bit minimalist and tend to fade into the background as elevator noise while playing, but that's probably a good thing, as being distracted by the music during harrowing moments could be detrimental. The sound effects are great - each impact can be heard and different impact sounds are made for different types of objects.

As a PlayStation Mini, BreakQuest: Extra Evolution has no trophies or online leaderboards, but it does have local leaderboards to show off your high scores and it has in-game achievements that are awarded for completing various tasks and defeating the bosses. Even without the online functions, playing through everything Extra Evolution offers will take a while - it's amazing to think that it is priced as a Mini.

Like other minis, Extra Evolution can be played on the PlayStation 3, PlayStation Portable, and PlayStation Vita. The game is best played in bits and spurts, as long play sessions cause the game to get stale. Because of that, Extra Evolution is best played on-the-go in short sessions, which makes it a better choice for the PSP or Vita.

If you have any interest in little arcadey games like Breakout, you absolutely should buy this game. For only $3.99, BreakQuest: Extra Evolution offers over 100 levels, 10 boss battles, new powerups, tactics, and a fun spin on the Breakout formula. Try it out; you will almost certainly enjoy it.

This review is based on a PlayStation Vita copy of BreakQuest: Extra Evolution.
Read more about our Review Methodology here
More Articles
There are no comments to display.