Sword Art Online: Fatal Bullet Info Details Story, Characters - News
William D'Angelo
, posted on 19 January 2018
/ 2,378 Views
Bandai Namco has released new information for Sword Art Online: Fatal Bullet that details new characters and the story.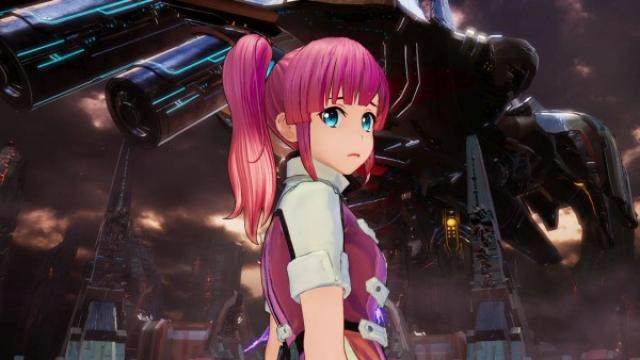 Read the complete details below:
■ Story Overview
In the second half of the story, the player will be forced to make a serious decision–the player's friends and their fight, or the player's own crisis. Tensions will again run high in the virtual reality MMO "Gun Gale Online."
—Is there a reason why Kirito and his friends are not present?
—A decreasing HP bar. What is the meaning of the player's painful expression?
The heroines look back with a sorrowful expression. Whatever decisions you make, the player is the protagonist of this story.
■ Characters
Argo (voiced by Shiori Izawa)
An information dealer who provides useful intel. Known by the nickname "Argo the Rat," she is a female player with a unique tone of voice. She runs a resourceful information business, and currently has a keen interest in the ArFA-sys Type-X.
Dasiy (voiced by Shiori Mikami)
The ArFA-sys led by Zeliskam. A Type-X like the protagonist's ArFA-sys, she will exchange information with the player following their initial encounter.
Daisy is precious to Zeliskam and does not seem to participate in battle.
Yui (voiced by Kanae Itou)
A pure-hearted girl trusted by all. Since she was taken into the care of Kirito and Asuna during the "Sword Art Online" era, she has embraced the two as her parents. She is the mascot-like presence of Kirito's group, and is loved by all.
Rain (voiced by Miyu Takagi)
The only other known player besides Kirito in "ALfheim Online" with the ability to dual wield. She is also playing "Gun Gale Online," but since she is busy in real life, her login rate has decreased.
She can wield two sub machine guns and overwhelm enemies with many shots.
Philia (voiced by Yui Ishikawa)
A girl rescued by Kirito in the "Hollow Area" during the "Sword Art Online" period. She still calls herself a treasure hunter, and her current targets are super rare ArFA-sys.
She fights using covert actions and snipes enemies from a distance. However, she can also easily fight at close range with the sword techniques she mastered during the "Sword Art Online" era.
■ Lisbeth's Workshop
Just like she did in "ALfheim Online" and "Sword Art: Origin," Lisbeth will again run a workshop in "Gun Gale Online."
Weapon Upgrading: Leveling Up Weapons
If you have a weapon you want to upgrade and the necessary materials, you can upgrade your weapon at Lisbeth's Workshop. A weapon can be upgraded a maximum of two stages, and depending on its stage, a "+" or "++" will be attached to its name.
—Gather the necessary materials, then upgrade your weapon.
—Use your upgraded weapon to take on even more formidable foes.
Weapon Modding: Customize a Weapon's Special Effects with "Memory Chips"
Weapons may sometimes have "Memory Chips" with special effects attached to them. In Weapon Modding, you can strengthen and change the effects of a Memory Chip.
As you progress through the story, Lisbeth's "Weapon Strengthening and Modding Level" will increase. By obtaining more powerful weapons, you will be able to clear various stages.
—Choose a base weapon and material weapon.
—By combining weapons, the Memory Chip effect of the base weapon will change. Memory Chips with the same effects will lead to a strengthened special effect.
■ Area Introduction
The "Old South," where the glory of mankind and technology once assembled. not only have machines been left behind in the rusted ruins, killer enemies freed from human control will also attack…
As you progress through the building, a huge robot enemy will appear. Dodge his missiles and other extensive attacks to launch a counterattack. When not under human contorl, the machines are reckless and out of control.
—Lots of missiles will swoop down on the player and their party. Is there a way to evade them…?
Sword Art Online: Fatal Bullet will launch for the PlayStation 4, Xbox One and Windows PC on February 8 in Japan, and February 23 in North America and Europe.
Thanks Gematsu.
---
A life-long and avid gamer, William D'Angelo was first introduced to VGChartz in 2007. After years of supporting the site, he was brought on in 2010 as a junior analyst, working his way up to lead analyst in 2012. He has expanded his involvement in the gaming community by producing content on his own YouTube channel and Twitch channel dedicated to gaming Let's Plays and tutorials. You can contact the author at wdangelo@vgchartz.com or on Twitter @TrunksWD.
More Articles