Ranking the Mario Kart 8 Deluxe Booster Course Tracks: Wave 4 - Article
Evan Norris
, posted on 14 March 2023
/ 3,139 Views
It's hard to believe we're already more than halfway done with the "Booster Course" DLC for Mario Kart 8 Deluxe. When it was first announced, the two-year-long drip-feed of DLC tracks seemed like it would last forever, but the days, weeks, and months evaporated and here we are — two-thirds of the way through.
I'm happy to report that this fourth wave is arguably better than the previous batch, which I had identified as the best so far. While Wave Four doesn't boast many all-time great courses, it also doesn't suffer from any duds. Pretty much every track here is worth racing, although some are slightly better than others. Plus, it comes with a new playable racer: Birdo!
As per tradition, I've ranked each new track below, starting with my least favorite and ending with the best of the bunch. If you're interested, you can check out my rankings for Waves 1, 2, and 3 at these links. Please enjoy!
#8
Riverside Park (Mario Kart: Super Circuit)
If you've been following this series of articles, you've probably observed that I'm typically bearish on Super Circuit maps. Well, Riverside Park is not the one to break with that pattern. There's nothing wrong with the track, really. It's just a bit short and ho-hum. That said, Nintendo has made some improvements over the GBA original. The track now takes place at sunny dusk, which significantly adds to the ambiance. There are also Ptooies moving across the meandering road, carrying useful items like mushrooms. And, of course, the visuals are significantly boosted. Regrettably, the shortcuts from Super Circuit are missing.
#7
Bangkok Rush (Mario Kart Tour)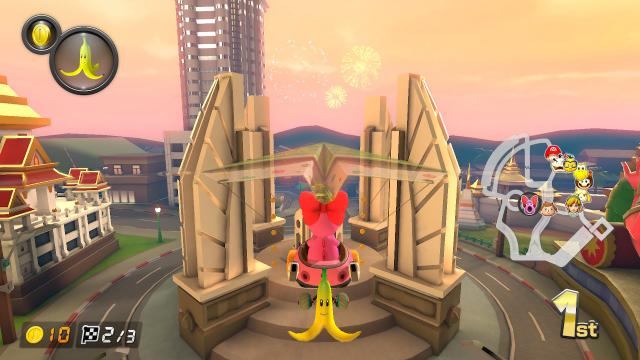 It wouldn't be Mario Kart 8 Deluxe DLC without city courses from Mario Kart Tour. The "weakest" of the lot is Bangkok Rush, but there's nothing deficient about it; it would probably rank in fifth place in any other wave. As with most city tracks, it combines the best set pieces from each Tour variant to create a new, dynamic experience. Things start off on the shallow Chao Phraya River, where you can boost jump off boats, then proceed into Maeklong Railway Market, the BTS Skytrain rails, and finally the Democracy Monument. The most inviting part of Bangkok Rush are the many branching paths. You can opt to follow the canopy above the Market, and take either the bottom or top path around the rails. Moreover, the top route has three different exits. It adds a bit of entertaining chaos to the proceedings.
#6
Amsterdam Drift (Mario Kart Tour)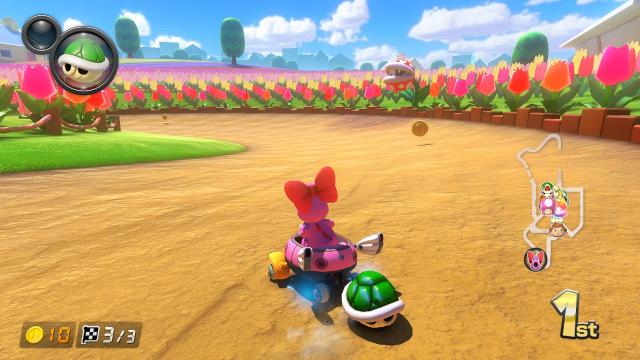 Amsterdam Drift is the first course of the Fruit Cup, so you might expect it to be a pushover. In reality, this is one of the most charming tracks in Wave 4, one that really leans into its Dutch roots. An expanded, combined version of three Tour variants, Amsterdam Drift has a lot going on thematically and structurally. It takes players nearby the windmills of the Zaanse Schans, past a tram, into the canal waters, and finally through an endless field of tulips. The canal section is one of the best individual areas of Wave 4, due to underwater currents and a secret path upward over the topside of a boat. Finally, the track's music is sneaky good; make sure you listen closely for that twangy jaw harp sound.
#5
Mario Circuit (Mario Kart DS)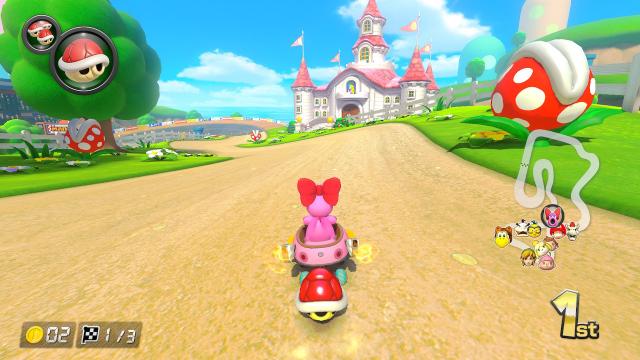 Mario Circuit reminds me — perhaps unsurprisingly — of Mario Circuit 3 from Wave 3 of the Mario Kart 8 Deluxe DLC. Both tracks won't blow you away visually, but boy are they fun to drive through. In fact, this DS course is a pleasure to navigate, thanks to several snaking curves and multiple shortcut opportunities. It also has at least one major surprise for players familiar only with its original handheld incarnation: a wooded area after the Fire Piranha Plants with a sleeping Wiggler who wakes up and crosses the road during lap three.
#4
Singapore Speedway (Mario Kart Tour)
Wave 4 is the first round of Mario Kart 8 Deluxe DLC to arrive with three city tracks from Mario Kart Tour, instead of two, which is both bad and good. It's bad because it deprives players of another reinvented or remastered classic course, but it's good because the third city track is one of the very best: Singapore Speedway. Indeed, the fact that it arrives as the Boomerang Cup's final course — typically reserved for the most show-stopping number — shows how much faith Nintendo has in it. Now, it's not the best of the Boomerang Cup, but it's darn close, thanks to a thrill ride through the streets, rooftops, and airspace of Singapore. You'll launch through a cannon, land atop the roof of the Marina Bay Sands, veer through Chinatown, travel across conveyor belts beside the Gardens by the Bay, and glide through Boost Rings over the ArtScience Museum. And you'll do this all to the best music in Wave 4.
#3
Yoshi's Island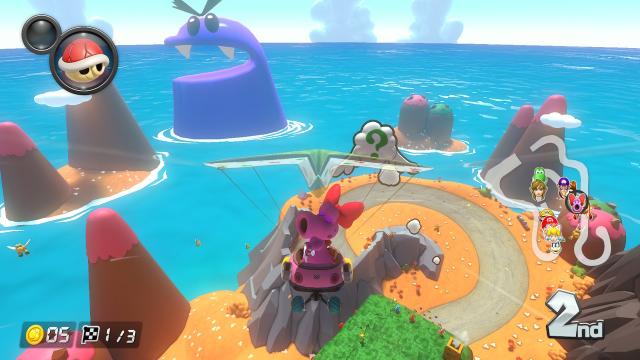 If I ranked these courses by production design alone, then Yoshi's Island would be, hands down, the best of Wave 4. Heck, it would probably be the best of Mario Kart 8 Deluxe in general. This is a true love letter to the SNES platforming classic, with locations, enemies, and items pulled straight from the game. The programmers at Nintendo went above and beyond here, adding unique intro & outro music, and even coins with Yoshi's face on them. Unfortunately, the track design can't live up to the stellar art direction. There aren't many twists or surprises here, apart from an inspired mid-air shortcut right before the finish line.
#2
DK Summit (Mario Kart Wii)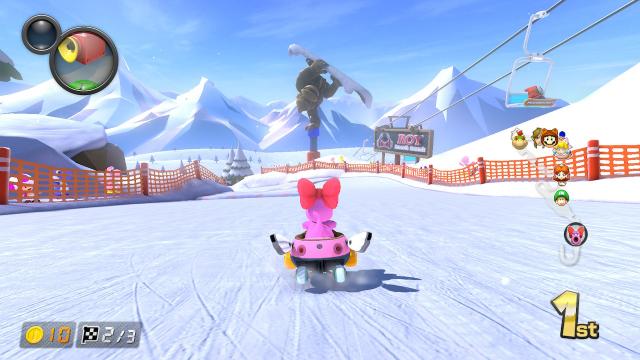 While it's missing some of the charm of the Wii original, owing to missing fog, DK Summit in Mario Kart 8 Deluxe remains a classic of the series. It's one of the few Mario Kart tracks that almost tells a story. You start on ground level, travel through a high-powered cannon, view the course you're about to follow from high above, and then start your trip down the mountain. The winding, shaky descent is thrilling, due to ramps, deep-snow hazards, bumpy moguls, dash panels, and — the pièce de résistance — a snowy half-pipe populated with Shy Guy snowboarders.
#1
Waluigi Stadium (Mario Kart: Double Dash!!)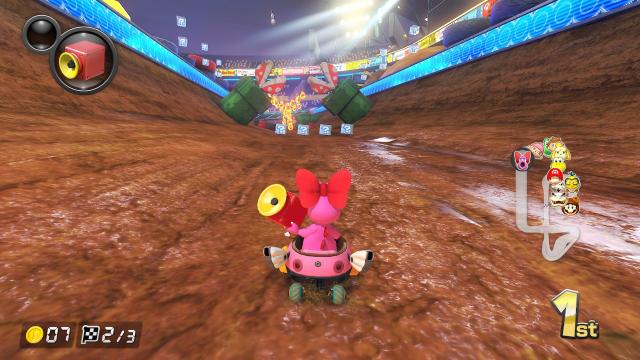 Waluigi Stadium is a lot like the Mario Kart 8 Deluxe remake of Kalimari Desert, in my mind. It transformed a course I sort of liked into something I can't get enough of. Thanks to its raucous crowd, tall grandstands, bright stadium lights, and wet muddy track — a big upgrade over the dusty original, mind you — it transports players convincingly into the world of motocross. Mechanically, it offers a lot to explore, including big banking turns, a handy shortcut about a quarter of the way in, and a lengthy middle section that's essentially one huge half-pipe. If there's a downside to Waluigi Stadium, it's that Nintendo has nerfed this middle section by mitigating many of the hazards. At the same time, however, the company added two new alternative paths that elevate this remake considerably. If you perform a half-pipe trick at the right time and angle you can access two elevated sections, the second of which includes an anti-gravity area with Spin Boost Pillars and Glide Ramp. It's a game-changer.

Well, that's how I would rank the fourth wave of the Booster Course DLC. To those who've experimented with these eight new courses, how does my ranking correspond with your own list? Make your voice heard in the comments below!
More Articles