First Impressions: NBA 2K18 Prelude - Preview
Xavier Griffiths
, posted on 14 September 2017
/ 5,917 Views
Although the series has been going strong for nearly two decades now, it is only in the last few years that the annual release of 2K Sports' basketball franchise has started to feel like an event. The team at Visual Concepts accomplished this through steady strings of improvements that eventually allowed it to solidify its place as king of the virtual court. Even with the re-emergence of the once dormant (and dominant) rival NBA Live franchise from EA, 2K18's release still eats up most of the excitement. To capitalize on this hype, 2K has released NBA 2K18 Prelude to give ballers a chance to get a head start before the full game arrives.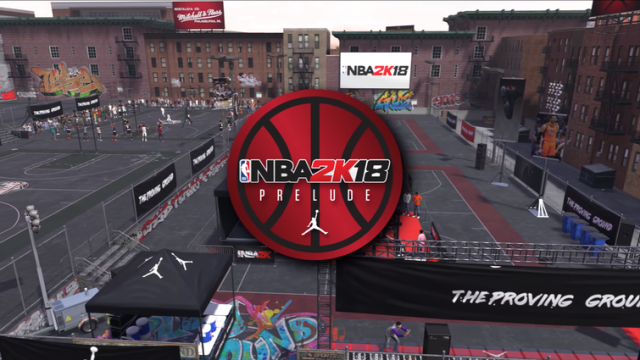 From the get go it is clear that NBA 2K18 Prelude is more than a mere demo. You won't find any options for an exhibition game with shortened quarters as is common in most demos of sports games. Rather the focus is on the MyPlayer and MyCareer modes. The first order of business is creating your player. The creation options are limited. You can choose from a few base character models and modify facial features such as jaw size and eyebrows, but other options like facial hair were missing. I did the best I could to approximate the look I wanted for my player with the choices given, but my baller looked far different from my avatar in past games that had deeper possible variations. Of course you can also download an app onto your smartphone and use the camera to scan your face into the game, though results may vary.
Once you have created your character, the MyCareer story mode starts off in earnest. The game follows in the cinematic tradition of past iterations, which have included creative input from director Spike Lee and a full motion capture performance by actor Michael B. Jordan, though no such star power is on display in the Prelude. Your player is nicknamed DJ. He was a former baller who quit for a few years in order to pursue a career in music. You start off at a 2K showcase at a local street court. Before you get on the court you can fill out more details about your player, including height, wingspan, favorite team, alma mater, and primary and secondary skill sets. The cinematics show off high production values with full voice acting, creative camera angles, and even dialogue choices. It's also very meta and self-referential; 2K branding abounds, your character dreams about being the game's cover star someday, and at one point is even interviewed by actual 2K TV host, Rachel Demita.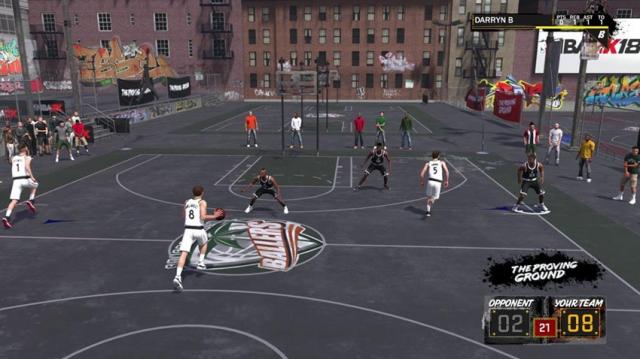 Once gameplay starts you play in a pair of 3 vs. 3 matchups to 21 points with other wannabee ballers. The setup should be familiar to anyone who has played the MyPark online mode. Your player's performance is graded on things like points scored, turnovers, and assists. After winning the first and losing the second matchup my player was selected to join the final 5 vs 5 showcase. Before and after these proceedings my character interacted with numerous NPCs including rival ballers, potential agents and a scout from the team selected as favorite at the start of the game. This eventually led to an invitation to join a team practice. First was a 5 vs 5 scrimmage with the bench players that I summarily lost despite scoring the most points. Even with the lackluster result of the first game, I was called over by the assistant coach and invited to play against the starting players. These games were a single five-minute quarter. My player struggled due to his lack of skill points while playing against seasoned NBA players, after all this was just the beginning of MyCareer. Afterwards there were more cutscenes setting up the possibility that DJ could be signed to the team for a professional contract.
The Prelude ends there. It takes you to a screen that asks whether you want to pre-order any of the three editions of NBA 2K18 set to come out. You will be able to continue with your created player once the full game ships. The other features of the Prelude include a 10-minute tutorial showing off the game's mechanics in 2KU. As an added bonus the game comes with its own set of easily attainable trophies/achievements. The Prelude takes about an hour to complete and is probably best experienced in one sitting. Though at times it feels like an overbearing marketing gimmick, there is enough here to incentivize committed 2K players to jump in early and for newcomers to potentially test the waters. NBA 2K18 releases on September 19, 2017 for PlayStation 4, Xbox One, Nintendo Switch, and PC.
More Articles
There are no comments to display.