Nintendo E3 Digital Event 2014 Summary - Article
Brent Galietti
, posted on 10 June 2014
/ 9,078 Views
Microsoft and Sony had their time in the spotlight, now it's Nintendo's turn. The Big N will begin broadcasting its E3 Digital Event at 9am PST (12pm EST, 5pm BST). The stream can be viewed on Twitch, Youtube, and Nintendo's E3 website.
Nintendo E3 Digital Event 2014 Summary (Liveblog)
-It's almost time for the show to begin!
-Claymation Reggie Fils-Aime starts this claymation press conference whilst claymation Nintendo characters and attendees wreak havoc.
-Now Reggie and CEO Satoru Iwata are fighting each other in a chaotic martial arts battle. Then the screen shifts to Super Smash Bros. for Wii U, as Reggie and Iwata's Miis fight it out on the screen.
-Reggie has the upper hand, but Iwata plays his trump card - a figurine of Mario, which scans into the game. Now Iwata has Mario on his side and easily disposes of Reggie.
-Masahiro Sakurai is now on, detailing the addition of Miis in Super Smash Bros. for Wii U and 3DS. Their movesets include sword attacks and laser guns.
-Miis will come in three varieties - Mii Brawlers are tough, no weapon characters, Mii Gunners have arm cannons and other long range projectiles. Mii Swordfighters use swords as their weapons. Each Mii type is a separate character, and they can choose different special moves, up to 36 different combinations are possible.
-Now we are seeing a collection of various gameplay modes and options from Super Smash Bros. for 3DS.
-Super Smash Bros. for 3DS has been delayed to October 19, 2014 from its previous summer release date. The Wii U version's release date is still Holiday 2014.
-The Nintendo NFC figurine initative is named "Amiibo". Any NFC figurine used on the Wii U GamePad will download its data to the controller. It can also send data back to the figurine. Amiibo support will also be available for other games, including Mario Kart 8.
-Yarn Yoshi, now named Yoshi's Wooly World, takes the stream. The development team discusses some of the new yarn mechanics and two player mode. One Yoshi can eat and spit out the other Yoshi.
-Captain Toad: Treasure Tracker is announced. It is a game featuring the Captain Toad gameplay from specific Super Mario 3D World levels. The game releases Holiday 2014 for Wii U.
-Eiji Aonuma is now discussing The Legend of Zelda series. He shows off a shot of the new Legend of Zelda for Wii U, and touts a large world size, with boundaries removed, allowing players to enter or exit from any direction. Now we see a monster attack Link on horseback. It chases Link to a riverbed, where Link, now cornered, draws his bow and arrow and strikes. Then comes the release window of 2015.
-A dramatic video now for Pokemon Omega Ruby and Alpha Sapphire for 3DS. The video shows off the mega evolutions for Swampert, Sceptile, Groudon and Kyogre. The game will release on November 21st, 2014.
-New Bayonetta 2 trailer shows off action-packed gameplay and verbal banter between Bayonetta and her foes. The game includes Bayonetta 1 in the package and Bayonetta can wear costumes of other Nintendo characters. The game releases in October 2014.
-Hyrule Warriors is now being discussed. The game shows off many features common to other Dynasty Warriors games, such as wide swaths of enemies, ally calls for help from other sections of the map, and boss fights. Zelda, Impa, and Midna will be playable in addition to Link. The release date is September 26, 2014.
-A new Kirby game is being shown for Wii U. Various power-ups are being shownoff as well as stylus gameplay. Kirby: Rainbow Curse is the name, a clear reference to the DS title Kirby Canvas Curse, and will release in 2015.
-X trailer now. The game will be renamed Xenoblade Chronicles X, and has been delayed to 2015.
-As previously rumored, Mario Maker is announced. The brief trailer shows parts being edited together and enemies being placed on screen. The graphic style can be switched from old school Super Mario Bros. to New Super Mario Bros. The release date is 2015.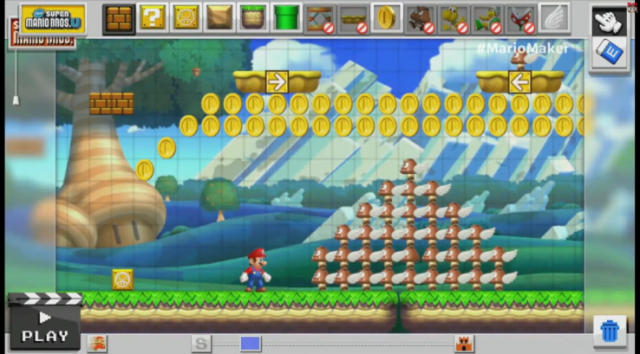 -Splatoon, a new IP, is now being discussed. It is a four-on-four online game where each team is trying to claim more territory than the other team. The characters can change between human and squid form. Humans can shoot ink but the squids can perform different actions, such as not getting stuck in ink. The GamePad features a map of the entire level showing how much of each level is claimed by which team's ink. The game will release in 2015.
-The video concludes with an anime-video of Link fighting Pit, ending with Palutena coming to Pit's aid. Palutena confirmed for Super Smash Bros. for Wii U and 3DS.
-But wait! Miyamoto now appears! He teases some new games using Wii U GamePad functionality...and he'll talk about them later! How mean of him!
And that's it for this morning's Nintendo E3 Direct. What do you think? Anything tickle your fancy? What are your thoughts, hopes, concerns, and fears?
More Articles
There are no comments to display.