Horizon Zero Dawn Set to be a Game to Remember - Hands-on Impressions - Preview
Morgan Lewis
, posted on 21 June 2016
/ 6,101 Views
Horizon Zero Dawn was first shown last year during Sony's E3 2015 press conference and then on the E3 showfloor during one of Sony's theater showcases. A hands-off demo was shown, which was absolutely breathtaking, and demonstrated a number of gameplay features, but we couldn't go hands-on until this year's E3. As one of Sony's premiere PlayStation 4 exclusives - developed by first party studio Guerrilla Games - it looks stunning and even better this year than last.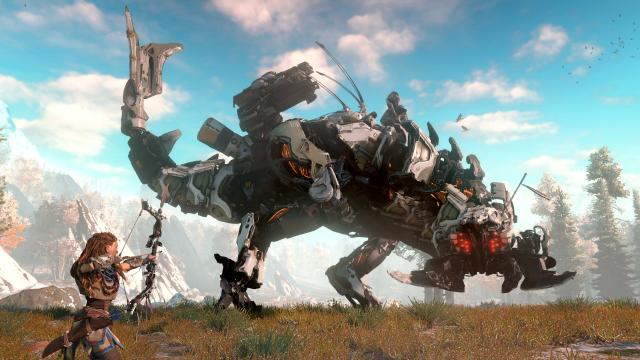 Not much about the game's story has been revealed, but it seems novel and intriguing if the game world and its creatures are anything to go by. What we know so far is that the world was previously inhabited by the 'Old Ones', who for some reason vanished, and now robot-like dinosaurs roam the earth and to a certain extent own it. You play as a female protagonist called Aloy who travels this world facing unspeakable danger in search of realizing her destiny.
The demo was very brief - about 10 minutes long - and the area you could explore was quite condensed, but there was a good amount of combat to be experienced given the time restraints imposed by the demo. Aloy has numerous amounts of weapons to choose from, along with traps, different variations of a bow, and even the means to mount an enemy and tame them, eventually being able to ride it.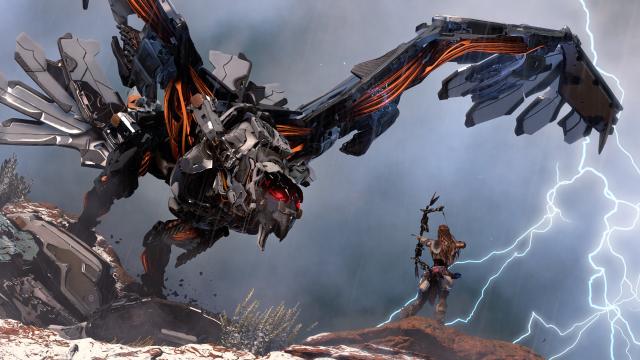 Aloy can also use light and heavy melees to attack her enemies when she runs out of ammunition. There is loot that you find from slain enemies which actually becomes quite addicting to find. Speaking of enemies, they are not easily defeated and make for a nice challenge. Luckily in this particular demo there weren't too many enemies to defeat, and none of the gigantic Tyrannosaurus Rex-like machines to fight like those found in the trailer, which I imagine are on a whole other level of difficulty.
Stealth is actually an integral part of the game and if you go in all guns blazing, so to speak, you will alert multiple enemies and more than likely ensure your own demise. There are areas where the grass is very tall and, if you crouch and move about quietly, you can sneak up on some of the robots. I could imagine in the full game, with fields of machines and a completely open world to navigate, stealth plays a much larger factor than it did in the demo.
While the demo was short, it was also decidedly sweet. The combat is fun, the graphics are extraordinary, and the world is breathtaking. All in all, Horizon Zero Dawn is set to be one of the most exciting new PlayStation IPs to come about in a long time. So long as Guerrilla Games can put the finishing touches together and polish it to be the best it can be, this will be a game to remember.
More Articles