Star Wars 1313 Raises the Bar for Graphics and Production Quality - Preview
Nick Pantazis
, posted on 06 June 2012
/ 7,426 Views
A long time ago in this galaxy a well-loved sci-fi series named Star Wars was created. It had laser swords and space magic and lots of cool space battles, all of which have been well represented over the decades in various video games. Star Wars also had bounty hunters and dark underworlds barely touched on in the films and completely ignored in the games. Luckily Star Wars 1313 is here to scratch that itch.
Apparently the Star Wars universe takes the term "underworld" literally, because the game takes place 1,313 levels under the surface of Coruscant. This seedy place is poised to offer a much grittier story than we're used to in Star Wars. LucasArts were quiet on the plot (even using placeholder characters during the demo), and they chose to focus on how the game was produced instead. Star Wars 1313 represents an unprecedented collaboration between the various Lucas owned production companies. Industrial Light and Magic, Lucas Film Animation, and Skywalker Sound are among those intricately involved in the project.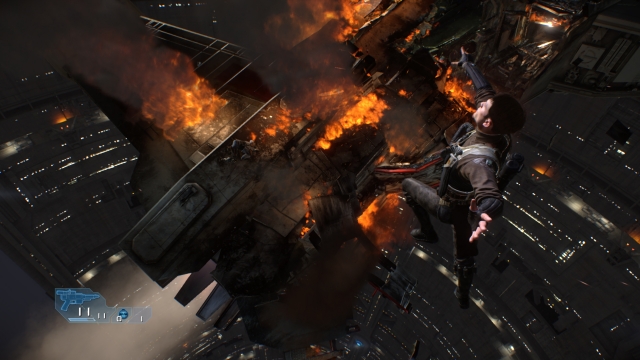 The fruits of this labor are immediately evident. Star Wars 1313 is perhaps the most graphically impressive thing I've ever seen. The cutscenes blend smoothly with the gameplay, and the gorgeous facial animations and fluid character animations combine to make incredibly believable characters. Explosions and set pieces happen naturally and provide a high-intensity cinematic feel. In combat the game plays kind of like a futuristic Uncharted. Cover shooting and third person platforming featured heavily in the short session.
While the breakout session heavily favored the brilliant production qualities and impressive technology, there is a lot of promise in the gameplay design and the darker setting. Star Wars fans will be satisfied with the expansion of the universe's mythos, and other sci-fi fans who aren't big on space magic may find new interest in the franchise.
More Articles
There are no comments to display.